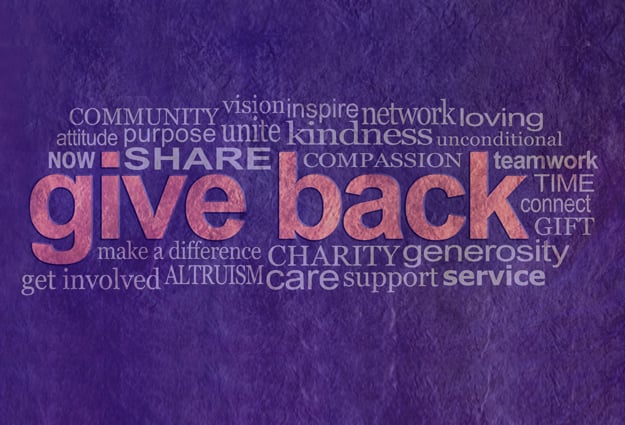 'Tis the season for giving. Like most companies and individuals this time of year, as we reflect on what we're grateful for in our lives, our thoughts turn to how we can help the less fortunate among us.
To say that Beekley Corporation is an altruistic company would be an understatement. Giving back to our communities is a year round event - you can say it's woven into our corporate DNA.
For over 80 years, it's been our mission to make the lives of everyone we touch a little better. As our company grew, so have the communities we touch - our customers, our city and state, our industries, and the patient populations they serve.
We've bingo'd for breast health, donated a portion of the proceeds, contributed to industry continuing education requirements, helped build a house or two (not to mention a breast center or two as well), raced (and golfed) for the cure, walked for Alzheimer's, went green for childhood cancers, picked up trash for mother earth, and like most companies this time of year - we hold annual toy and food drives to help the less fortunate in our local community.
Add in a few school and scouting fundraisers from fellow Associates, you would think all this giving would lead to charitable overload and employee burnout.
Giving is good for the corporate soul - in more ways than one.
It turns out that corporate give back programs and activities benefit companies well beyond some good PR and a tax deduction - companies with a more philanthropic bent have happier employees. Simply put - it feels good to work for companies that do good and allow you to do good too!
The community most positively affected by corporate-sponsored charitable giving may just happen to be your own.
Engagement, Morale, Teamwork, Pride, and Loyalty
Studies have shown that employees respect leaders who do good. When employees have high regard for their corporate leaders, morale is high within the company, which in turn makes it easier to attract and retain talent.
Not only are people more motivated to work for companies that do good, they also tend to have higher ethical behavior, lower absentee rates, higher productivity, greater pride in their work, and a high sense of gratitude towards the organization.
In a very unscientific study conducted by yours truly, an email was sent to all Beekley Associates asking why they participate in our fundraising events. I received back several statements from my fellow associates that they appreciate the opportunity to be a part of something bigger themselves.
Senior Account Manager Joyce Chase summed it up very nicely with her statement "I am proud and grateful to be able to be part of the community generosity that Beekley provides throughout the year. Giving is so much more rewarding than receiving."
The Giving is the Reward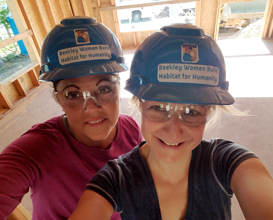 Kristie Oren (Business Development Manager, Radiation Oncology) and Beekley's Executive Vice President, Maureen Gallo are two of our most visible volunteers - participating in just about everything from Beekley's sponsored build day for Habitat for Humanity, Earth Day Clean Up, and Designer Handbag Bingo events. Both agree with Joyce's assessment that giving back is a reward unto itself.
Kristie told me that she participates because "It does my heart good to know that on the other side of my contribution is someone whose condition has been made better. Life turns in unexpected ways - anyone, at anytime, may find themselves in need of help for themselves and their family. These opportunities allow us to lift up those who do not have their own support system - a little from everyone goes a long way!"
Support for Individual Causes
While other Associates give back in less visible, but no less meaningful ways, the sense of gratitude for corporate give back programs prevails.
Beekley's Charitable Match Program helps extend Associate donations to the 501(c) (3) charity of their choosing. Senior Account Manager Laura Smith takes advantage of this program as her way to pay it forward by donating to two children's hospitals. It's her way of thanking them for always being there to care for her child, stating "we want other children to have that same level of care."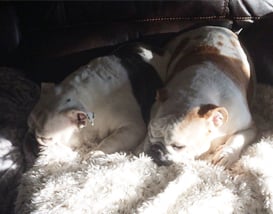 In a similar vein, Beekley's Global Business Development Senior Manager and "mom" to two bulldogs, Amy Bosco, uses the charitable match to maximize her annual donation to a charity very near and dear to her heart. "I am an active volunteer for the Long Island Bulldog Rescue and they have served the Northeast since 1999. They never turn away a bulldog in need. I really love the fact that Beekley offers a donation match so that an organization can receive a significant amount more than they would otherwise."
As an animal advocate and "mom" to three rescue cats myself, I admit that I'm right there with Amy as my charitable dollars go to the local no-kill shelter where my "babies" were adopted. It's a nice feeling to know that Beekley supports our own personal causes in addition to our larger corporate ones.
Helps to Bring Out the Best in People
One of the biggest benefits of working for an altruistic company is that it helps with follow-through on one's good intentions.
As Product Manager Kathy Kashuluk pointed out, we all lead busy lives. "Too many times I have the best of intentions and fall short based on time management. For me, it is important to live my life with gratitude. I often want to do simple acts of kindness in my own way. Having various drives coordinated here at Beekley ensures my thoughts of doing good come to fruition. This environment spurs a positive, giving back attitude among all."
So why should this matter to your organization?
Millennials place a high value on social responsibility. As they continue to replace the retiring Baby Boomers as the largest cohort in the work place, your organization's values and corporate culture will be a critical factor in their decision to work with you or do business with you.
So, aside from helping to improve the communities you have a presence in, your corporate giveback programs will strengthen your organization and ability to compete.
Large or small, every company and every individual can make a big difference in the world around them. Just focus on making the lives of everyone you touch a little better - you'll be surprised by how much you'll receive in return.

Mary Lang
Director of Marketing Communications