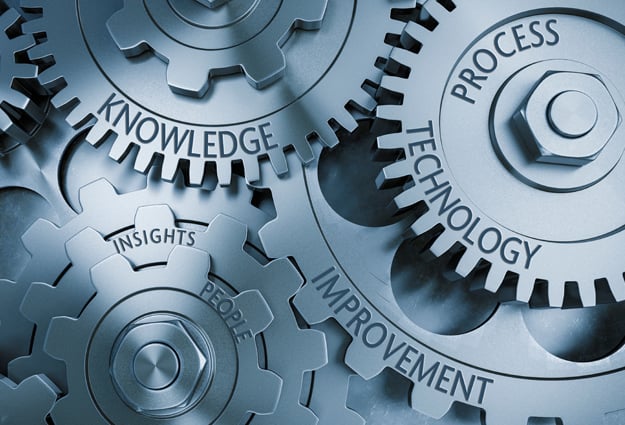 "Learning and innovation go hand in hand. The arrogance of success is to think that what you did yesterday will be sufficient for tomorrow." William Pollard, Nuclear Physicist, Episcopal Priest, Committee Founder and Executive Director Oak Ridge Institute of Nuclear Sciences
Continuous learning is a subject very near and dear to our hearts here at Beekley Medical. So much so, it's a job expectation for all associates.
The same holds true for our customers in the imaging and radiation oncology communities - in fact, their very jobs depend on it. In order to remain certified in their fields, all imaging professionals must obtain a certain number of credit hours every 2 years.
Although we are a small company, we are strongly committed to helping our customers advance their careers through personal and professional development.
Here are the 7 ways we give back to the Imaging and Radiation Oncology Communities with opportunities to easily obtain the CE credits their certification requires:
1) Conference Sponsorships: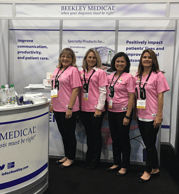 One of the broadest ways we as an industry partner helps its customer base with continuing education is through conference sponsorships.
Exhibitors and other corporate sponsors are a very important part of any conference. Imagine how much registration fees would be if the burden of renting the conference space, paying for labor; obtaining quality speakers and credit certification for all classes, and catering for hundreds, if not thousands, of people rested solely on the attendees. Exhibitors and corporate sponsors help defray all these costs so that registration fees can be kept affordable.
Beekley Medical has helped contribute by either exhibiting or agreeing to sponsor on a regular basis to the ongoing education for attendees at annual conferences for the Radiological Society of North America (RSNA), the Association of Medical Imaging Management (AHRA), the Society of Breast Imaging (SBI), and the Society for Radiation Oncology Administrators (SROA) in addition to other national and regional conferences throughout the years.
2) Speaker Sponsorships:
Obtaining qualified speakers can be a costly endeavor for conference organizers. In addition for paying speaker fees, the conference host may also compensate the speaker's travel, hotel, meals, and registration costs. When industry partners sponsor a speaker, they absorb some or all of these costs, enabling the conference organizer to deliver a speaker roster of value and educational topics relevant to their audience.
Beekley Medical has been honored to sponsor MQSA expert Bonnie Rush to share her expertise on mammography quality standards, breast density laws, and advancements in breast imaging at several conferences over the years at national conferences and at the local level to smaller, regional conferences.
More recently we have sponsored Bonnie Rush and Penny Butler, Senior Director of Breast Imaging Accreditation, American College of Radiology, to speak at the Duluth Breast Imaging Conference hosted by the Medical Technology Institute (MTMI) to help bring continuing education to mammography professionals in that region of that country and parts of Canada.
We are currently in talks with other speakers and conference organizers about future opportunities to partner in providing quality education credits to more people and in other modalities.
3) AHRA'S Defining our Future Campaign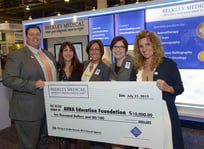 Beekley first became an industry partner with the AHRA through the Expanding Excellence Campaign which was intended to further solidify the organization as the leading resource and catalyst for the development of professional leadership in medical imaging management.
When the AHRA announced the Defining Our Future Campaign we were more than excited to continue our role as a corporate sponsor. This campaign is a strategic response to the unprecedented opportunities, challenges, and uncertainties that medical imaging professionals face today. Monies raised from this campaign will be directed towards the education, development, and empowerment of the next generation of leaders in medical imaging.
4) Sponsored Webinars
A more direct way to provide CE credits to our customers has been through webinar offerings. While we are still somewhat newbies at the format, we have been able to provide education credits for hundreds of mammography technologists and radiology administrators free of charge over the last 2 years through the AHRA.
5) Self-Study CE Courses
Going back to the days of VHS, Beekley Medical has supported the continuing education requirement for mammography technologists with self-study courses.
Previously reserved for only Beekley Medical customers, we are pleased to announce that our most recent course "Advanced Skin Marking in Breast Tomosynthesis and MRI" is open to all imaging professionals in need of CE credits through November 1, 2020.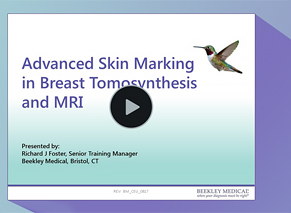 Approved by the American Society of Radiologic Technologists (ASRT) for 1 Category A continuing education credit, this self-guided online course, compliments of Beekley Medical, discusses how a simple skin marking system can eliminate questions, improve efficiency, and reduce overall recall rates in 3D mammography with specific cases and best practices shown for each application as well as an exploration of skin marking trends in Breast MRI.
6) Live Facility-Based CE Opportunities
We get it - you want to provide CE opportunities to your whole staff, but it's out of the realms of both budget and possibility to send them all to conferences. How value-added would it be to you and your staff if the CE course came to them? Beekley Medical is embarking on a pilot program to give back to our customers by doing just that. Stay tuned for more information to come on this exciting new venture!
7) Sharing CE Opportunities from Other Organizations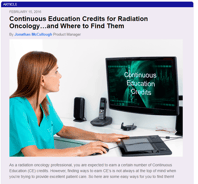 And lastly, we realize it's not all about us!
We often get wind of complimentary continuous education credits offered by other imaging industry partners that we feel would be a value to our customers and pass them along to you. If you haven't been receiving these notifications, ask your Account Manager to be added to our mailing list for your modality or take a moment to subscribe now.
Learning and innovation do indeed go hand in hand
Continuing education at all levels is important In order for our industry to progress, grow, and remain an integral part of patient care which is why we at Beekley Medical remain committed to helping you advance your knowledge and career.

Mary Lang
Director of Marketing Communications