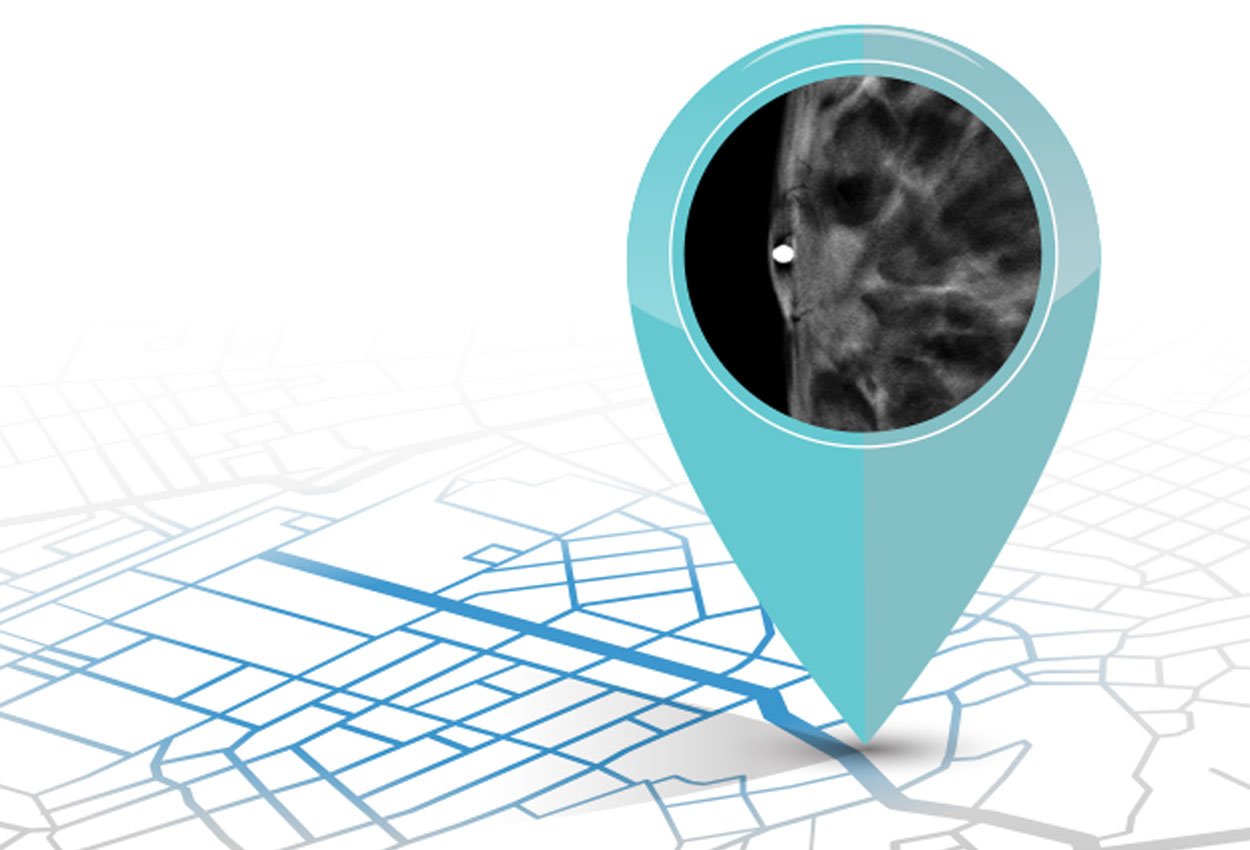 We introduced Dr. Joseph C. Benjamin, specialist in breast imaging and lead interpreting physician for mammography within the Mercy Health system in Ohio in a previous blog post regarding the clinical and operational benefits he has seen since implementing a system-wide 5 shape skin marking protocol in mammography.
In his paper, "Skin Marking in Digital Breast Tomosynthesis: Unique Markers Establish Consistency and Efficiency," Dr.Benjamin uses several case studies to demonstrate why he believes in the value of a 5 shape system of skin markers for providing clarity in communication and reducing unnecessary patient call-backs in digital breast tomosynthesis.
Many imaging facilities will only mark nipples when they are out of profile or after a questionable finding, resulting in unnecessary extra imaging, radiation, and anxiety for the patient.
Dr. Benjamin points out in the following case how a consistent protocol of proactively marking nipples on every patient adds clarity, helps improve accuracy of image interpretation, reduce interpretation time, and more importantly - prevents the patient from being unnecessarily recalled for additional imaging.
How Nipple Markers aid in accuracy and clarity
In this case study, a 79-year-old patient presented for routine screening mammography with Digital Breast Tomosynthesis (DBT).
The nipples are identified by nipple markers and can be seen several centimeters posterior to the anterior skin line centrally. The left nipple is also out of profile medially resulting in a potential loss of medial tissue in the image.
This is a benefit of routinely marking nipples that can be the difference between a good image and a perfect image. Not only does the nipple marker show superior and inferior deviation of the nipple, it also demonstrates any medial or lateral deviation. "The nipple points towards the missing tissue" is the mantra of the positioning experts. This extra information gives the mammographer the opportunity to evaluate the need for a repeat image if tissue is being excluded.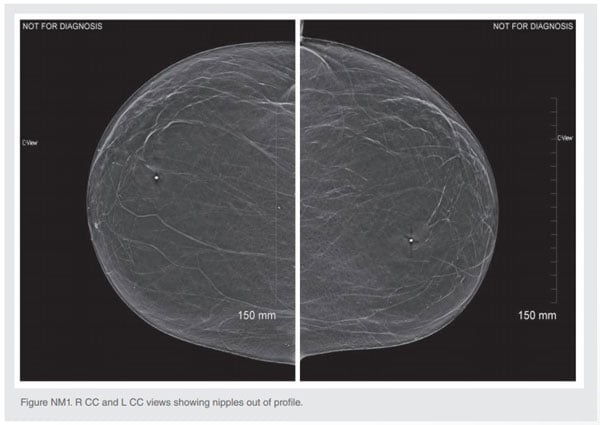 In the MLO view, the nipple is again marked, and is seen posterior and inferior to the normal nipple location. In the R MLO view there is a mole, noted by a circular marker, in the area where you would normally find the nipple. If neither of them were marked, there could be some confusion when interpreting the image.
Marking the nipples saved time interpreting the image as well as avoided a patient call-back for additional imaging. Since the nipples are significantly out of profile this could be interpreted as a mass or abnormality if not marked.
However, to confirm that these were in fact nipples out of profile, a "nipple in profile" CC view was obtained. Nipple markers also help with this view, especially when the nipple is flush to the anterior breast tissue as seen in this example. The mammographer can be assured they have the nipple fully in profile when the shadow of the nipple marker in the field light.

"Recalls a waste of time and money for everybody"
This is a classic case that supports the use of nipple markers. In his paper, Dr. Benjamin notes that "It's not uncommon to see recalls for scarring, moles, and out of profile nipples. A recall can be disturbing for patients and is a waste of time and money for everybody."
Not only did the proactive use of nipple markers prevent a callback for this patient, these images are now part of that patient's breast imaging history.
If the use of skin markers is continued every time she goes for her mammogram, her images will be compared year after year to look for any further anomalies.
To learn more about the value of proactively marking nipples on every patient, contact your Beekley Medical Account Manager or email info@beekley.com.
To get started on implementing a standardized skin marking protocol in your own breast imaging practice, download this complimentary skin marking protocol template.

Megan Sargalski
Marketing Communications Specialist