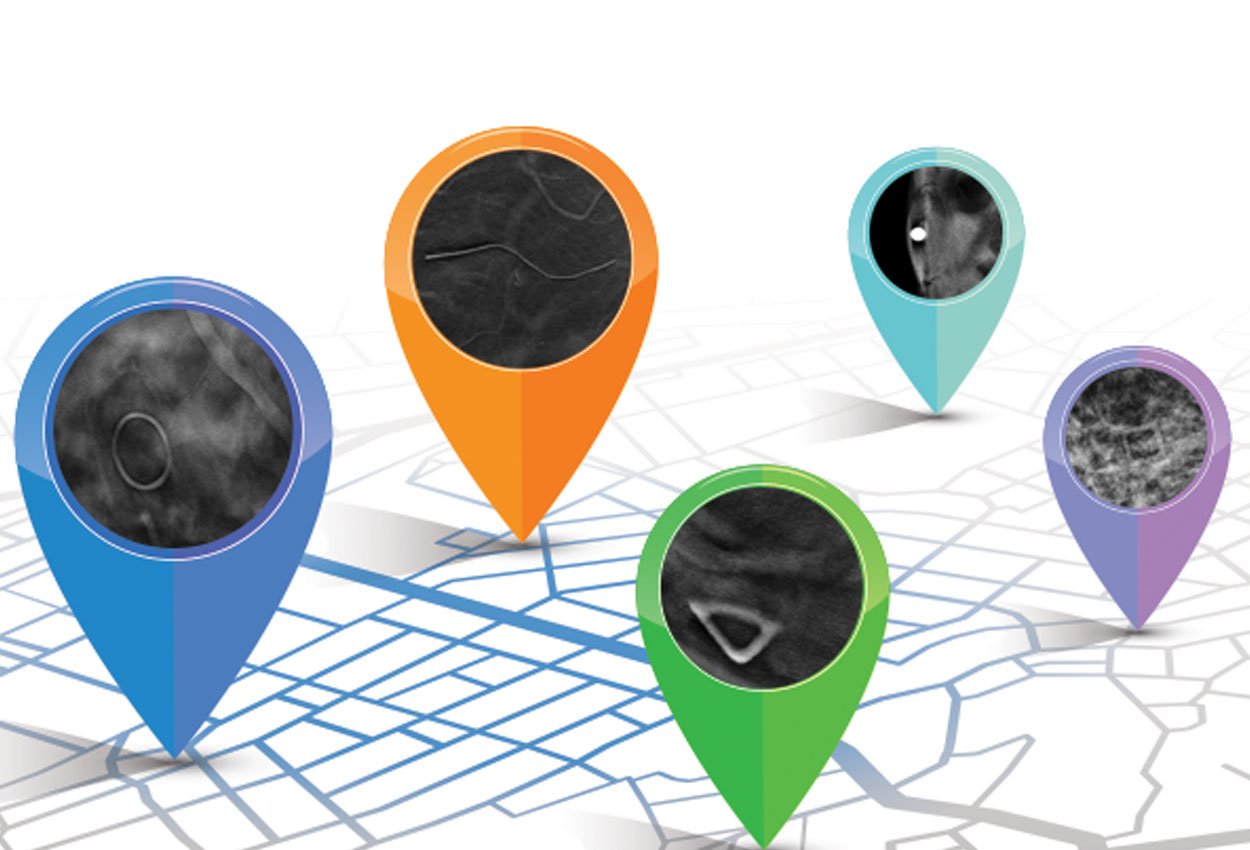 Joseph C. Benjamin, MD, is a specialist in breast imaging and lead interpreting physician for mammography within the Mercy Health system in Ohio.
In his paper, "Skin Marking in Digital Breast Tomosynthesis: Unique Markers Establish Consistency and Efficiency," Dr. Benjamin uses several case studies to demonstrate why he strongly believes in the value of a 5 shape system of skin markers for providing clarity in communication and reducing unnecessary patient call backs.
Clinical and operational benefits of mammographic skin markers
In his experience, Dr. Benjamin has seen skin markers improve efficiency, increase confidence in the location of known pre-existing areas, reduce patient recalls, minimize additional imaging, and improve patient satisfaction.
Dr. Benjamin's breast imaging facilities utilize the Beekley Skin Marking System for Mammography®, the only skin marking system for breast imaging that offers 5 distinct shapes to uniquely identify an area of interest on the breast: a circle for a raised area on the skin such as a mole, a line for marking scars from a prior surgery, a triangle for indicating a palpable mass, a solid pellet for identifying nipple location, and a square for communicating non-palpable areas of concern or pain.
The distinctive shape of each marker helps radiologists focus their attention, increase confidence in what they are seeing, and reduces interpretation time by minimizing the need to investigate images from several years back to confirm or disprove findings.
In his paper, Dr. Benjamin created the chart below to showcase the benefits of using skin markers:

A consistent standardized marking protocol benefits technologists, radiologists, and patients
Since the same radiologists read the images for every site performing mammography in the Mercy Health system, consistency is very important. All sites follow the same skin marking protocols so that the information is presented the same way every time.
Not only does this create a uniform history for every patient by having documentation of areas of interest or concern directly on their mammographic images from year to year; the radiologists can quickly and easily identify what is a benign area of concern vs. a potential malignancy.
When Dr. Benjamin gets images transferred from outside of his healthcare system, he admits the lack of standardized marking can make it confusing and hard to figure out what the BB on the image is supposed to indicate.
Dr. Benjamin also points out that skin marker use benefits his patients.
Recalls can be upsetting for patients, and Dr. Benjamin has multiple cases where a patient was spared from a call back because a skin marker was used proactively at the time the patient first presented.
Additionally, he says, patients appreciate the time taken to mark each scar, mole, etc. "They can pick up on when you're spending the time and doing things the right way. Focusing on the patient and going that extra mile makes all the difference."
Over the next few months, we will be featuring some of the cases Dr. Benjamin presents in his paper that make the case for using a 5 -shape skin marking system for communicating nipples, moles, post-surgical scars, palpable lumps, and non-palpable areas of pain or concern.
If you are interested in standardizing a mammography skin-marking protocol in your breast imaging facilities, download this complimentary skin marking protocol template, courtesy of Beekley Medical.
To learn more about The Beekley Skin Marking System® contact your Beekley Medical Account Manager at 1-800-233-5539 or email info@beekley.com.

Megan Sargalski
Marketing Communications Specialist