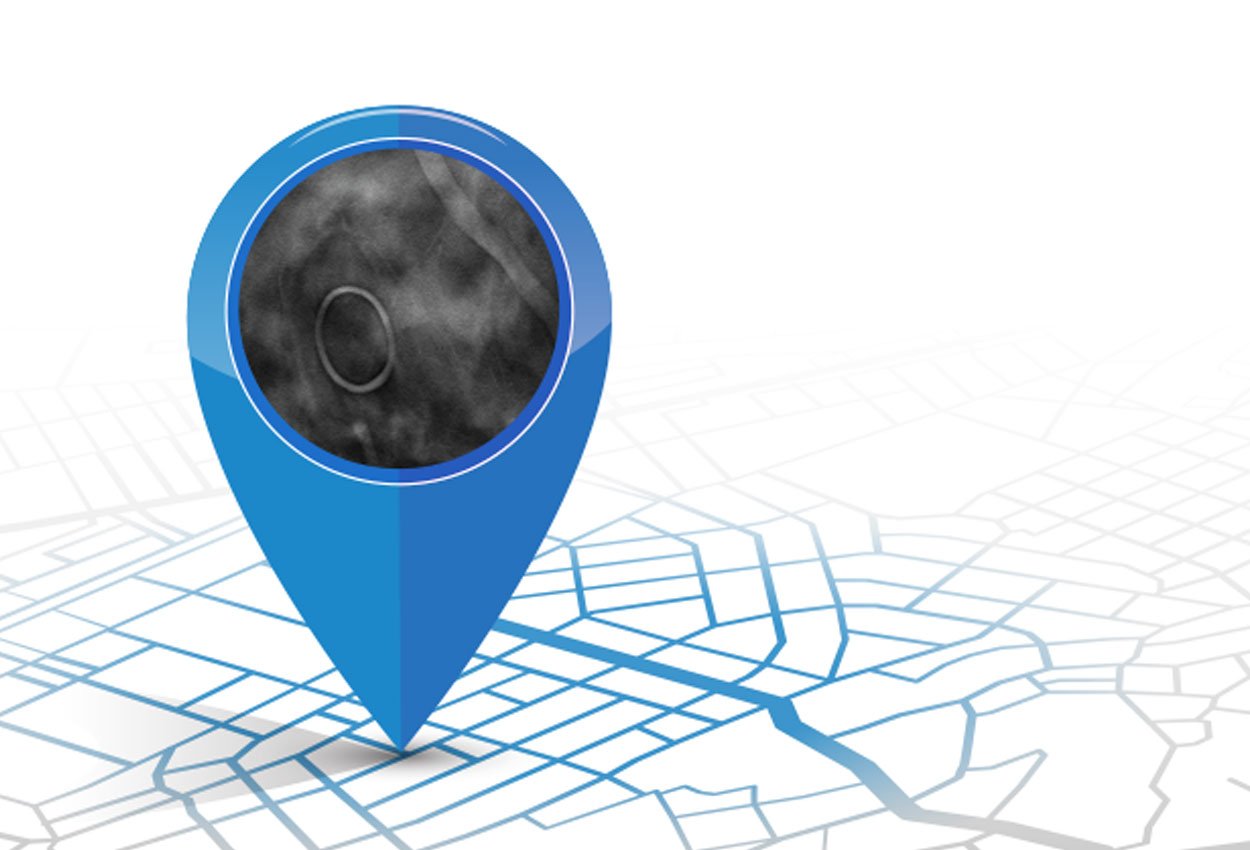 Over the past few months, we have introduced Dr. Joseph C. Benjamin, specialist in breast imaging and lead interpreting physician for mammography within the Mercy Health system in Ohio.
In his paper, "Skin Marking in Digital Breast Tomosynthesis: Unique Markers Establish Consistency and Efficiency," Dr. Benjamin writes about the clinical and operational benefits realized from implementing a system-wide 5 shape skin marking protocol in mammography and uses several case studies to demonstrate why he believes in the value proactively using skin markers providing clarity in communication and reducing unnecessary patient call-backs in digital breast tomosynthesis.
Consistency is key for efficiency and accuracy in interpretation
Stressing the value of consistency when it comes to marker use as the same group of radiologists read for multiple facilities, Dr. Benjamin states that
"Consistency in skin marking is very important because every second counts when you're reading, and it's important for our efficiency that when you open the study, the information is presented the same way each time." As a result, he established a standard skin marking protocol across all his sites so that the radiologists can quickly and easily identify area of concern.
The problematic mole in mammography
When it comes to marking moles, Dr. Benjamin remarks on how he used to hear "I only mark moles I think are going to be on the image."
Because moles can be inconsistent in their imaging from year to year due to positioning and other factors, Dr. Benjamin main feels that practice is too risky. As a result, the technologists at his healthcare system use mole markers whenever they notice any raised area on the skin. Dr. Benjamin feels this practice of marking all raised moles in his mammography centers has improved workflow, reduced recalls, and helped augment the patient's history with permanent, visual, documentation.
How the use of mole markers can reduce unnecessary retakes and callbacks
The following case highlights how consistently marking moles on every patient adds a level of efficiency as well as improves the accuracy of image interpretation. More importantly it helps prevent the patient from being unnecessarily recalled for additional imaging.
In this case study a 77-year-old presented for DBT (Digital Breast Tomosynthesis). A single dermal mole was present and marked with a lucent circular mole marker as shown below.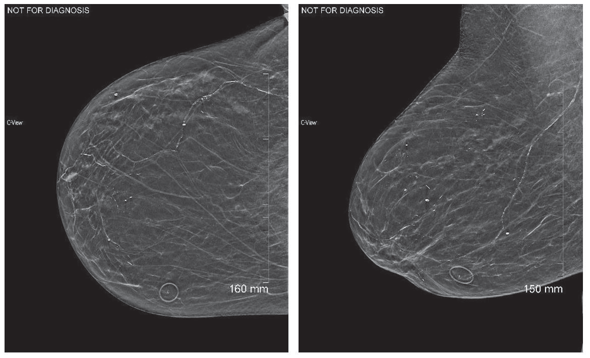 When the image in enlarged, shown below, several calcifications are revealed. The radiologists must determine if these calcifications represent a finding that requires further investigation, so it is imperative to know if the calcifications are within the skin or within the breast.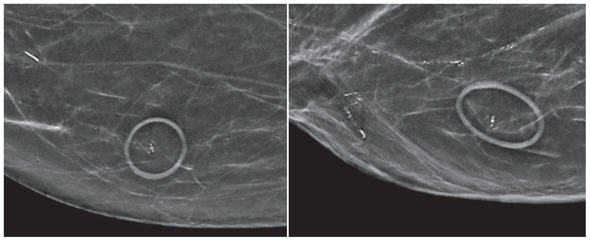 The last image below shows the DBT area of concern. The soft tissue image of a raised mole and nearby calcifications are captures within the circle of the mole marker. Calcifications were localized to the first slice. The final diagnosis was that the calcifications with within a skin mole and no additional imaging is necessary.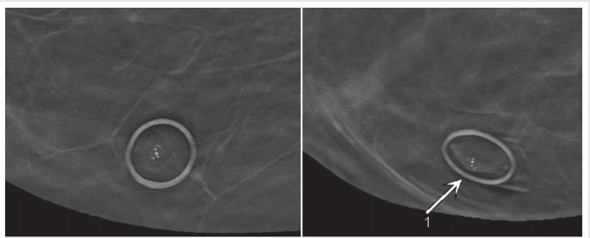 The distinctive shape and specificity of each marker, in this case the circle for communicating skin moles, helps the radiologist focus their attention appropriately, as well as increase confidence in what they are seeing.
Proactively marking moles and other areas of interest on the breast, helps reduce the time needed to investigate images and decide if additional imaging or workups are necessary.
To learn more about the value of marking moles in mammography, contact your Beekley Medical Account Manager or email info@beekley.com.
To get started on implementing a standardized skin marking protocol in your own breast imaging practice, download this complimentary skin marking protocol template.

Megan Sargalski
Marketing Communications Specialist