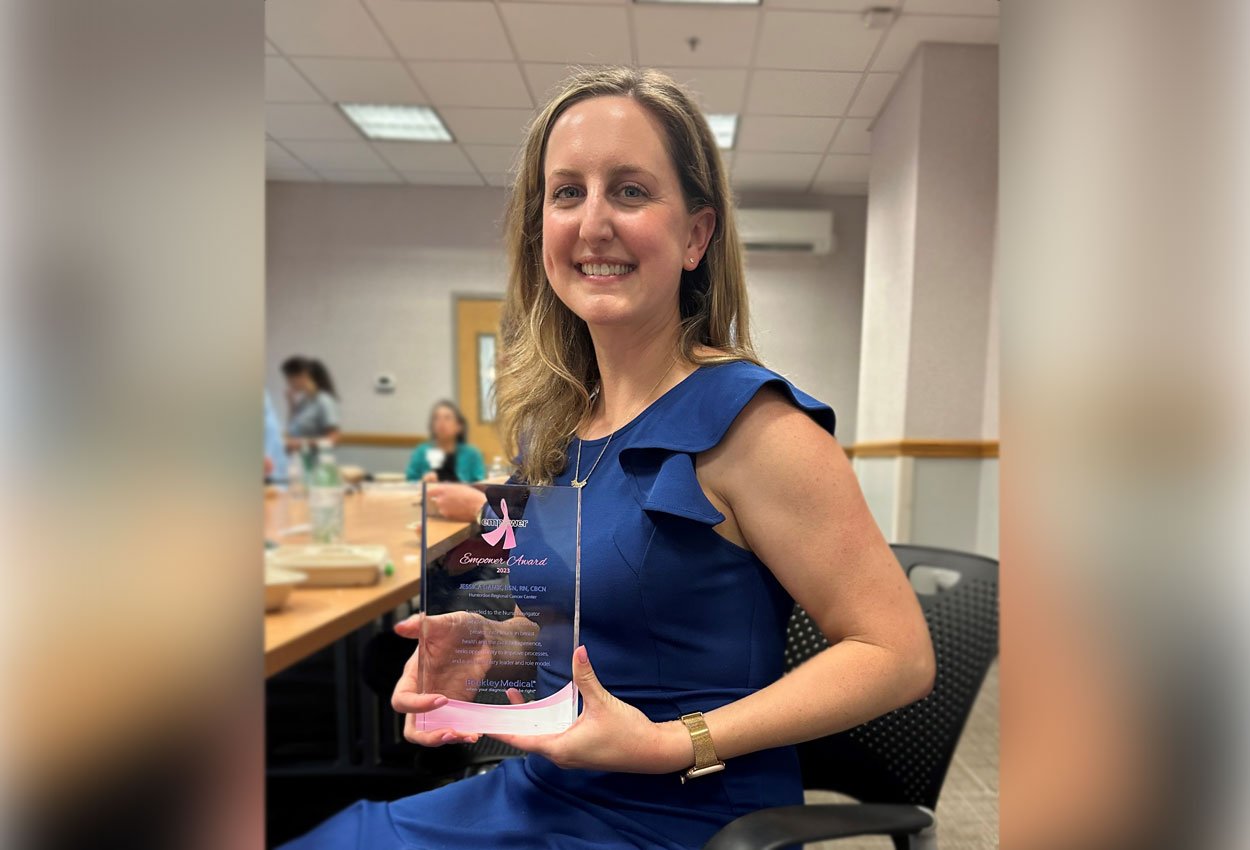 Each year since 2017, Beekley Medical® has awarded one person the EMPOWER Award for Mammography. Over the years the recipients have included breast radiologists, lead mammographers, and most recently, the mammography supervisor.
For 2023, the Nurse Navigator role was chosen. Although the titles may change from year to year, the inspiring and heartfelt sentiments in the nominations stay the same. This year was one of the most successful yet, with a high number of nominations and many, many deserving nominees.
Choosing a winner for the EMPOWER Award is without fail one of the most difficult tasks we have here at Beekley Medical. Each year, we are astonished by the compassion, selflessness, and high standard of care that the nominees demonstrate each and every day.
"My patients universally revere Jessica. She is a model healthcare professional."
Jessica Danik, BSN, RN, CBCN embodies these traits and was chosen as 2023's EMPOWER Award for Mammography recipient. Jessica joined Hunterdon Regional Cancer Center in 2013 and in 2015 became a Certified Breast Care Nurse (CBCN).
To help her community and breast care program Jessica has organized free breast screening events, coordinated the multi-disciplinary breast care conference team, supported her program's certification with the National Accreditation Program for Breast Centers, and she oversees the performance improvement initiatives for their breast program.
Jessica has also worked tirelessly to decrease the wait time from breast MRI to second look ultrasound. According to Jill Pelonero, Director of Hunterdon Regional Cancer Center, "Jessica constantly is looking for ways to make the patient experience better. This program would not be what it is today without Jessica's knowledge, compassion, and commitment."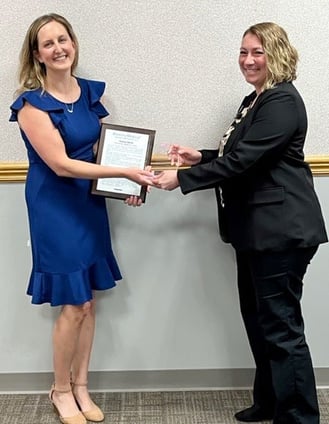 Jessica does all of this with empathy and a drive to show her patients that they are not alone throughout their cancer journey. One of Jessica's fellow nurse navigators, Samantha Geiger, explained that when COVID threatened the resources that their program allocated to navigation "Jessica advocated for our nurse navigation program and our patients, reminding everyone that cancer doesn't stop for COVID."
Jeanne Gee, another of Jessica's colleagues, stated "Jess' patients adore her and always are thanking her for being such a tremendous support to them during one of the most trying and terrifying times in their lives.
Her approach is calming with both her big heart and her vast knowledge of breast cancer and all of the therapies that are utilized. She provides the patients with excellent resources that are evidence based and 100% up to date." As Dr. Myron Bednar wrote, "My patients universally revere Jessica. She is a model healthcare professional."
An award ceremony to remember
It is evident that Jessica not only touches her patient's lives so profoundly but also those of her team members; many of whom attended the award ceremony and some who even spoke during the event. There was an outpouring of support, admiration, and amazement from Jessica's colleagues.
Dr. Megha Shah spoke during the ceremony and shared that when a patient is overwhelmed with tests, critical decisions, and financial stress, Jessica walks in the room and says "Hi, I'm Jess. I'm your nurse navigator and we'll figure this out together."
Dr. Shah further explained, "Jess works tirelessly for our patients navigating them through not just the initial phases, but all phases of their breast cancer journey."
Jessica's family also attended the event to see their loved one being honored for this prestigious award. As Jess accepted the EMPOWER Award and expressed her gratitude, she said "I feel so honored and privileged to represent navigation. I want to thank administration who has always supported me, and really has allowed me to do a job that I love and be a mom at the same time.
"I think navigation is all about relationships – surely relationships with our patients, but even more importantly it's relationships with each other. And I feel so fortunate over the last ten years to have made just the most amazing relationships with my team. I work with the best team. I want to thank my family for being there for me at the end of a hard day, always loving me and supporting me."
No one was surprised that Jess credits her team for her successes. She is an incredible team player with one end goal in mind: making sure her patients have everything they need during their most challenging times. Beekley Medical congratulates Jessica Danik and the entire team at Hunterdon Regional Cancer Center for providing exceptional care and making women's lives better every day.
Colleen O'Flaherty
Mammography Product Specialist