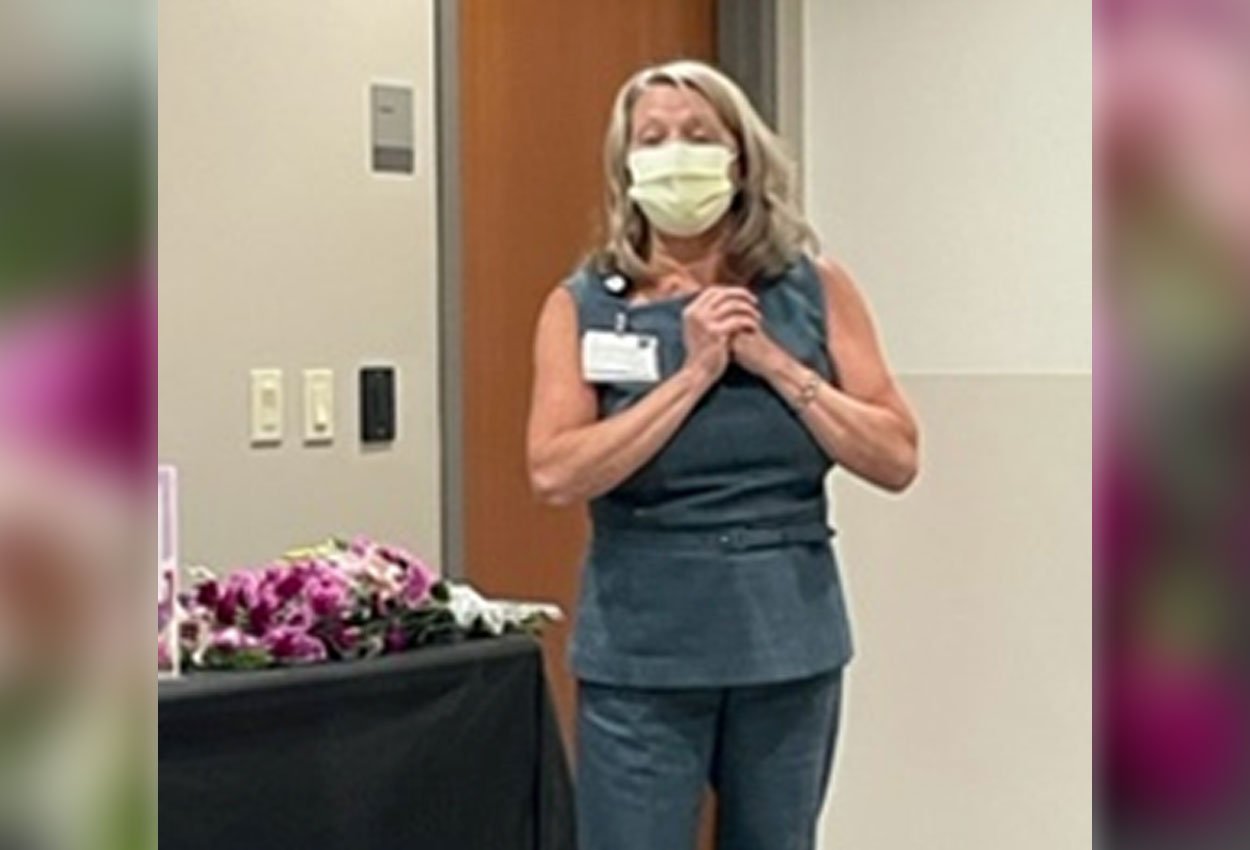 The Mammography Supervisor / Manager wears many hats within their role. They manage staff, scheduling, performance reviews, patient satisfaction, quality control, equipment issues, ACR accreditation, and the list goes on. Many times, a Mammography Supervisor is also stepping in and performing mammograms when needed.
The last couple of years, that role became even more intense with implementing cleaning protocols in waiting areas and changing rooms, screening patients at reception for COVID-19, adjusting workflows and patient volumes, ensuring patients feel comfortable returning for their mammogram, managing staff shortages and staff mental well-being. The list goes on and on. This is why we chose to focus on mammography supervisors for the 2022 Empower Award.
"Worked tirelessly to ensure staff and patients remained healthy and engaged"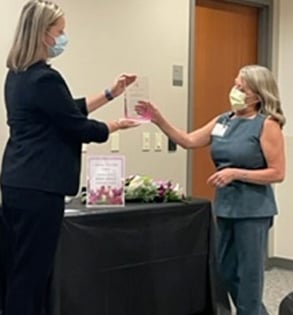 We received many powerful nominations for this award, however we had one submission that clearly stood out as the Winner: Cynthia "Cyndi" Myers of WellSpan York Hospital Women's Imaging Center in York, Pennsylvania.
Cyndi was nominated by Elyce Wolfgang, Director of Imaging Services, at WellSpan York Hospital. Elyce shared the following about Cyndi in her nomination form:
"Cyndi Myers has worked tirelessly over the pandemic to ensure her staff and patients remained healthy & engaged. When we reopened screening mammography appointments, she redesigned the patient flow through a high-volume women's imaging center to limit touch points and focused on regular disinfection of high touch areas. Cyndi also worked with our local oncology and OB/GYN offices to brainstorm ideas on how we could get women to return for their annual screenings.
"Cyndi worked with her team to add additional screening appointments in the evenings and weekends. Along with offering additional appointments, she partnered with our Patient Access Team to decrease the 3rd next available appointments. Cyndi also partnered with our EHR team to enhance online scheduling options. She spearheaded system efforts to implement 'no order required' screenings.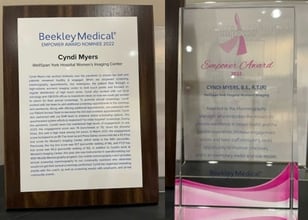 "During this pandemic, Cyndi's team has maintained high levels of engagement. In July 2020, the engagement score was 74 (benchmark of 75). Given the stressful times, this was a high mark among her peers. In March 2021, the engagement score increased to an 81! The most recent Press Ganey scores indicate a 92.9 top box score for Women's Imaging Center, which ranks in the 98th percentile. Previously, the top box score was 91.7 (percentile ranking of 96), and FY21 top box score was 90.2 (percentile ranking of 92).
"In addition to Cyndi's work at Women's Imaging Center, this year, she was instrumental in operationalizing our WSH Mobile Mammography program. Our mobile mammography coach provides annual screening mammography to our community members who otherwise would not get their annual screenings performed. Cyndi has organized marketing events with the coach, as well as screening events with employers, and at-risk community events."
Cyndi was presented with her EMPOWER award via a remote meeting with Beekley Medical. Elyce handed her the award.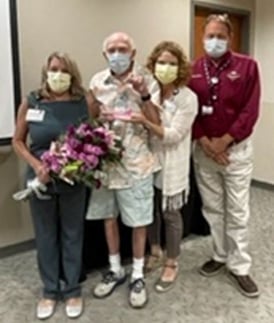 Many of Cyndi's colleagues joined in person and remotely to celebrate her achievement, but it was also a family event! Special guests were Cyndi's husband Greg, daughter Kelly, who is also a healthcare worker specializing in oncology, and Cyndi's father, Mr. Harper, who was just months from turning 100.
"
Ahead of the curve anticipating challenges throughout the last few years

"

During the presentation of the Empower award, Elyce remarked "This is a huge honor to present you this award, Cyndi, and that you were the winner among many submissions to Beekley. We are so blessed and lucky to have you on our team at WellSpan Imaging with all the work and effort that you put in each day. Obviously, you have an amazing team here in the audience… of radiologists, technologists, schedulers, team leaders, and the team of supporting nurses. It is a hugely supportive team that you steer the ship. They are the ones that are making it happen day in and day out, but you're the one that's really setting the course for them and showing the team what to do."

Cyndi responded by thanking her team, stating "We just do what we do every day and you guys are amazing. This is our award and I thank you. You're awesome."

Dr. Beatrix Olofsson, Division Chief of Breast Imaging for York Hospital thanked Cyndi for her positive energy, describing how much it really livened up their department. She added, "We really were ahead of the curve anticipating challenges throughout the last few years. Your problem solving has been great."

Systems Imaging Director, John Schaffer, chimed in "You've been amazing. All the work you have put into the mobile coach, let's just say it was not the easiest project that we've ever worked on and you've been a rock star through it all!"

Cyndi's near 100-year-old father closed the presentation by sharing he was very proud of his daughter.
Congratulations and thank you!
Beekley Medical congratulates Cyndi Myer and the amazing team at Women's Imaging Center at WellSpan York Hospital. We are inspired by your commitment to work together as a team with the singular focus of making women's lives better through the early detection of breast cancer.



Melissa Vibberts
Director of Brand Management