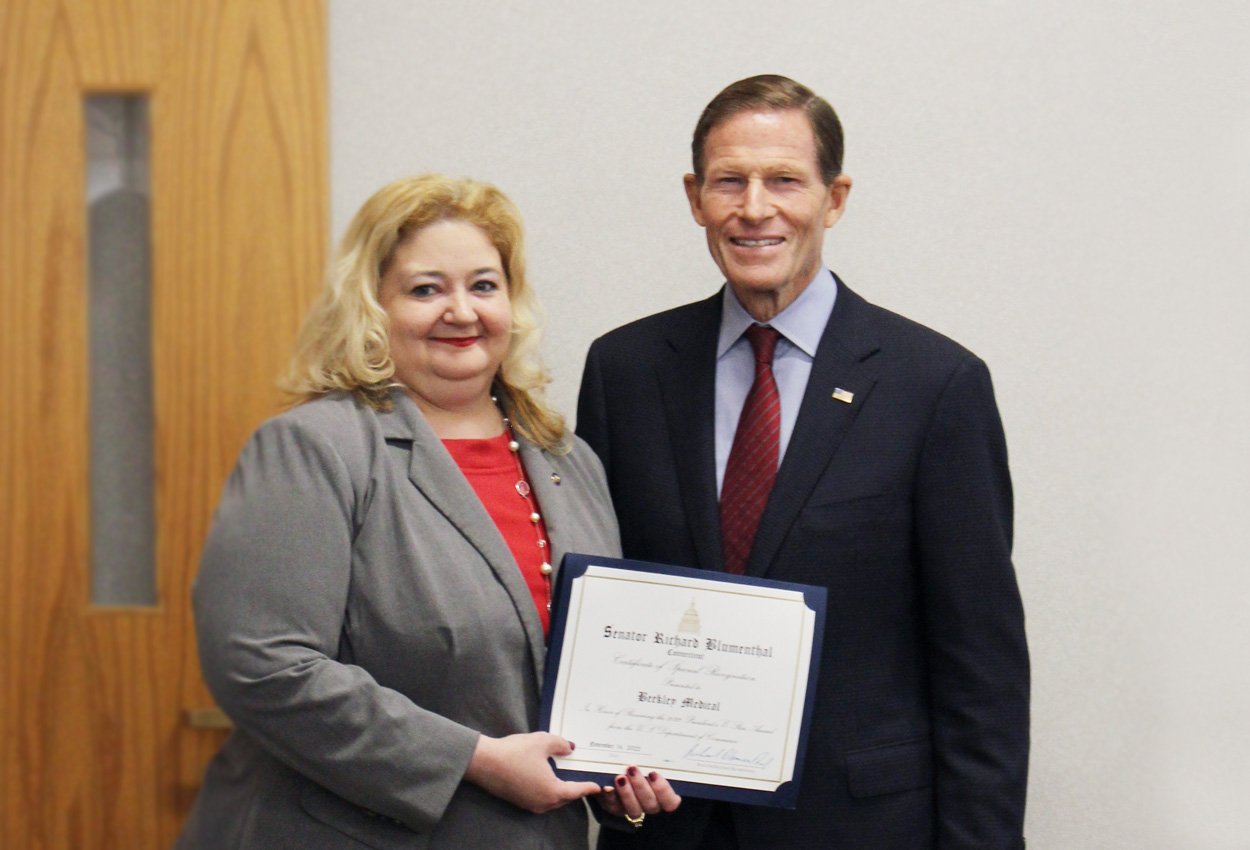 It's not everyday that a United States Senator visits Beekley Medical. However, we were honored to have Senator Richard Blumenthal spend the morning touring our facility and presenting our global sales team with a Certificate of Recognition from the U.S. Senate acknowledging Beekley Medical for earning the President's E Star Award which recognizes U.S. companies who demonstrate sustained continued growth in exporting.
Before a U.S. entity can receive the E Star Award it must first fulfill the requirements to earn the E Award, that recognizes firms or organizations which contribute significantly in the effort to increase exports from the United States.
A track record of success
In May of 2018, Beekley Medical was one of 25 companies presented with the E Award by the U.S. Secretary of Commerce, Wilbur Ross, at a ceremony in Washington D.C. Ross stated how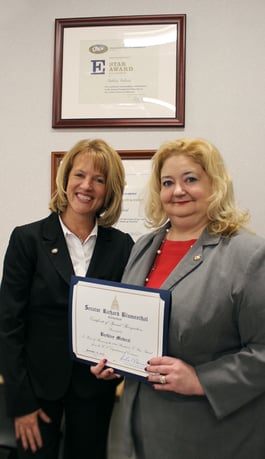 impressed the award committee was on Beekley' Medical's use of market research to help identify opportunities in new international markets, enabling the opportunity to export to 48 countries therefore contributing to national export expansion efforts.
The individual credited for this success was Amy Bosco, who at the time was Beekley's Global Business Development Senior Manager. Her hard work and "whatever it takes" attitude in growing the international market was recognized not only by Beekley Associates but now on a national level as well.
Since then, Amy's (now Director of Global Business Development) hard work resulted in Beekley being awarded the President's E Star Award, which is awarded to those companies who continue to show annual growth in exports for the four years after earned the E Award. Essentially, the E Star Award represents 8 continuous years of growth in export revenues.
In rare company
Beekley was one of just three companies nationwide to earn that distinction for 2022. Not surprising, considering we had a global pandemic during most of these last four years. But as they say, when the going gets tough, the tough get going. Amy and her team of distribution partners doubled down on their marketing efforts and focusing on how our products help with patient safety. She also implemented virtual training meetings to ensure all distribution partners were up to date on product messaging in these difficult times.
The letter Beekley received from Secretary of Commerce, Gina Raimondo, announcing that Beekley Medical earned the prestigious E Star Award stated that, "The awards committee was very impressed with Beekley Medical's expansion to 19 new export markets since receiving the President's E award in 2018. The company's innovative programs to support its foreign distributor sales growth was also particularly notable. This honor is a testament to your hard work exporting your products to the global market, and your remarkable resilience during the pandemic."
A senatorial visit making for a very special day
This past summer, Martha Flannery, Vice President of Sales and Marketing, accepted the award on behalf of Beekley Medical in a ceremony held in Washington D.C. Both the plaque and banner hang proudly next to their counterparts in Beekley's Continuous Learning Center.
Imagine Amy's surprise when she received a note from the U.S. Commercial Service stating that Senator Blumenthal wanted to personally present Beekley Medical with a certificate of recognition of the E Star Award. He and members from his office requested a tour of the company and a meeting with corporate leadership.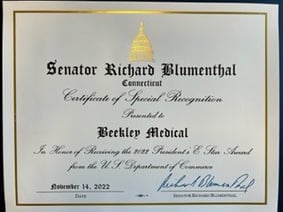 During his visit, Senator Blumenthal was genuinely interested in what Beekley does and was very engaged throughout. He was particularly impressed with the commitment Beekley has to continuous learning and improvement, stating that learning is the bedrock that enables the innovation that embodies both the E and E Star awards. He also took some time to engage with several of our Beekley Associates during his presentation to the company.
Although this was Amy's second time around, she told us how honored she was to personally receive recognition from Senator Blumenthal, acknowledging how busy he must be. It was truly a special day for her and Beekley.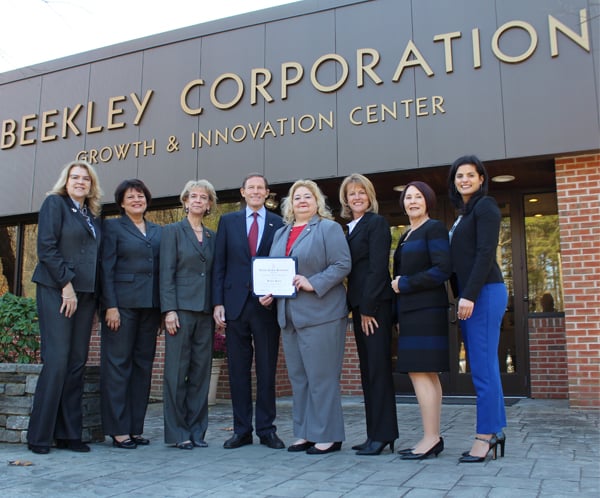 Megan Sargalski
Marketing Communications Specialist