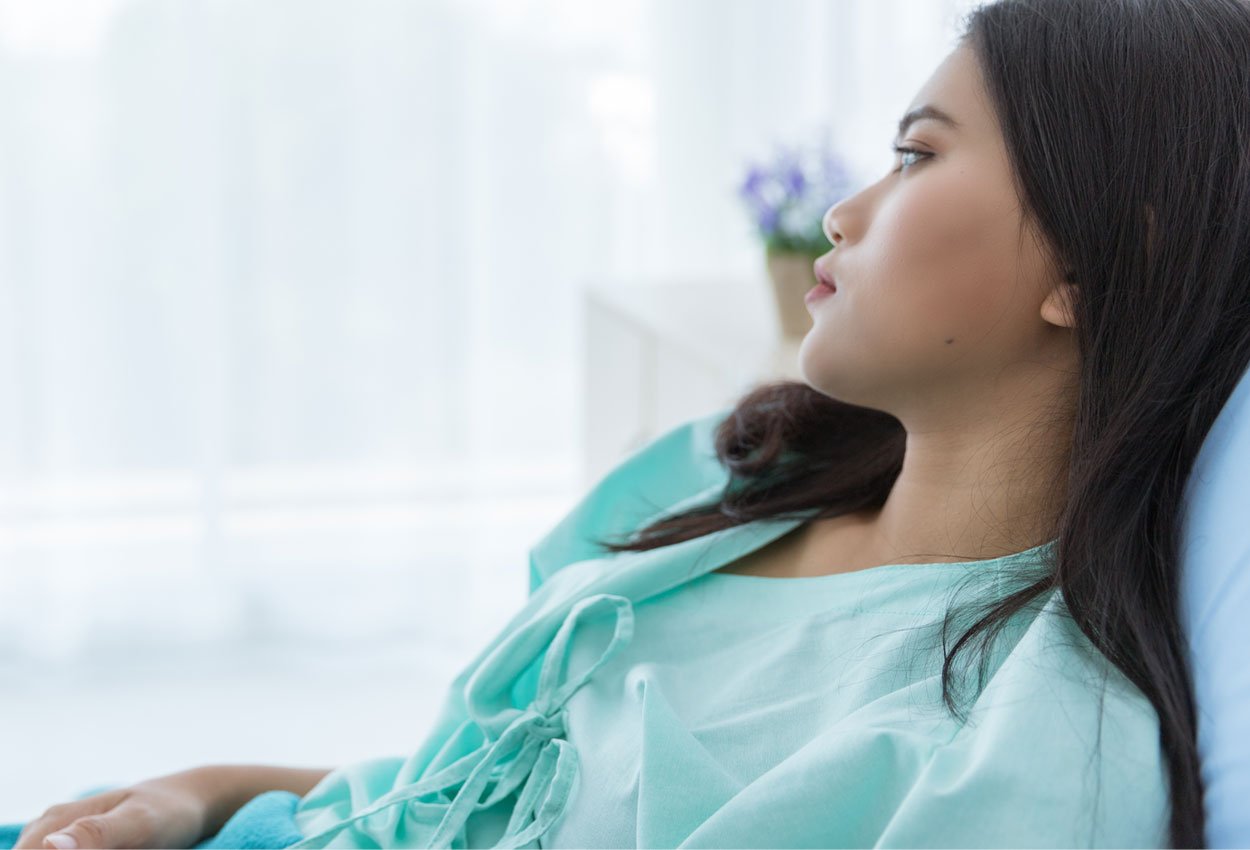 Rewinding back to the beginning of the COVID-19 pandemic, screening mammograms were delayed due to many breast centers temporarily closing their doors.
According to the Centers for Disease Control and Prevention (CDC), breast cancer screenings declined by 87% during the month of April 2020 compared to the previous 5-year average. Although volumes started to recover in June 2020, they were still much lower than 2019. Another study estimates 285,000 patients missed screenings during this time.
When breast centers did reopen, many patients continued to put off their mammogram due to fear of being too close to technologists and other patients, and possibly catching the virus.
After vaccines became available for COVID-19, there was an added confusion about whether to wait after getting the vaccine due to the possible side effect of enlarged lymph nodes.
Other patients, eager to schedule their mammograms, experienced a backlog with their appointment being pushed out due to the volume of patient's trying to re-schedule.
Breast centers were experiencing longer hours, less staff, more cleaning protocols, and new standards set into place.
Rise in breast biopsy procedures predicted
Now that breast centers have adapted, some facilities have a higher number of screenings compared to 2019. With a rise in screening mammograms, it can be expected that the amount of breast biopsies will also increase.
Patients who undergo a breast biopsy may deal with anxiousness when it comes to not knowing what to expect during the biopsy - how it will affect their breast, possible pain, or the uncertainty of the results. An added stressor for some is the possibility of contracting COVID-19 during their biopsy.
In a study conducted by Duke University, listening to taped guided, positive meditation or relaxing music during a biopsy resulted in significantly lowered anxiousness and therefore pain. These simple interventions improved the patient's experience during the biopsy procedure.
Another way that helped patients reduce their anxiety during a biopsy was through better communication with the healthcare staff. Using the ComfortTalk™ approach, patient-centered talking styles and the use of hypnotic language, has been shown to improve patient satisfaction.
Simply reassuring patients about what to expect can also make them feel more at ease.
How clinical aromatherapy can help with anxiousness and patient perception of pain
In a study published in the Journal of Breast Imaging, the actual amount of pain that a patient felt during the biopsy was fairly minimal, compared to the amount of pain that they thought they were going to experience. When a patient is more relaxed, pain can decrease. Aromatherapy can have a significant positive effect in reducing pain.
In their study, A Randomized Controlled Trial Provides Evidence to Support Aromatherapy to Minimize Anxiety in Women Undergoing Breast Biopsy, researchers used Elequil aromatabs® as their aromatherapy of choice as they have a consistent, controlled amount of essential oils in each aromatab. The study proved a statistically significant reduction of self-reported anxiety when Elequil was used.
A simple non-pharmacological intervention to offer patients
Elequil is a self-adhesive, hands-free way to provide clinical aromatherapy that is personal to that patient and is disposed of after use or transferred to their clothing to continue use once they are home.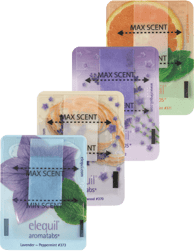 Elequil aromatabs® uses 100% Pure Essential Oils lasting 8 hours or more:
• Lavender-Peppermint promotes relaxation during pain, helps comfort and calm anxiousness, and soothes queasiness
• Lavender and Lavender-Sandalwood promote relaxation during pain and help comfort and calm anxiousness
• Orange-Peppermint uplifts and can soothe queasiness
If the patient is standing up during the biopsy, Elequil can be placed on the gown. If the gown is out of reach, it can be temporarily placed on the equipment where the patient can experience the aroma during the procedure.
If the patient is lying down, Elequil can adhere to the patient's gown or placed on the biopsy table. With some biopsies lasting 30-60 minutes with the patient in the same position, having them inhale the aromas can help get them through the procedure.
Many breast centers offer multiple aroma selections and ask the patient to chose which aroma they prefer. This gives the patient some control over her procedure.
Offering Elequil aromatabs to patients can help bring them comfort and make them feel cared for
"I was going in for a needle biopsy and was asked if I wanted to try the lavender to help me relax. They set it next to me and it seemed to be soothing. When I had a second procedure a week or so later, I was offered the aromatab again. Very helpful!" (Marci)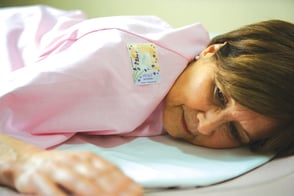 "I had a breast biopsy yesterday. Three samples were taken, and it was an intense experience. I was the very first patient my clinic [breast center employee] used these aromatherapy aromatabs on, and my team was very, very excited. I couldn't think of the words for how soothing this was, but I thought of it after. It was grounding. In a hospital setting, it's easy to feel lost in an alien place, while feeling physically violated. A familiar smell really helped me subconsciously know that I was in a temporary place, that the world outside was still there. Overall, I am pleased with your product." (Emily, Bedford, NH)
"Elequil aromatabs have been very beneficial for fretful patients during Breast Interventional Procedures and for the MRI patients. The biopsy patients are more relaxed and we are experiencing fewer cancellations." (Mammography Quality Control Coordinator, Jefferson Radiology, Farmington, CT)
Experience the Elequil aromatabs difference yourself
Contact your Elequil Account Manager at 1.800.233.5539 or info@beekley.com to learn more about Elequil® and the use of aromatherapy in the clinical setting or to request materials for a trial evaluation at your facility.

Melissa Vibberts
Director of Brand Management