Many Skilled Nursing Facilities (SNF) are continually looking for ways to improve person-centered care initiatives, while at the same time focusing to decrease anti-psychotic medications.
In 2016, The National Partnership to Improve Dementia Care in Nursing Homes, a CMS initiative, set and accomplished the goal to reduce the national rate of anti-psychotic use among long-stay skilled nursing residents by 30% in 2016.
National goal to reduce anti-psychotics in long-term care
CMS has since issued a new national goal for long-term care facilities continuing to have higher use-rate to reduce anti-psychotic medication by 15% by the end of 2019. This goal builds on the progress made to date and expresses the Partnership's commitment to continue this important effort. Facilities that have already achieved lowering their rates were asked to continue their efforts and maintain their success.
Aromatherapy as a complementary non-pharmacological approach
The larger mission of the new goal to reduce anti-psychotic medicines is to enhance the use of non-pharmacologic approaches and person-centered dementia care practices.
Facilities are under pressure to meet these reductions while keeping staff, families, and resident's happy—all while improving person-centered care.
One area of increasing popularity is to implement a non-pharmacological, complementary approach with aromatherapy.
Clinical studies with aromatherapy have shown success in improving sleep, reducing medications for anxiousness, pain, and/or depression, and reducing fall rates.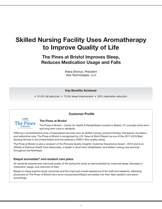 Independent study on aromatherapy's potential impact on fall reduction
Recently, The Pines at Bristol (Bristol, CT) conducted their own study using aromatherapy.
They were looking for a low-cost solution to help reduce resident falls. The Director of Nursing felt if she could improve sleep and decrease medications, it may reduce resident falls.
She selected Elequil aromatabs® for the study because of its unique delivery system and that it adheres directly to the resident's clothing.
Study participants had to meet three criteria prior to the start of the study:
Experienced a fall within 30 days
Noted as restless during the night hours (11pm – 7am)
Received daily medications for anxiety, insomnia, and/or mood
The Lavender-Sandalwood Elequil aromatabs® was used for 30 days on 12 residents. An Elequil® aromatab was applied to each study participant every day between 6pm and 11pm and it was removed during morning care.
Study results determined:
Falls were reduced by 91.6%
Sleep quality improved by 74.9%
Medical intervention was reduced by 50%
Although the study conducted by The Pines at Bristol was conducted on a small group of residents, the staff at The Pines were encouraged by the results and decided to move forward with implementing Elequil® as part of their non-pharmacological, person-centered care for residents at high risk.
Aromatherapy is not currently reimbursable through Medicare and Medicaid, however, the CMS does support the use of aromatherapy as a non-pharmacoligical intervention.
The 2017 CMS State Operations Manual recommends the following in their FTags:
FTag 679—Activities: For the resident who exhibits unusual amounts of energy or walking without purpose: Providing aroma(s)/aromatherapy that is/are pleasing and calming to the resident
FTag741—Behavioral Health: Non-pharmacological Interventions: Examples of individualized, non-pharmacological interventions to help meet behavioral health needs may include, but are not limited to: Utilizing techniques such as music, art, massage, aromatherapy, reminiscing.
Funding can be a challenge
However, even with these CMS recommendations, the one common challenge that many long-term care facilities seem to face is finding the funding for aromatherapy initiatives.
One area to consider is applying for a Civil Money Penalty Reinvestment Project (CMPRP).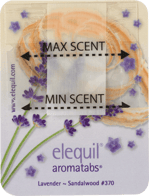 A portion of the state CMPRP fund supports activities that benefit residents and improve their quality of life. Some of the goals of CMPRP include reducing adverse events and improving dementia care. Each state has an application available to apply for CMPRP funding.
Elequil is a simple solution to help improve person-centered care. Visit the elder care section on Elequil.com or call 1-800-ELEQUIL to learn more about how Elequil can help your residents.

Laura Smith
Senior Clinical Product Specialist—Elequil aromatabs® | Certified Aromatherapist