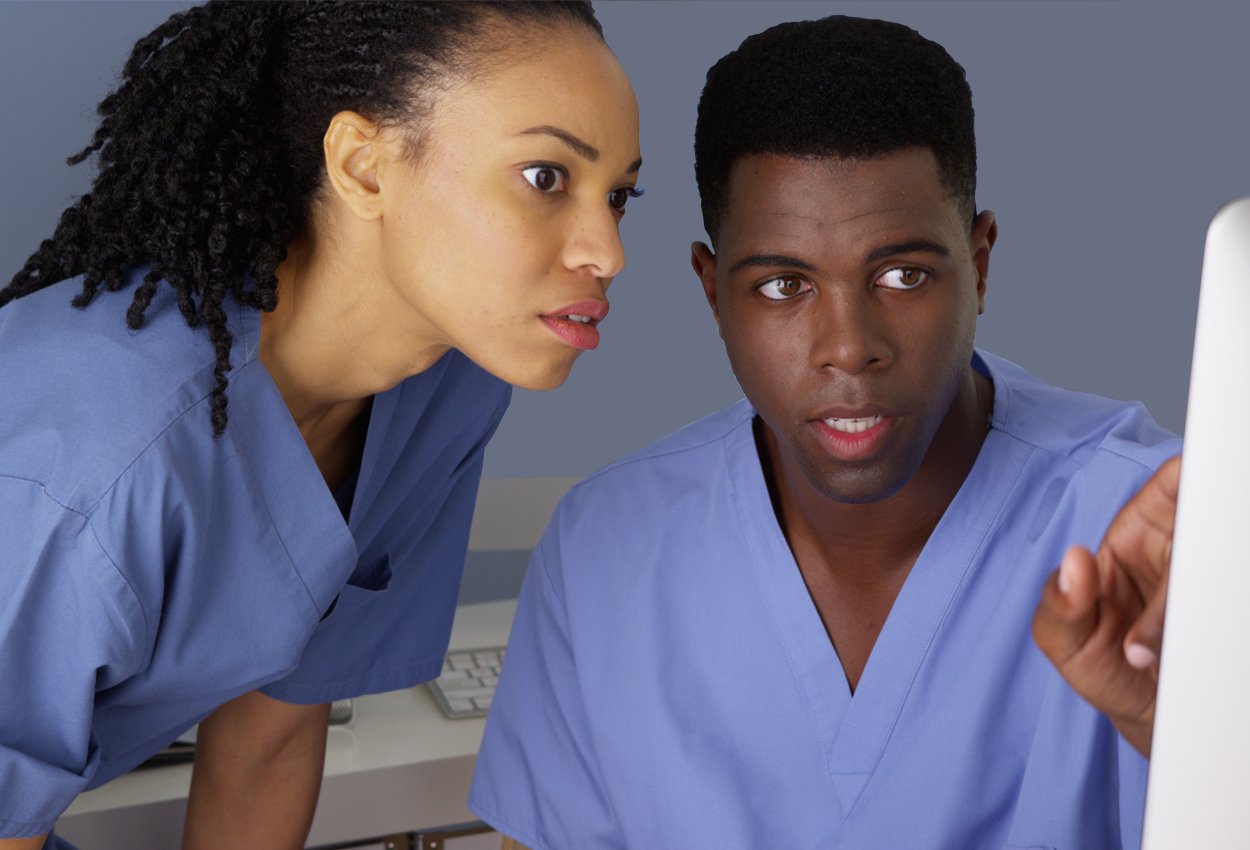 A common misconception about digital breast tomosysnthesis (DBT), also referred to as 3D mammography, is that whatever is seen on the first five slices is skin-related and most likely benign.
In their paper, "Dermal or Not? The Surprising Question We Find Ourselves Asking in Digital Breast Tomosynthesis," Dr. Erin Crane and Dr. Erini Makariou relate how they found that what appears to be on the skin line can actually be within the breast tissue, and in some cases, turn out to be cancers.
Lesion location on the scroll bar not necessarily reflective of true location on the breast
As the authors state early in the paper, there was a lot of optimism surrounding the introduction of digital breast tomosynthesis in terms of improved lesion localization. However it was noted early on that because DBT is not a true 3 dimensional reconstruction, that lesion location on the scroll bar may not necessarily reflect its true location on the breast.
Reasons why include:
Lesion position on the breast - Lateral lesions on the CC view will project lower on the scroll bar than on MLO. Medial lesions on CC will project higher than on MLO.
How the breast is positioned between views - Superficial lesions tend to roll between projections. Because the breast is repositioned, there can be significant changes in apparent location between views.
Extra slices added by manufacturer - Some manufacturers add 5 extra reconstructed slices on the compression paddle side to eliminate incomplete display of the breast. As a result, lesions will appear to localize closer to the detector side (inferior breast on CC views and lateral breast on MLO views) of the scroll bar in smaller breasts.
Paddle flex - The scroll bar is fixed and represents the thickest part of the breast (usually posterior). Paddle flex may cause the anterior portion of the breast to appear thinner and anterior lesions may localize closer to detector than their true location.
When Dr.s Crane and Makariou first implemented DBT in their facility, they began to see cases where they weren't certain is what the lesion they were seeing was within the skin despite being in the first few slices of the DBT stack. Further investigation with ultrasound showed that some of these lesions were not at all skin-related.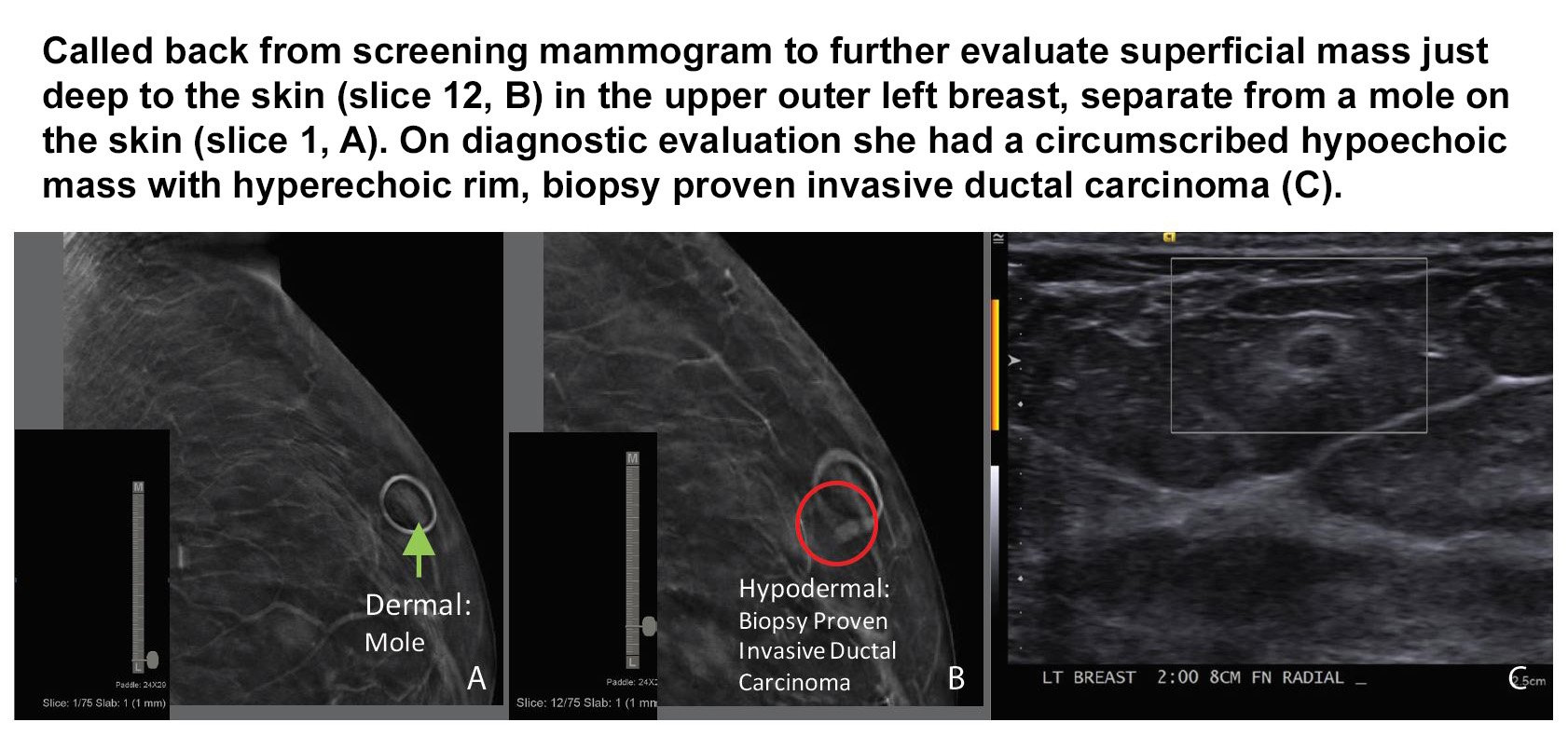 Dermal or Not? Realizing the value of marking moles in DBT
As they began documenting their cases1 of suspicious findings within the first few slices of the DBT stack, Crane and Makariou realized how important it was to mark skin lesions in addition to palpable areas and scars - a practice the American College of Radiology (ACR) also recommends in their Practice Parameters for the Performance of Screening and Diagnostic Mammography (Revised 2018 (Resolution 35) section E, labeled Markers, part 2, page 5).
The authors note that "While DBT, in some cases, can clearly define a superficial finding as a benign, dermal entity, there are instances where superficial lesions initially favored to be dermal are conclusively localized as intraparenchymal during diagnostic evaluation.
"As radiologists, we need to guide technologists to clearly indicate moles, skin tags, or sebaceous cysts. There are times you may see them on mammography, but other instances they are not readily visible. We found it very helpful to ask the technologists to go back and mark any visible moles so that we could be certain whether a finding was indeed dermal."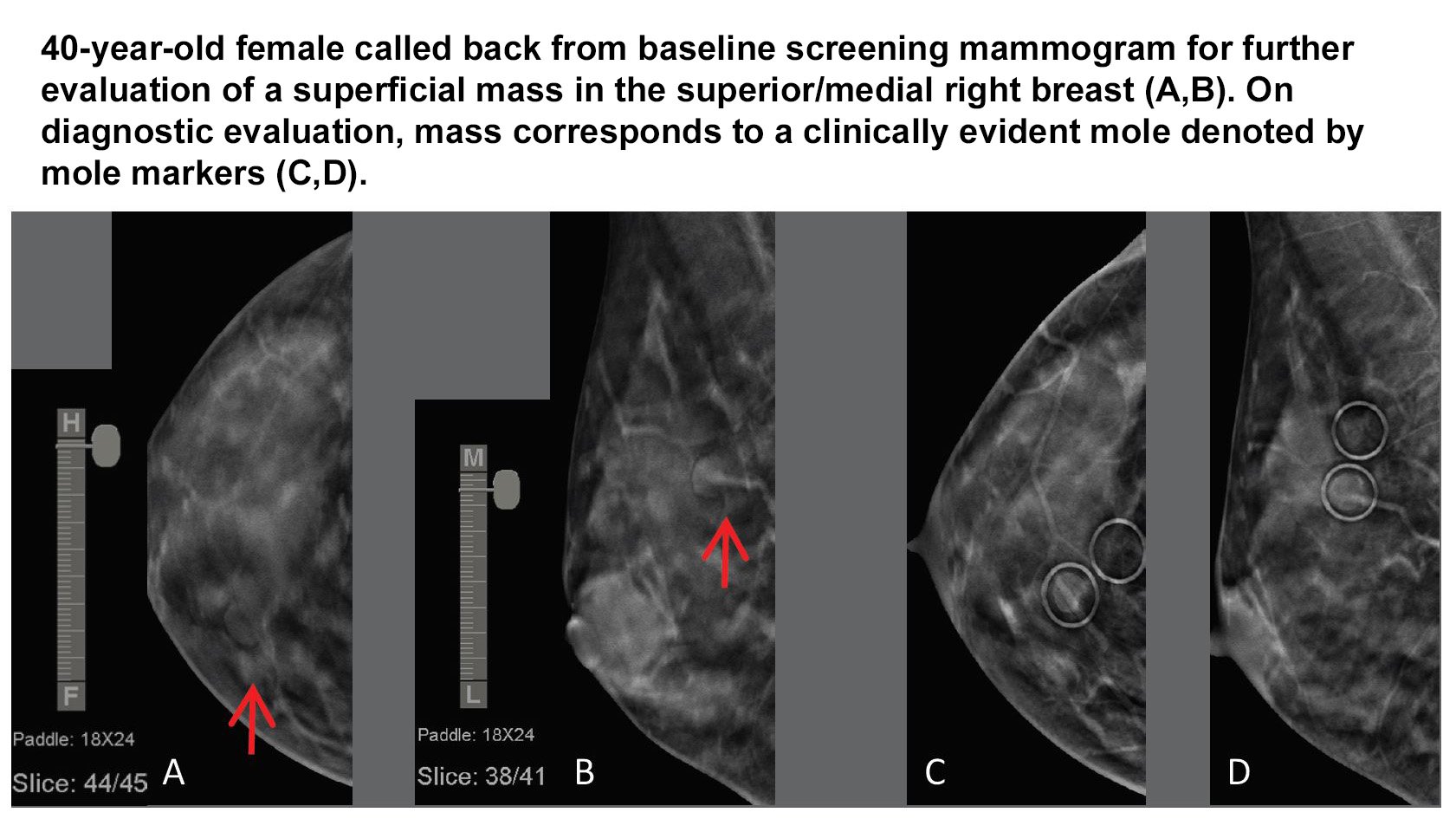 Despite its advances in tissue visualization, DBT has its limitations and we continue to find that mammographic skin markers add value to image interpretation.
Just as we've seen with the issue of architectural distortion in 3D mammography from prior surgeries necessitating the yearly use of scar markers to indicate the old excisional site; we are now seeing a resurgence in the use of mammographic mole markers to clearly identify what is dermal or not in those first few slices of the dermal stack.
The consistent use of mole markers to clearly communicate surface lesions to the interpreting physician helps to clarify findings and reduce questions that lead to unnecessary additional imaging and workups.
To learn more about the benefits of mammographic skin markers, contact your Beekley Medical Account Specialist at 1-800-233-5539 or email info@beekley.com.
1. Erin Crane, et al., "On the Edge: Pictorial Review and Imaging Assessment of Superficial Abnormalities on Digital Breast Tomosynthesis (DBT)," Poster Session, ARRS Annual Meeting, Washington, D.C., April 22-27, 2018

Mary Lang
Director of Marketing Communications