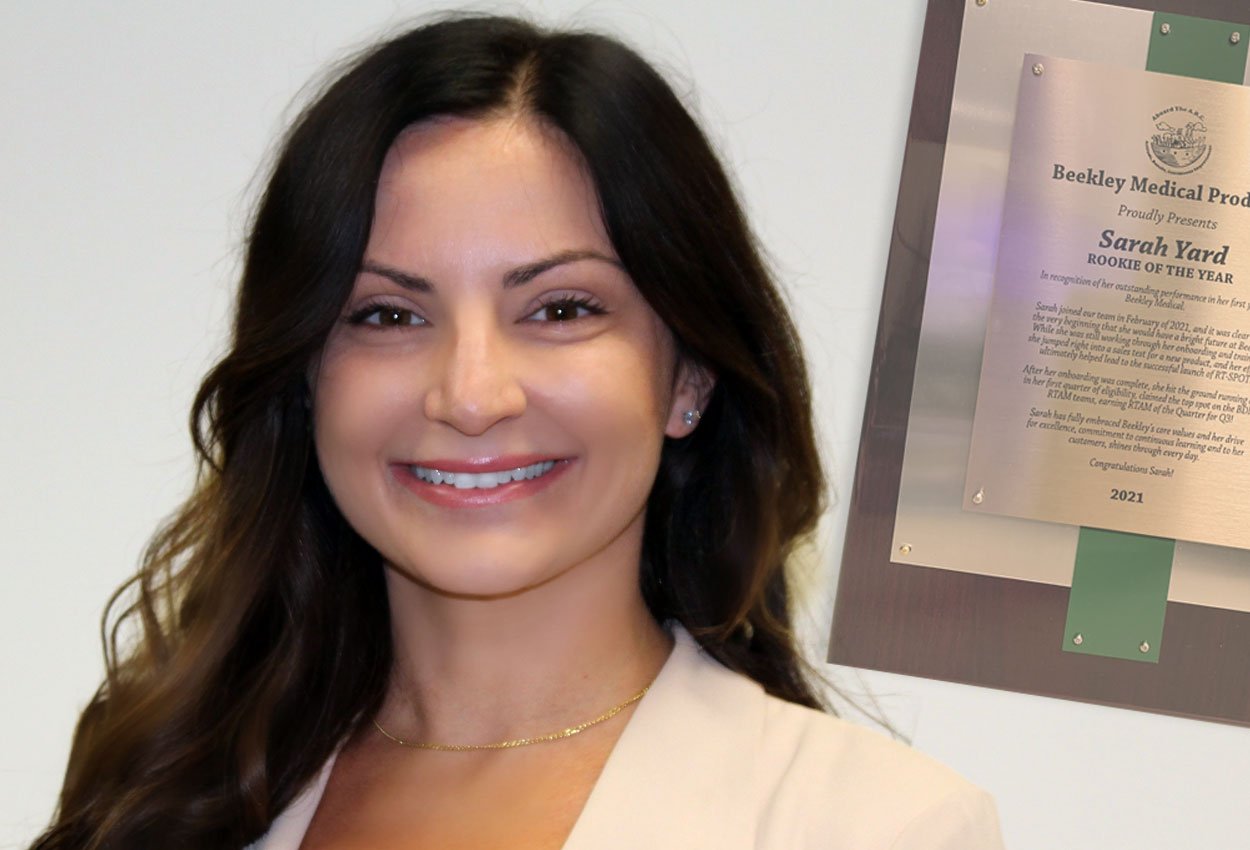 When hiring an Account Manager to represent your company, most companies looking for a candidate who is a quick learner, has a positive attitude, and most importantly, has the ability to connect with and develop ongoing relationships with their customers.
Sarah Yard, Beekley Medical's Rookie of the Year for 2021 embodies all these traits, in addition to a wealth of sales knowledge and previous experience.
Impressive from the start
National Sales Manager and Sarah's Coach, Daniel Bloking noted that Sarah's first year with Beekley Medical was nothing short of impressive.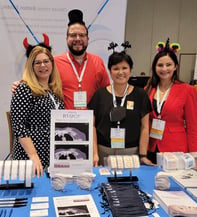 "Sarah has proven to be an excellent Account Manager. She has a natural ability to connect with customers and asks great questions to uncover their needs. She has taken the time to really understand her customers and sees every challenge as an opportunity for growth."
Hired in February 2021, Sarah hit the ground running as a member of the radiation oncology team. Usually after an Account Manager finishes their 90-day onboarding and training, they take to the phones to get a feel for their new role. Sarah however dove headfirst into the sales test for RT-SPOT®, a new skin marker for treatment planning which is elevated from the patient's skin in order to reduce dose perturbation and save the dosimetrist from manually contouring the actual skin line.
Committed to training, learning from customers
Richard Foster, Director of Training, commented on Sarah's ability to be a key player in the sales test. "Since Sarah was already in learning mode, she was studying new technical material along with the rest of the team and she earned a ton of experience having her first calls be to dosimetrists, a role we typically don't communicate with in our day-to-day sales calls."
Like most things during this pandemic, learning a new position isn't always easy. Under normal circumstances, new Account Managers would have a site visit to a local cancer center to see how our products are used and learn firsthand from our customers who use them.
While this wasn't a reality with Sarah's training, she took it in stride and credits the training she has received from Beekley and her discussions with her customers for her ability to learn so much about the world of radiation treatment planning in a short period of time.
It is easy to see why Sarah was awarded the Rookie of the Year award. Her warm demeanor and positivity are contagious. You can tell she fully embraces the Beekley culture and is aboard the A.R.C (Attitude, Results, Continuous Improvement) of Beekley's core values.
Consistent team player, top sales performer, cultural fit
Christina Hollister, Senior Manager of Onboarding & Continuous Improvement, touched upon how much of a team player Sarah is. "She is quick to recognize her teammates and peers, demonstrates leadership by always adding value in team meetings and brainstorming sessions."
Christina and Rich both noted how well Sarah fits in with her team and say her confidence over the last year has really grown. Her ability to stand shoulder to shoulder with her more seasoned peers is obvious and contributed to her being named the Salesperson of the Quarter for Radiation Oncology in Q3.
Before joining Beekley medical, Sarah developed and ran a free community group for at-risk children and volunteered at a domestic violence agency for years. Her dedication to helping others is another example of why she aligns so well with Beekley's mission to make a positive impact on the lives of everyone we touch.
Sarah is excited to see what's ahead for her career at Beekley. Her ambitious nature is evident. When asked what her goals are for her career at Beekley Medical she replied that getting to and staying at the top of sales performance is important to her but being a part of the supportive family culture at Beekley is also at the top of her list.

Megan Sargalski
Marketing Communications Specialist