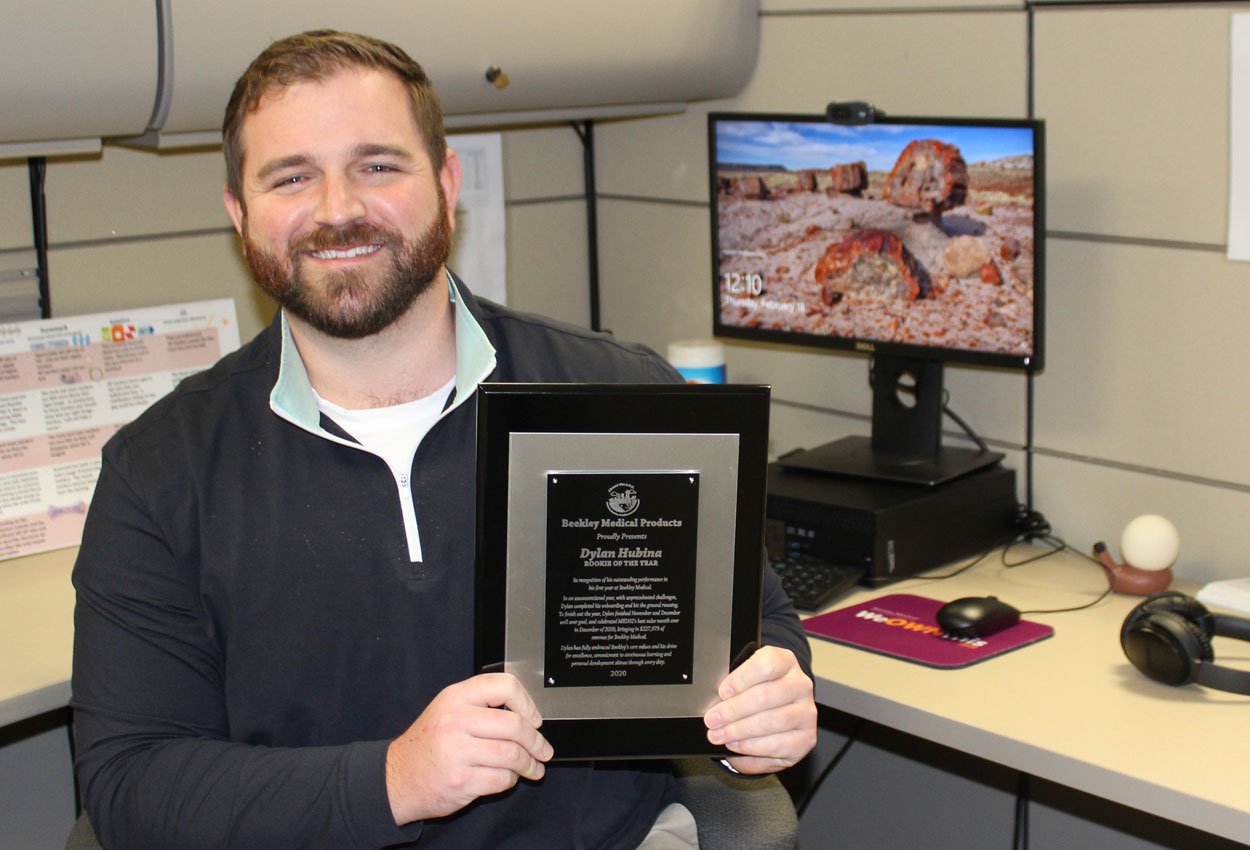 When you think of the term "rookie," you may think of Tiger Woods, Derek Jeter, or Michael Jordan. Each known for their tremendous ability to not only perform well but known for going above and beyond since the beginning of their careers.
Although he may not be a household name, Dylan Hubina, one of Beekley Medical's Account Managers in the Sales and Marketing department has shown he has what it takes to be named our Rookie of the Year.
New to the world of medical sales
Dylan started his career at Beekley in February of 2020. Right off the bat, both Richard Foster (Director of Training) and Christina Hollister (Senior Manager of Onboarding & Continuous Improvement) saw something special in him despite the fact that he came to Beekley as a career changer with no previous sales or medical field experience.
"He has implemented successful work habits since day 1 that have played a significant factor in his success" Christina shared with us.
His determination to be successful was demonstrated when his training and onboarding was thrown a curveball in his first 30 days when the quarantine, due to the COVID-19 pandemic, went into effect in mid-March, 2020. Dan Bloking, Beekley Medical's National Sales Manager, noted how Dylan took on this challenge by investing time, albeit remotely, with his trainers and peers - actively seeking their advice and keeping an upbeat, positive attitude.
An essential part of the training for all Beekley Medical Account Managers is a site visit to a local breast cancer center to the equipment being used and talk to the technologists in order to better understand the procedure and how our products, like Bella Blankets and the Beekley SPOT skin markers for mammography, are used in the clinical setting. Unfortunately, due to the pandemic, Dylan couldn't partake in this first-hand training or have tangible products in front of him during his onboarding. However, that didn't slow him down one bit.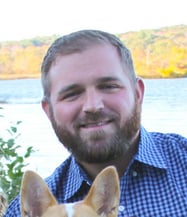 Dylan credits his coaches and trainers for the fantastic job they did during his training period. "My coaches really stepped up to the challenge and tried to make it as 'normal' as possible," utilizing video conferencing for every meeting to get that face-to-face interaction that all Beekley Associates crave. This is also where Dylan saw how much his fellow associates love what they do and how much they enjoy helping their fellow team members. He noted how everyone at Beekley can't stop smiling, even during a scary, uncertain time, stating that "everyone here has a genuine smile."
In the thick of it – learning his territory
Dylan jumped in feet first after completing his 90-day training. Although new to sales, the industry, and Beekley Medical, he finished out his first year as one of the top salespeople for breast imaging.
Considering the hit mammography took during the pandemic shut down, this is an even more impressive feat. It also demonstrates how Dylan embraces the A.R.C. (Attitude, Results, and Continuous Improvement) of the Beekley Core Values.
Dylan's attitude, results, and his desire to continuously improve are tied together. He is always ready to learn and is open to new suggestions. Most importantly, he acts on that desire to be better says Rich Foster.
"He has a natural ability to connect with customers and asks great questions to uncover their needs. He takes the time to really understand his territory and sees every challenge as an opportunity. His positivity is refreshing and motivating, and his team has welcomed him in this year with open arms."
Dylan had this to say when asked what he thought back on his first year with Beekley. "I enjoy talking to my customers and truly feel like I am providing them with valuable resources and products. I've started some great relationships with co-workers and customers and I'm excited to build on those relationships in the coming years."
Embracing the Beekley culture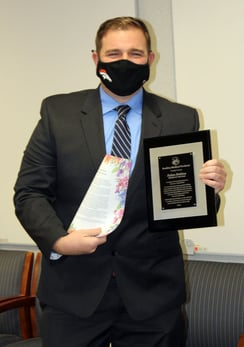 To earn the Rookie of the Year award you must embrace the Beekley culture.
Dylan has adapted to our culture seamlessly despite not being able to go into the office every day. Both Christina and Rich mentioned how important the camaraderie of his colleagues are to him and how he made the best of it. "Very often as a new hire gets their first few sales wins, their co-workers are right there to celebrate and that is very motivating. Dylan did get the kudos but it's a very different experience," Rich added.
Now that we are able to come into the office in cohort groups one day a week, Dylan takes full advantage of being able to connect face to face (masked, and 6 feet apart, of course) with his peers.
Despite spending the majority of his career with Beekley working from home, Dylan thoroughly embraces the Beekley culture. He was one of the participants in the No Shave November fundraiser for men's health as well as a course on happiness when it seemed like everyone needed the gentle reminder that it could be found no matter what we were going though. He values the Beekley way of celebrating special events and milestone moments. "We celebrate everything and everyone here at Beekley, I can't say enough about Beekley's culture."
Focusing on the future
When asked what some of his goals where regarding his career at Beekley his response was that of a true team player. "I want to continuously grow into the best salesperson and teammate that I can be. I want to help the business thrive and add my own 'footprints' here at Beekley." He has his sights set on being named Account Manager of the Year, but says that it isn't about the outcome so much as the process. I don't think anyone at Beekley would be surprised to see him achieve that goal.
His easy-going personality combined with his clinical knowledge are a few of the qualities a true Beekley Rookie of the Year possesses. Everyone is excited to see where the future takes Dylan and congratulates him on this fantastic accomplishment in a most unusual year.

Megan Sargalski
Marketing Communications Specialist