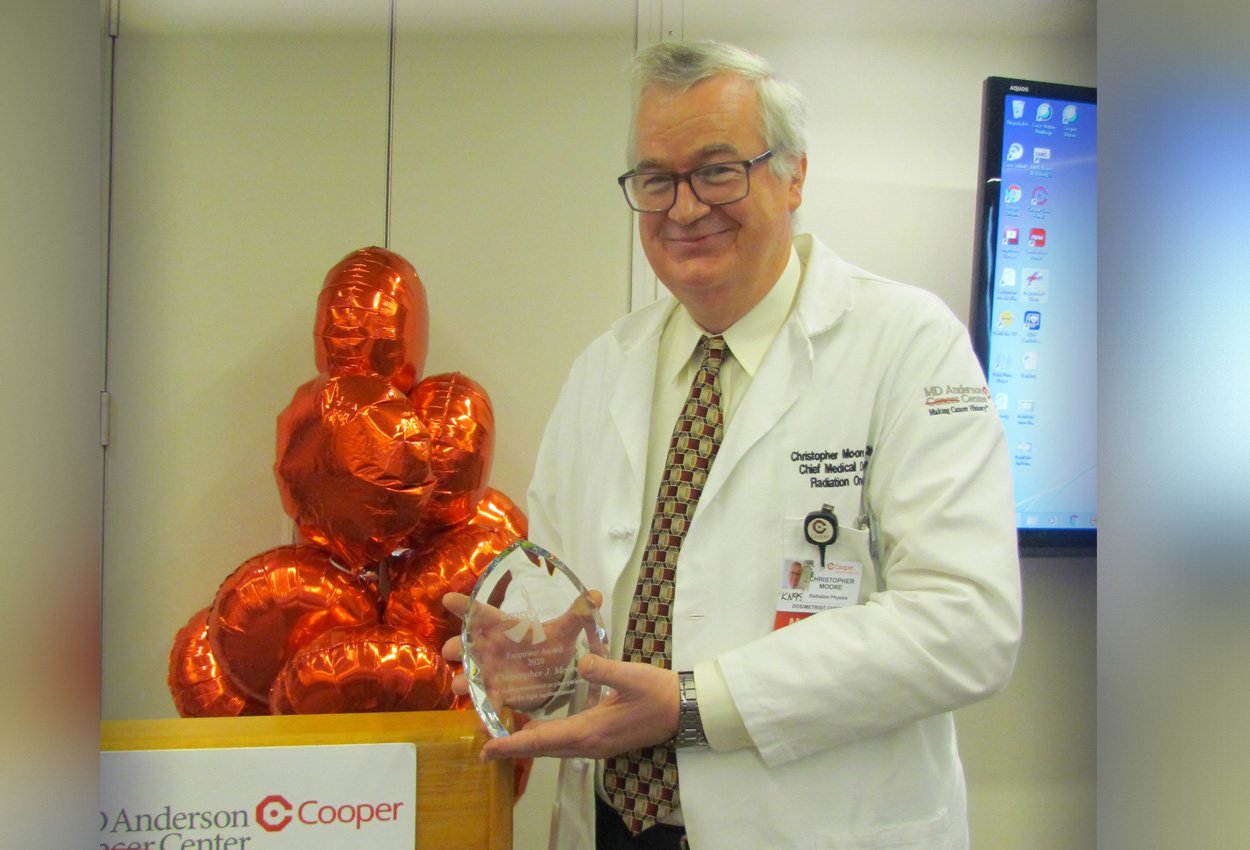 Drive down any street in America and you are bound to find a house or business honoring healthcare workers by displaying hearts in their windows or yards. These hearts have been there for months, showing solidarity during a time when we need it most. This symbol accurately describes the courage and strength it takes to be a frontline worker during the Covid-19 pandemic.
This strength has always been there, especially when it comes to the treatment of cancer patients. This year's Empower Award winner shows compassion, leadership, as well as strength all while striving for excellence.
Over 30 years of commitment to cancer treatment
Christopher J. Moore, BS, CMD of MD Anderson Cancer Center at Cooper started his career in 1984 as a radiation therapist and eventually took on the role of dosimetrist. In addition to his full-time position, he volunteered in various roles for the American Association of Medical Dosimetrists (AAMD) starting in 2008 and was President from 2011 to 2012.
For the past 5 years he has been the Chief Medical Dosimetrist at MD Anderson Cancer Center at Cooper and not only has his staff's engagement score went up from the 18th percentile to the 99th, he also reinstated their facility as a teaching facility for students from Thomas Jefferson University. In 2018, he was given the award for "Outstanding Performance as a Clinical Educator in the Radiologic Sciences" by the TJU faculty.
According to his nomination letter, Chris is a born educator who genuinely enjoys teaching and challenging people entering the field and takes great pride in his work - never settling for plans that are "good enough" and ensures that his team strives for excellence! His coworkers consider him not only a stellar dosimetrist, but a dependable coworker, and overall a wonderful person who is always ready to help others with a smile on his face.
Michael Walsh, Medical Physicist, MD Anderson Cancer Center at Cooper who has worked with Chris for 10 years says, "Chris exemplifies the best qualities of a leader, coworker, and friend. His compassion, camaraderie, and good spirit are always immediately apparent to anyone who has the chance to meet him. He takes pride in his work and brings out the best in his coworkers." Leonard Kim, the Chief Medical Physicist, MD Anderson Cancer Center at Cooper considers Chris to be "the best dosimetrist I've ever worked with in more than 15 years as a medical physicist."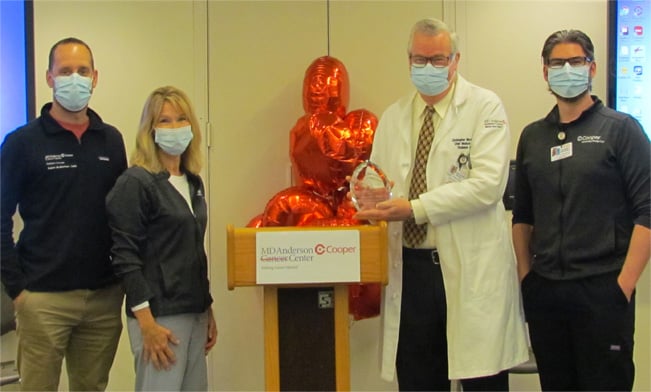 Kevin McMichael, Wendy Gault, Christopher Moore, and Brandon Carbonaro

From caregiver to patient - showing heart through difficult times
In 2011 Chris was diagnosed with a sarcoma. Overnight he went from radiation oncology professional to patient, but he didn't let that slow him down. He used this as an opportunity to share his experience as a patient and wrote an article for the Medical Dosimetry Journal in 2017, titled "A Dosimetrist's Sarcoma Journey". He held the title of keynote speaker at the 2018 AAMD meeting and shared his story there as well as other institutions in the area.
"Chris' dedication to the quality of all aspects of the patient's care supersedes his modesty when he shares his experience as a patient. Having the perspective from both sides of radiation therapy, he reminds us all of the value and meaning of the work we do." Lisa Giansanti, Chief Radiation Therapist at MD Anderson Cancer Center at Cooper.
Chris' humble thoughts
When accepting Beekley Medical's Empower Award, it was apparent what kind of person Chris is. Not only did he show gratitude to MD Anderson Cancer Center but he thanked his co-workers numerous times saying "What has given me the greatest reward is having my co-workers deem my work deserving of consideration for this award. It is my honor to work with a team of dosimetrists that strive endlessly to fashion only the best treatments for our patients."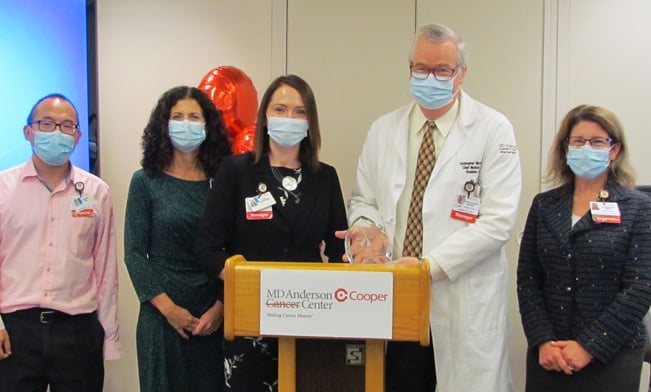 Leonard Kim (Chief of Physics), Colleen Tegeler (Director of Radiation Oncology), Lisa Giansanti (Chief Therapist), Christopher Moore (Chief of Dosimetry), and Christine Winn (Senior Vice President)


Megan Sargalski
Marketing Communications Specialist