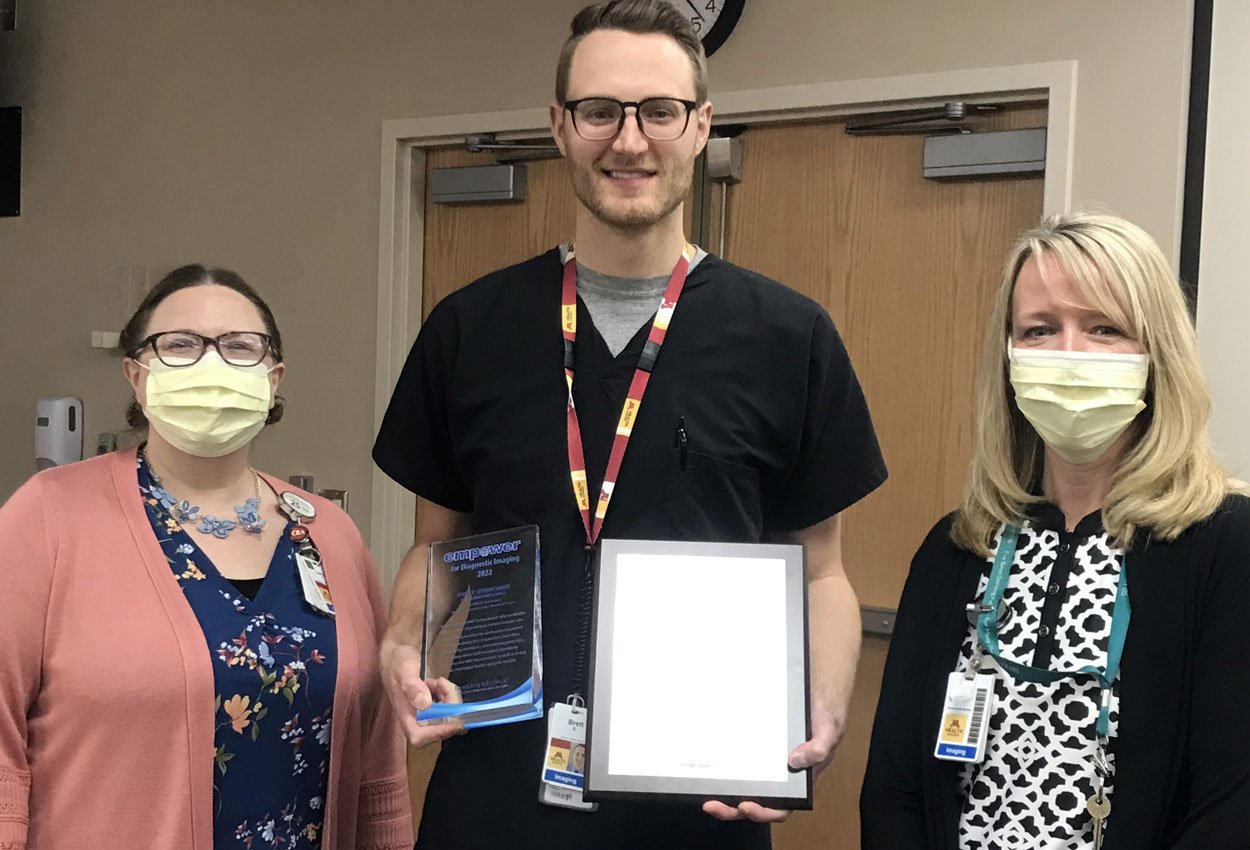 Beekley Medical's first ever EMPOWER Award for Diagnostic Imaging started off with a bang – nominations from all over the country were submitted. Although all the nominations we received were compelling, one stood out above the rest, Brett Springman, MRI Technologist Lead from M Health Fairview Lakes Medical Center. The EMPOWER awards program started in 2017 including both Mammography and Radiation Therapy. The goal of the Diagnostic Imaging EMPOWER award is to recognize individuals who best embody the mission to provide the very best in patient care, this year with a focus on MRI technologists. Whether it is connecting with patients and coaching them through their exam, volunteering for a cause, or helping other staff members, Beekley wanted to hear about it.
An MRI "Rockstar"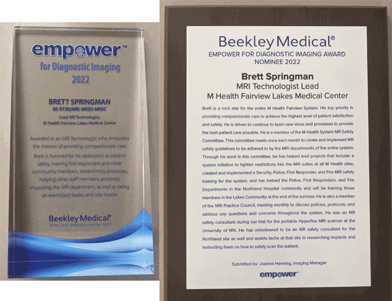 Brett's nomination showed all this and more! In her nomination, Imaging Manager Joanne Henning called Brett a "rock star." His top priority is providing compassionate care to achieve the highest level of patient satisfaction and safety and he is driven to continue to learn new ideas and processes in order to provide the best patient care possible.
Brett is a member of multiple committees in the M Health system that focus on MR safety guidelines as well as policies and protocols that directly affect the MRI department. As a member of the M Health system MR Safety Committee, Brett has led projects that include a system initiative to tighten restrictions into the MRI suites at all M Health sites, and create a Security, Police, First Responder, and Fire MRI safety training for the healthcare system. Brett has also volunteered to be an MR safety consultant for the Northland site of M Health and assists technologists at that site in researching implants and instructing them on how to safely scan the patient.
This past October Beekley Medical presented the EMPOWER award in person to the winner for the first time since the pandemic. Luanne McDonough, Senior Account Manager for M Health, flew out to Minnesota to personally present Brett with his award. The feeling in the room was palpable to say the least.
An Inspiration to Everyone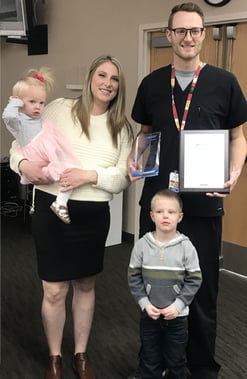 In front of Brett's colleagues and family, Joanne Henning, Imaging Manager at M Health, read his nomination as he was presented with his award. In the audience were coworkers who work closely with Brett as well as others who don't work directly with him but have heard of Brett through his accomplishments at Fairview who stood up to say a few words.
One contributed how Brett is a colleague, friend, and fellow technologist, adding, "We don't get a lot of moments like this as an MRI Technologist. It's not like we are a top chef where we can go show off our skills. We can't really show someone 'Look how awesome I am at MRI.' It doesn't exist. So, in my opinion, Brett is definitely one of the best techs I have ever worked with, he is super motivated, knows this stuff really, really well and likes to teach. He is a great guy and I'm glad to see you get noticed for what you do with the Empower award."
Another colleague noted, "Our team, as well as our whole healthcare system, focuses around MRI safety, so not only do you have that technical knowledge, but you emphasize the safety behaviors that we work on to make sure we give patients the best, most safe care possible."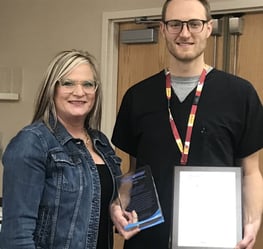 They added how enjoyable it is to "see you bring it to everybody with the spirit that you have. Your sense of fun and your wit that you add to our whole department just really helps bring people together and helps give us a really good sense of team. It definitely added an extra layer of connection, fun and engagement to our entire imaging team and to our MRI team when you came on board, so we're really glad you're here."
A nurse who doesn't work that closely with the imaging department spoke about how inspiring Brett is when it comes to encouraging his team especially with the burnout some healthcare employees are feeling due to the pandemic, stating that hearing these inspirational stories of how Brett is so motivated and engaged in his work is breathtaking and thanked him for being an "inspiration for everyone."
Congratulations from the whole Beekley team!
Brett graciously accepted his plaque by first thanking his family, specifically his wife and mother for the sacrifices they made for him to get to where he is. He then thanked the leadership team at Fairview for "allowing him to use his creativity to get the department to a better place" and his team for trusting in him.
Beekley is honored to have Brett Springman as their first ever Diagnostic Imaging EMPOWER Award winner. We thank you and your entire team for your dedication to exceptional patient care.

Megan Sargalski
Marketing Communications Specialist