Dave Dillard's career in medical imaging began in CT department at VCU Medical Center in Richmond, Virginia, 1975. Although he helped open other imaging centers, Dave always found his way back to VCU, drawn their willingness to pioneer new medical technologies.
"VCU allowed me to be more involved in experimental procedures and the cutting-edge research their doctors were performing such as in angiography. I worked with a physician studying aneurysms in the brain. At that time, there wasn't a mechanism that allowed us to non-surgically treat aneurysms."
Dillard continued to learn and push the envelope while at VCU. When he was on call, or there on weekends, he would hit the books. "Although I was trained to use the imaging equipment, I felt there was always more to learn about the machine. I soon realized we could better utilize the CT machine. One of our CT's could do something called subtraction. Not even the radiologists knew we could do that and they were delighted when I showed them how."
The advent of magnetic resonance imaging
In 1977, the first MRI exam was performed on a live patient. By the early 1980's, MRI machines were commercially available, and many hospitals were attracted to imaging patients without risking them to radiation exposure.
"Our MRI machine arrived in 1986 for VCU and at the time I was the manager for CT and IR. Usually, when you buy new equipment you also plan for potential new hires to run that equipment. Unfortunately, my supervisor didn't add this into his calculus. He quickly turned to me and asked if I would be willing to learn MRI. I said, 'oh sure.'"
Dillard soon discovered the benefits of the MRI machine. "Imaging for things like temporomandibular joint dysfunction (TMJ) were still performed in CT. It wasn't very good for soft tissues, but when performed by MRI we could actually see where the meniscus and the joint area was torn."
Finding a better method of communicating areas of concern in MRI

As his enthusiasm and experience in MRI grew, Dillard realized his department was missing an important tool: a visual way to communicate areas of concern to radiologists. "In CT I would use lead skin markers for the same purpose, however, we couldn't use metallic markers in MRI."
Doctors and technologist began improvising markers to use on the patient. Most used either bath beads or vitamin E capsules, but according to Dillard, "The capsules would dissolve on the patient, and we'd lose them on the image."
He added that although their improvised markers for MRI imaged on T-1, they disappeared on the more pathology weighted sequences. Dillard also note that patients struggled to remain still during the exam as the capsules' hard-rounded edges pressed into the skin causing discomfort during the long exam which sometimes resulted in motion artifact.
"After a while, I refused to put them on and my department director said, 'you need to find a better way or use the capsules.'" So Dillard did.
The birth of the MRI skin marker
He scrounged through the medical supplies at his disposal in the attempt to design a better skin marker for MRI. Dillard knew that the best signals in MRI bounced off fat and that led him to try baby oil as his main "ingredient."
He also took advantage of IV tubing which was: being discarded "left and right" in his facility. He filled the unused tubing with baby oil. After tying a knot on each end, he went to the blood bank and used their machine for segmenting tubes for blood samples and came away with the first iteration of a skin marker for MRI.
Dillard said that his doctors loved them and that he was off the hook from being yelled at. "The more we used them, I began to realize no one else had a solution like this either. People are still fooling with the vitamin E capsules."
Partnering with Beekley Medical to create a professional skin marker for MRI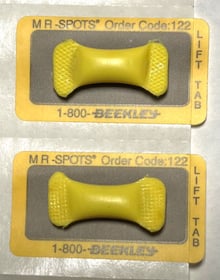 With a desire to help other MRI departments, Dillard reached out to Beekley Medical in 1990 to perfect, standardize, and manufacture his MRI skin markers.
Over a period of seven years, he worked closely with Beekley engineers to perfect the formula for his oil-based imaging liquid. They studied the marginal success of other technologists who used "mustard packets" as skin markers for MRI and finalized the formula for Radiance® imaging liquid.
In 1997, the first MR-SPOT® skin markers were released to the world on the signature mustard-yellow self-adhesive backing. As usage among MRI technologists increased, the proprietary formula for Radiance® was refined to image on a wider range of MRI sequences.
The evolution of the MR-SPOT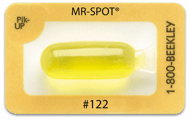 Today, MR-SPOT® with Radiance® remains the preferred skin marker for MRI professionals.
The MR-SPOT® family of professional skin markers for MRI has evolved over the years to include a variety of sizes and styles to accommodate all imaging needs in MRI. From thoracic spine to small field of view imaging, their bright consistent imaging on all pulse sequences provides unmistakable communication of areas of concern between the patient, MRI technologist, and interpreting radiologist.
The brilliant invention that started in VCU Medical Center quickly spread through the U.S. and across the globe. Today thousands of technologists use MR-SPOT skin markers on their patients.
And the evolution of its inventor

Dillard continued to be a most-valuable technologist and department
supervisor to the Medical College of Virginia, attaining numerous promotions and awards. He continued to be a champion for new technologies in his department, whether it was "first of its kind" software or a new application.
In 2013, he retired from VCU Medical Center as Radiology Manager to focus on being a "most-valuable grandparent."
Visit beekley.com for product safety information

Jonathan McCullough
Product Manager