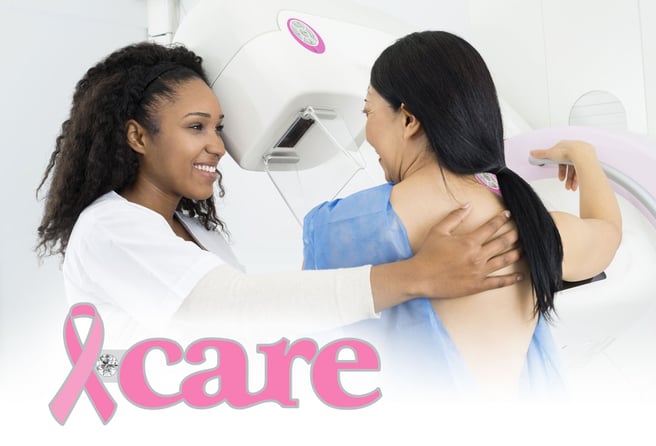 Each October, Beekley Medical marks Breast Cancer Awareness Month by recognizing and celebrating the amazing professionals involved in the detection and treatment of breast cancer with complimentary themed pins and patient-focused educational and inspirational posters for their waiting, dressing, and exam room.
Each year carries a different message or theme and many of the pins have become collectables within the industry. This year's theme, "Kindness" had a different kind of resonance for our clinical partners. In addition to the reminder to patients to schedule their annual mammogram, the poster also included a request for patients to be kind to the staff.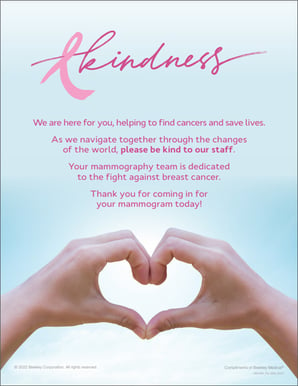 The inspiration for this theme, was inspired after by multiple articles and first-hand accounts of how healthcare workers are being treated disrespectfully and, in some cases, even verbally or physically attacked. Melissa Vibberts, Beekley Medical's Director of Brand Management felt that she could do her small part by promoting the kindness campaign during Breast Cancer Awareness Month and beyond.
Melissa shared with me that the way that medical personnel have been treated over the past year or so has largely been attributed to effects of the pandemic. One article described the stress that both patients and staff are feeling regarding new safety procedures at larger hospitals as well as at pop-up COVID vaccination clinics. More and more, patients are yelling and threatening clinical staff simply for doing their jobs.
Another reason leading to patient frustration, is that many imaging centers and healthcare facilities are also running short staffed. Healthcare workers, burned out by the pandemic, also joined the great resignation in droves. And like all industries, there is a dearth of people applying to fill those empty positions. A majority of staff at all levels of clinical care are overworked and tired, but still trying their best to provide quality care.
Sadly, threatening patients aren't anything new to the healthcare industry. However since the pandemic, those numbers have increased. A medical center in Branson Missouri reported employee assaults tripling from 2019 to 2020.
According to a survey conducted by an umbrella organization of nurses across the United States, 3 out of 10 nurses reported an increase of violence where they work stemming from factors including staff shortages and visitor restrictions.
While sending out pins and posters won't stop the madness, our hope is to show our clinical partners how much we value and appreciate all that they do throughout the year. And to gently remind patients that healthcare workers are people too.

Megan Sargalski
Marketing Communications Specialist