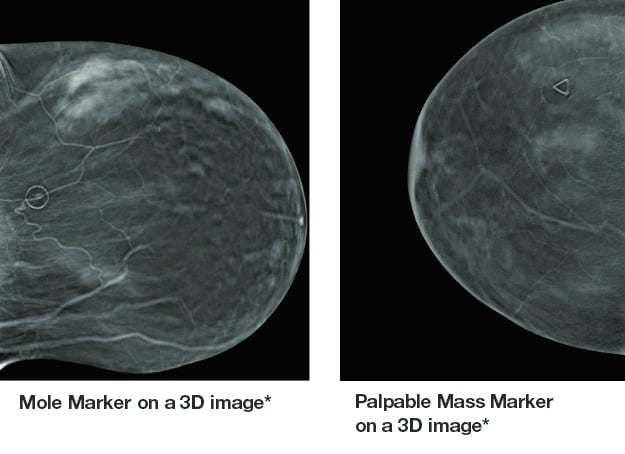 There is no doubt that digital breast tomosynthesis (3D Mammography) has launched us into a new age of mammography. The clarity and number of images helps radiologists see and examine more breast tissue detail than ever before. Detection rates of early stage invasive cancers are up and patient recall rates are down.
It's a huge step forward for this imaging modality and we had to ask if "tried and true" communication tools such as mammography skin markers still helped in interpretation of digital breast tomosynthesis images. To find out, we surveyed radiologists across the U.S. to ask if they still used skin markers and why.
What we learned from the survey was that despite this advanced technology, uncertainty of findings still occurs in digital breast tomosynthesis. Most of the radiologists surveyed agree that the use of mammography skin markers continues to be a best practice in 3D mammography; valuable for ruling out most questionable findings related to moles, nipples, scars, and palpable masses.
Uncertainty leads to increased interpretation time and potentially unnecessary reimaging for patients. With most imaging facilities focused on turnaround times and minimizing radiation exposure to patients, it certainly makes sense to use any tool available that can help with both goals.
As long as mammography remains one of the most difficult imaging disciplines to master, mammography skin markers continue to add value to interpreting physicians by providing instant visual cues that can help reduce uncertainty and most importantly, digitally document physical exam findings.
Of course, not all skin markers are created equal - skin marker size and density matter, particularly when marking in 3D mammography. Beekley Medical has found that thin, uniform, low-density mammography skin markers work best with digital breast tomosynthesis as they allow for maximum visualization of tissue detail through the marker and highlight without distraction.
To learn more about the differences in mammography skin markers we recommend the following resources:

Mary Lang
Director of Marketing Communications