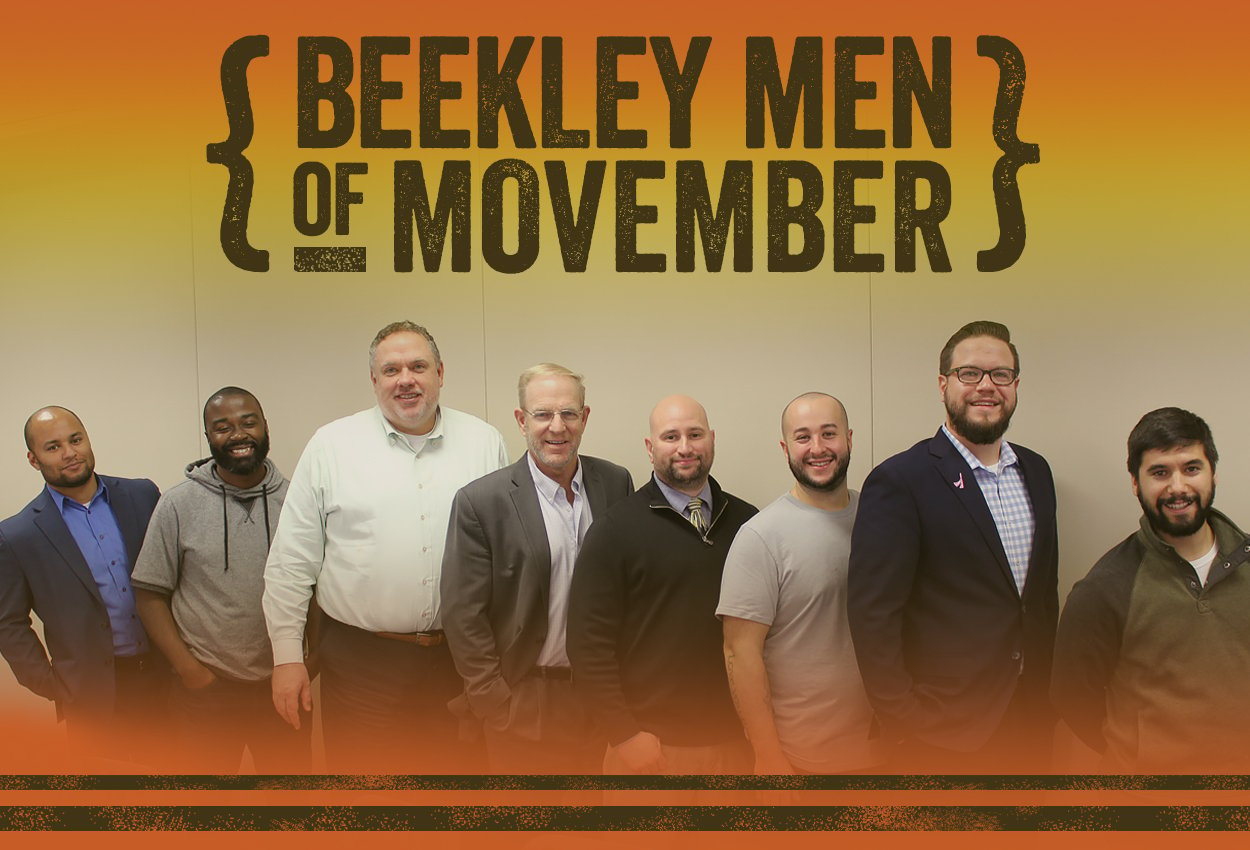 To most people in the imaging community, the name Beekley Medical is synonymous with mammography skin markers and early detection of breast cancer causes.
But, even though breast care is our oldest and largest division, we are very much involved in the detection, and treatment, of men's cancers and health issues as well, with an established presence in MRI, CT, X-Ray, Radiation Oncology, Behavioral Health, and Long-Term Care.
Shining a light on men's health issues
We do a lot of internal fundraisers for Breast Cancer Awareness Month, so we figure it's only fair to shine a spotlight on the men in our lives by participating in our own version of a Movember Challenge, with monies raised to be donated to the Movember Foundation Men's Charities.
These charities focus on awareness, education, and research programs for three diseases men are most often reluctant to seek help with: prostate cancer, testicular cancer, and mental health.
Typically the challenge is for participants to donate the money they saved from not shaving to the cause, but since Beekley Corporation is a small company with less than 100 employees and women outnumber men by 5-1, we had to get creative with our fundraising challenge.
Support your favorite facial hair
In our version, participant's growing their facial hair pay a $10 entry fee. The facial hair that is voted the winner gets 50% of the entry fees raised, with the remaining 50% donated to the charity. The bulk of the money raised, and where the fun comes into play, is through the voting process.
Each vote costs $5.00 and any associate can vote as often as they wish. Shameless promotion of one's facial hair is totally encouraged in order to "rig" the vote in one's favor.
I expect there will be a lot of wheeling and dealing in exchange for votes. And to entice ballot stuffing, each ballot submitted is entered into a drawing for a $50,00 gift card at the end of the month. So everyone get's a chance to win, but the big winners will be the men benefiting from monies raised globally during this event.
To learn more about creating your own Movember challenge or to simply make a donation, visit movember.com.
Our Beekley Men of Movember:
As you can see from our cover photo, some of our men had an advantage starting out the month with facial hair already in place, but time will tell who can convince their peers to vote for them the most.
Participants pictured left to right: Jonathan McCullough - Product Manager, Laterrius Johnson - IT Manager, Patrick Ray - Director of Pricing, Richard Foster - Senior Training Manager, Wayne Kozak - Medical Manufacturing Manager; Rocco Corso - Pressman, Prestige Lane Hospitality Brands, Dan Bloking - National Sales Manager, and Abel Rodrigues - Industrial Engineer.
Participants not pictured: Tony Main - Traffic Manager, Michael McGuire - National Account Manager, Paul Matthews - Business Development Manager, and Michael MacFarlane - IT Help Desk Technician

Mary Lang
Director of Marketing Communications