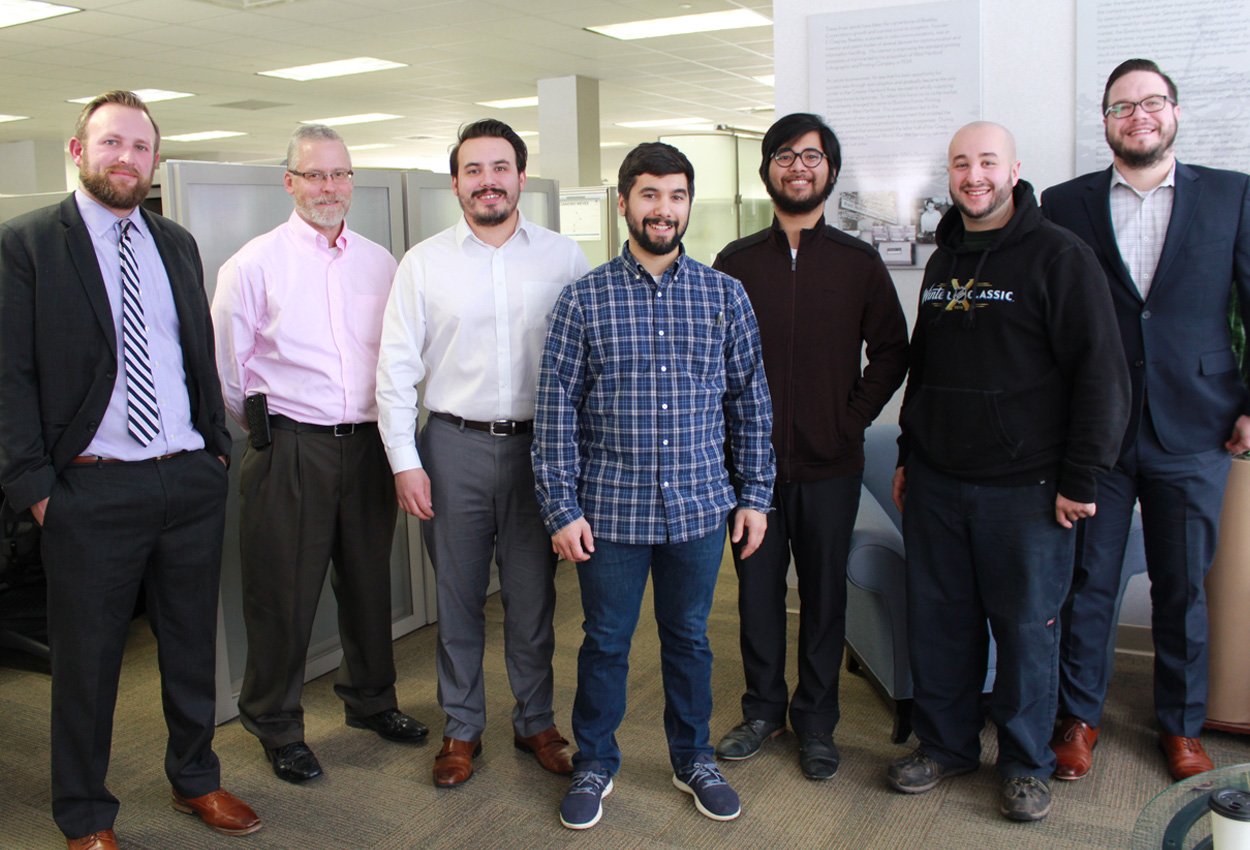 Beekley Medical is no stranger to fundraising in support of breast cancer awareness with numerous events throughout the year from Designer Handbag Bingo to our annual Golf tournament. With all this focus on woman's health, we don't want to leave men's health issues out in the cold.
We have participated in the No Shave November challenge for the Movember Foundation for several years. This globally recognized charity's focus is on men's health. During the month of November, men are challenged to grow their beards and mustaches as part of fundraising efforts in support of prostate cancer, testicular cancer, mental health and suicide prevention.
Feeling the Love
Once again, the men of Beekley Medical are warming up their faces, and their hearts, and have hung up their razors and shaving cream for a worthy cause during the month of November. What these men won't do to raise money and awareness is truly heart-warming, and quite comical.
The challenge has historically raised funds by having participants donate the money they would have spent on grooming supplies during the entire month of November. Beekley's version is a little different and has two player options: 1) participants pay a $10 entry fee; winner (voted by peers) gets 50% of all fees raised while the other 50% goes towards the Movember Foundation. Participant may also be sponsored or sponsor someone else for additional fundraising. 2) associates can support the person they feel has the best hair growth by paying $5 per ballot. There is no limit on how many times an associate can vote through the month of November. And, participants can vote for themselves – the goal is to raise money, after all.
Shameless Self-Promotion Has No Boundaries
Chocolate bars, buckeyes, breakfast tacos, and meatball grinders – oh my! From creatively designed campaign posters to tantalizing meals and snacks, participants will stop at nothing to get votes from fellow associates. They will even wave their campaign signs at you as you enter the building for work!
All in good fun with the spirit of giving, and as our cover photo illustrates, these men have been dedicated to the cause and we are so proud of their hard work and dedication during the month of November.
From Their Hearts
"We're all affected by cancer: whether you're a patient or a loved one watching someone go through it, we've all felt powerless in the face of an often fatal disease. I hate feeling powerless and Movember is a way for me to take back some of that power. I may not be qualified to treat patients or knowledgeable enough to find a cure, but I can run a creative campaign to fund awareness and bring humor to a grim subject." – Jonathan McCullough, Product Manager
"This past month was a wonderful example of two things for me. The first is the caring nature of all Beekley employees. As a company we are always ready to reach out to those that need help and, in this instance, it is our brothers, fathers and husbands. And secondly NSN is a great example of Beekley associates having fun with each other and 'being present' in our work life." – Richard Foster, Senior Training Manager
Our Beekley Men of Movember
Participants pictured from left to right: Michael McGuire – National Account Manager, John Bornhorst – Manufacturing Manager, Al Reyes – Human Assets Manager, Abel Rodrigues – Industrial Engineer, Kyle Lim – IT Helpdesk Technician, Rocco Corso – PLHB Machine Manager, and Dan Bloking – National Sales Manager.
Participants not pictured: Joe Rose – PLHB Machine Manager, Paul Mathews – Business Development Manager, Laterrius Johnson – IT Manager, Richard Foster – Senior Training Manager, and Jonathan McCullough – Product Manager.
To learn more about creating your own Movember challenge or to make a donation, visit movember.com.
Click below to see how other participants boosted their campaigns:

Jody Searing
Senior Graphic Designer / Branding Manager