There is new insight into the debate over the use of oral contrast in the ED setting when evaluating patients with acute abdominal pain (AAP). A 2023 study from the University of Michigan saw a 30% reduction in diagnostic accuracy when a non-contrast CT of the abdomen was ordered.
The need for oral contrast has been debated for the last 25 years and this study supports the opinion of oral contrast advocates who feel that when evaluating a patient with AAP in the ED setting, the radiologist should be provided the best possible study the first time around. This is especially important considering how rapidly an acute abdomen can progress, as well as cost and radiation dose considerations when a repeat CT study can be the consequence of no or inadequate contrast.
The move away from oral contrast

The administration of oral and IV contrast for a CT of the abdomen and abdomen/pelvis has been a long-standing protocol for acute abdominal pain. Starting in 2010 there were several studies that questioned the need for oral contrast in the setting of AAP. One of the driving factors behind the push to reduce oral contrast use came from ED physicians who did not want to wait for a patient to consume the entire volume of prescribed oral contrast. Certainly, a reasonable concern in a busy emergency department where an influx of patients could occur at any moment.
Another factor that affected the use of oral contrast, and contributes to long drinking times, is the bitter taste of oral iodinated contrast agents such as Gastrografin and Gastroview. Considering the drinking compliance problems associated with oral contrast, and the extended drinking time (some institutions have patients drink over two hours) it is easy to see why ED physicians were looking for a more efficient process. To that end some institutions eliminated oral contrast all together, some use only IV contrast, while others substitute water for the positive oral contrast. These protocols were established with the expectation that diagnostic accuracy would be the same as a contrasted study, an assumption this recent study calls into question.
Non-contrast enhanced CT found less accurate than contrast-enhanced CT
A study published in JAMA Surgery looked at the diagnostic accuracy of unenhanced CT. In their retrospective study, the authors found that "using unenhanced CT was associated with a large diagnostic penalty," and they caution against relying on non-contrast enhanced CT for diagnosing acute abdominal pain in the ED setting.
"It is important to understand the risk of withholding contrast medium so informed risk-benefit analyses can be made. In this consecutive cohort of ED patients presenting with abdominal pain, unenhanced CT was consistently approximately 30 percentage points less accurate than contrast-enhanced CT for primary and secondary actionable findings," wrote Matthew S. Davenport, M.D., a William Martel Collegiate Professor of Radiology and co-director of the Ronald Weiser Center for Prostate Cancer within the Division of Abdominal Radiology at the University of Michigan.
Methods of Study
Three blinded radiologists reviewed images of 201 adult ED patients who underwent contrast-enhanced CT for the evaluation of acute abdominal pain in April of 2017; this provided a reference standard. Primary and secondary diagnoses for patient's abdominal pain were identified if present. Then the IV and oral contrast media were digitally subtracted from the CT images resulting in an unenhanced study. Six different radiologists (3 faculty and 3 residents) interpreted the unenhanced CT images reporting on primary and secondary diagnoses with a 30% reduction in accuracy.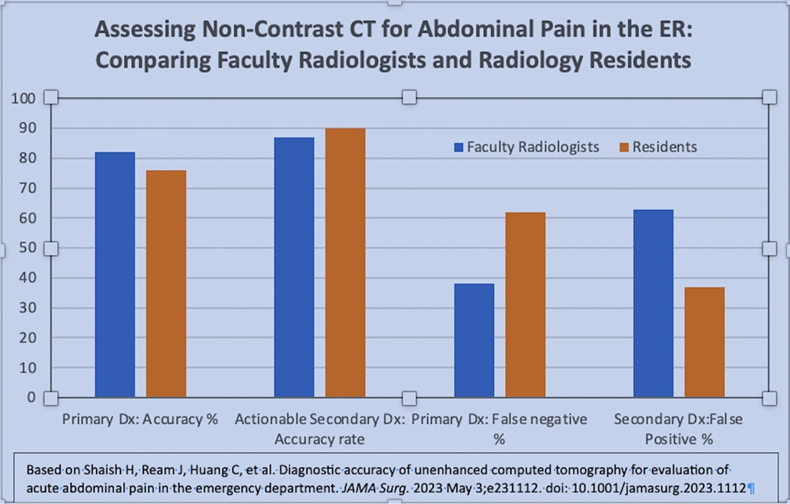 Considering that contrast enhanced CT studies of the abdomen could have a thirty percent increase in diagnostic accuracy, it is worthwhile to solve the drinking compliance issues associated with the bitter taste of iodine containing contrast agents as well as the prolonged drinking times.
While there is some variability, a typical oral contrast protocol for an adult CT of the abdomen, requires the patient to drink 1000cc of solution with an average drinking time of 1.5 – 2hrs. This prolonged drinking time is the historical norm and is related to several factors, including the volume of fluid to be consumed, and the palatability of the solution. Technologists often need to coach their patients who struggle with the bitter taste.
While some oral contrast agents are not subjected to a "taste-hurdle," imaging facilities using a diatrizoate meglumine contrast media have to be creative in blocking the bitter taste of the contrast.
Addressing Patient Palatability for Oral Contrast -Solving for taste and time
Sarah, a CT Supervisor in Hartford, CT, experienced this years ago when she started using the bitter oral contrast media. "We would mix the contrast with Crystal Lite®, but when you have a lot of patients it gets tedious and it wasn't always the cleanest solution. It also wasn't very effective."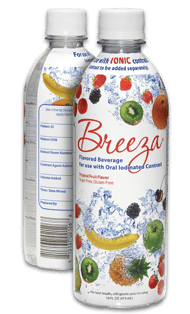 Breeza® flavored beverage for use with oral iodinated contrast is designed to mask the bitter taste of oral contrast. The 16oz under-filled bottles allow for the easy addition of ionic oral iodinated contrast. Patients given contrast mixed with Breeza are more likely to comply with full drinking instructions - resulting in better initial scans, faster throughput, and less waste.
With the first problem of palatability solved, how then can we administer the oral contrast in a timeframe that would be acceptable to the ED staff? While no protocol is perfect for every patient, a published protocol outlines a drinking protocol that will yield consistent satisfactory opacification of the small and large bowel and can be completed in 70 minutes.
The patient with acute abdominal pain will certainly have labs drawn to assist with the diagnosis and to clear the kidneys in the event IV contrast will be given. If the CT of the abdomen and pelvis is ordered at the same time as the lab work and the patient starts to drink the contrast at that time, they will finish drinking the prescribed amount at the same time the labs are returning resulting in no delay. Breeza is also water soluble so there is no concern if the patient has a bowel perforation.
Utilizing Breeza for patients with acute abdominal pain removes the palatability concern, the patients can drink the entire prep in just 70 minutes, and you may experience the increased diagnostic accuracy realized in the study discussed. If taste is a hurdle to patient compliance in your department, contact your Breeza Account Manager at 1-800-233-5539 or info@beekley.com and ask about a trial evaluation for your facility.

Jonathan McCullough
Product Manager