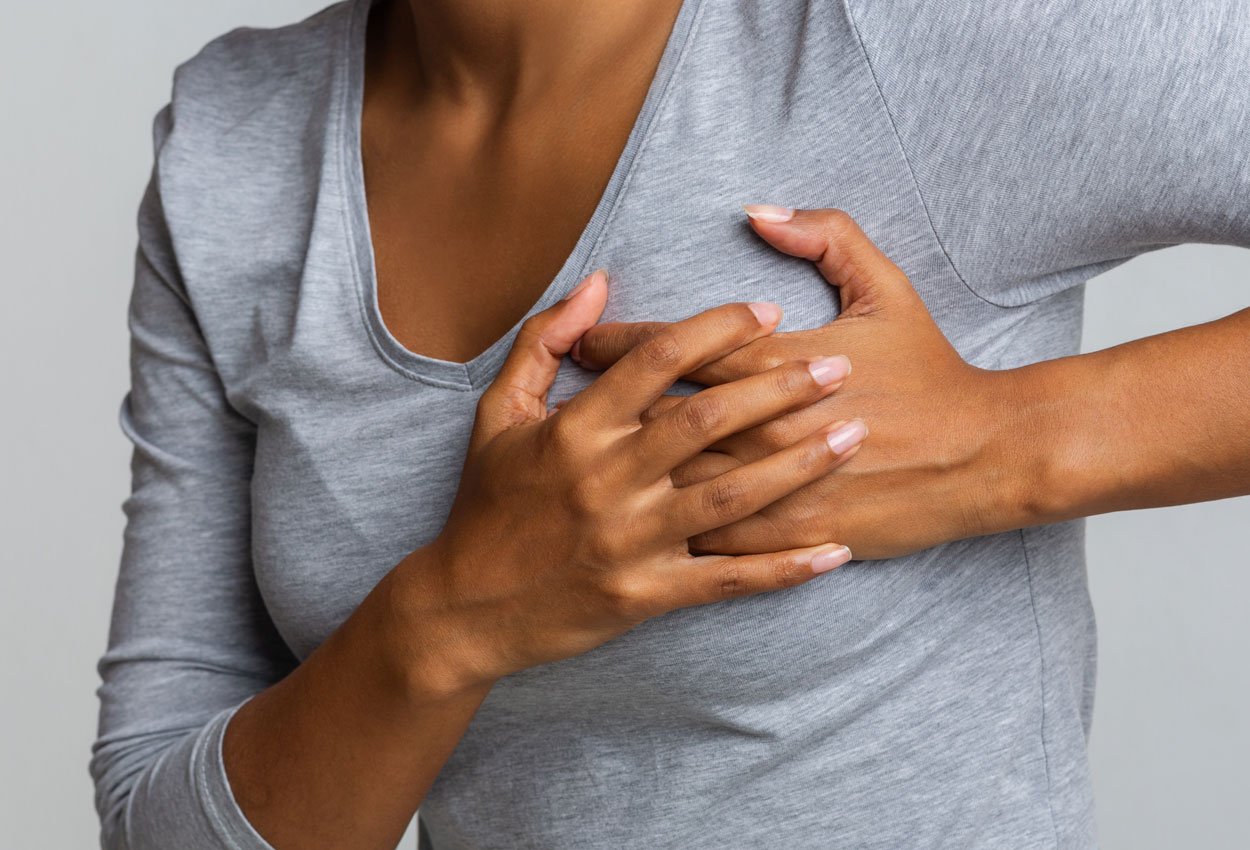 Mammographers often describe having a love/hate relationship with interventional procedures. From appreciating the change of pace from screening mammography, as well as the knowledge that they're an integral part of a process that could save this patient's life.
However, the challenges are real. Biopsy patients are anxious and can have a vagal response, leading to nausea, vomiting, and potentially syncope. They can also have bleeding issues that need to be addressed.
The good news is that serious complications post-biopsy are infrequent, and there are proven interventions that can minimize these problems. The most frequent issues after core biopsy include bleeding, hematoma, and vasovagal reactions.1,2
Consequences of post-biopsy bleeding
When a patient does experience prolonged bleeding, the cause can be congenital or related to anticoagulants such as Xarelto®, Eliquis®, and Coumadin®. Millions of patients also take aspirin on a daily basis which can prolong clotting time.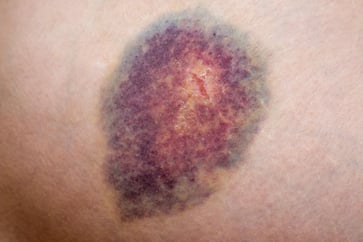 Whatever the cause, these patients require extra care that can disrupt one's biopsy schedule as well as lead to patient satisfaction issues. Additionally, excessive bleeding can have clinical implications. A growing hematoma can be quite painful and affect imaging when trying to determine if all of the calcium has been harvested.
Clip migration
More importantly, bleeding can potentially lead to clip migration. Several studies have hypothesized that bleeding, and specifically hematoma formation, after a stereotactic biopsy directly contributed to the migration of the biopsy clip.3,4,5,6
Clip migration is not infrequent, Jain et al.7 reports a migration rate of 13% when the biopsy is performed stereotactically and 14% when MRI is used.8
A significant consequence of clip migration is the potential for positive margins at lumpectomy.9 Atkins et al. reports a positive margin rate of 38%. The consequences of a positive margin include a second procedure under anesthesia, increased anxiety for the patient, and increased radiation dose when additional imaging is required.10
Controlling bleeding and hematoma post-biopsy
Post-biopsy care typically includes manual compression of the site, the application of a pressure-dressing utilizing a well-fitting sports bra and minimizing the use of the arm on the affected side. The application of cold therapy immediately after the biopsy and for the next 24 hours can help to minimize bleeding and hematoma formation.11
Showing the patient how to apply the cold therapy immediately after the biopsy will have the best effect on hemostasis and is a form of demonstration teaching which has a higher level of instruction compliance than verbal instructions alone. In addition to minimizing bleeding, the application of cold therapy has been proven to help with pain.12,13
In a recent study Emiroglu et al. evaluated the impact of cold therapy on patients receiving breast conserving surgery (BCS). There was a statistically significant decrease in reported pain in the cold therapy group vs those that did not receive cold therapy.
In addition to a decrease in reported pain, the use of cold therapy also resulted in a significant reduction in the use of pain medication. During the first 24 hours after surgery only 12.5% of patients in the cold therapy group received additional analgesics while 100% of the patients in the control group required pain medication.12
Cold therapy designed by a breast cancer survivor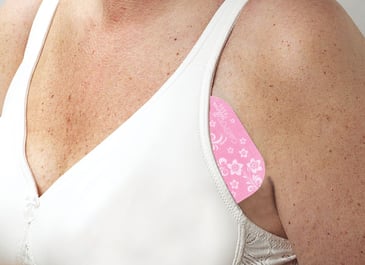 ColdSPOT® cold therapy packs, a product developed by a breast cancer survivor, checks all of the boxes when deciding on the best method to apply cold therapy post biopsy. They are a non-pharmacologic intervention that can decrease bleeding, hematoma formation, and pain.
Placed in a freezer prior to the procedure, ColdSPOT is a low-profile option that has unique application options. The self-adhesive tabs allow one to apply ColdSPOT directly to the skin over the dressing. If this option is not ideal, one can fold the tabs over the top of the product and adhere ColdSPOT to the inside of the patient's sports bra. The advanced gel will stay therapeutically cold for up to 40 minutes which is especially important for deeper biopsy sites or for patients who have a long drive home.
What the professionals are saying about ColdSPOT
"They fit easily inside the patient's bra. They do not get the clothing wet like a bag of ice will."
~ Mammography Supervisor • Boone, NC
"The ColdSPOT is important especially when there is a developing hematoma. We can apply the ColdSPOT immediately. The cold pack can be applied in the time it takes to get the patient home. Then the patient can refreeze and reapply the cold pack."
~ Mammography Supervisor • Poughkeepsie, NY
To learn more about this important cold therapy option contact your Beekley Medical Account manager at 1-800-233-5539 or email info@beekley.com.
References
1. Kettritz U, Rotter K, Schreer I, Murauer M, Schulz-Wendtland R, Peter D and Heywang-Kobrunner SH: Stereotactic vacuum assisted breast biopsy in 2874 patients: a multicenter study. Cancer 2004: p 245-251.
2. Liberman L, Kaplan JB, Morris EA, Abramson AF, Menell JH, and Dershaw DD: To excise or to sample the mammographic target: what is the goal of stereotactic 11-gauge vacuum-assisted breast biopsy? AJR Am J Roentgenol 179: 2002. p 679-683,
3. Benson A, Yien Sien L, Geok Hoon L, An unusual site for breast clip migration: A case report, Radiology Case Reports, Volume 18, Issue 7, 2023, p 2487-2490
4. Taghreed A, et al. Advantages and Challenges of Using Breast Biopsy Markers, Journal of Breast Imaging, Volume 4, Issue 1, January/February 2022, p 78–95,
5. Parikh J. Clip migration within 15 days of 11-gauge vacuum-assisted stereotactic breast biopsy. AJR. 2005; 184: S43-S46
6. Parikh, J. Ultrasound Demonstration of Clip Migration to Skin within 6 weeks of 11-Gauge Vacuum-Assisted Stereotactic Breast Biopsy. The Breast Journal, 10: 2004. p 539-542.
7. Jain, A., Khalid, M., Qureshi, M.M. et al. Stereotactic core needle breast biopsy marker migration: An analysis of factors contributing to immediate marker migration. Eur Radiol 27, 2017. p 4797–4803
8. Funaro, K, Prather, A, Niell, B, Jared Weinfurtner, R. Tissue marker migration after MRI-guided breast biopsy: Migration frequency and associated factors. Breast J. 2020; 26: p 440– 445.
9. Kass R, Kumar G, Klimberg S, Kass L, Henry-Tillman R, Johnson A, Colvert M, Lane S, Harshfield D, Korourian S, Parrish R, Mancino A, Clip migration in stereotactic biopsy, The American Journal of Surgery, Volume 184, Issue 4, 2002, p325-331
10. Atkins J, Al Mushawah F, Appleton CM, Cyr AE, Gillanders WE, Aft RL, Eberlein TJ, Gao F, Margenthaler JA. Positive margin rates following breast-conserving surgery for stage I-III breast cancer: palpable versus nonpalpable tumors. J Surg Res. 177(1). 2012. p109-115.
11. Kurt P, Kaşıkçı M. The effect of the application of cold on hematoma, ecchymosis, and pain at the catheter site in patients undergoing percutaneous coronary intervention. International Journal of Nursing Sciences, Volume 6, Issue 4, 2019, p 378-384.
12. Emiroglu S, Esen E, Yalcin N, Azizoglu FS, Zent N, Bozdogan A, Tukenmez M, Muslumanoglu M, Cetingok H, Cavdar I, Cabioglu N. Effect of Cold Therapy on Managing Postoperative Pain Following Breast Conserving Surgery. Pain Manag Nurs. 2023 Aug;24(4):p 452-455.
13. Airaksinen OV, Kyrklund N, Latvala K, Kouri JP, Grönblad M, Kolari P. Efficacy of Cold Gel for Soft Tissue Injuries: A Prospective Randomized Double-Blinded Trial. The American Journal of Sports Medicine. 2003;31(5):680-684.