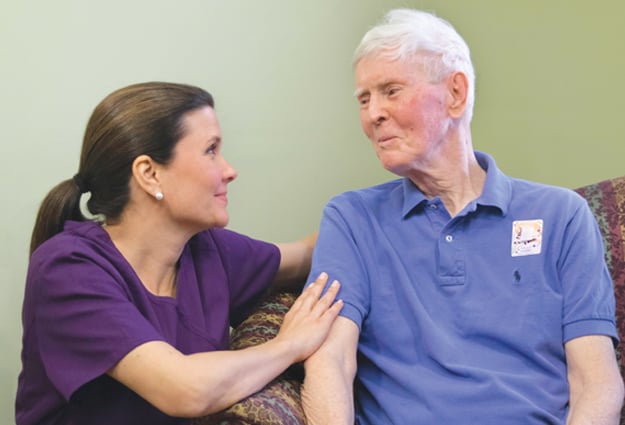 One of the biggest challenges in senior care today is trying to find the balance between quality of life and physical safety for people with dementia/Alzheimer's while keeping the need for pharmacological interventions at a minimum.
"In memory care, many folks develop more anxiety as their dementia progresses, which can lead to dangerous behavior and constant feelings of distress.Even with all of the environmental, social and emotional therapeutic interventions we use in the habilitation therapy setting, medication is often necessary for preserving the quality of life for the individual." reports Joanna Copp, Compass Program Director, Cornerstone at Canton (Canton, MA), "At the same time, finding the right balance of pharmacological intervention for someone with dementia and anxiety can take time and can bring unwanted side effects such as lethargy, increasing risk for falls."
According to Maureen Bradley, L.P.N. C.P.D, Director Royal Innovation – Alzheimer's Care Program, directors and administrators of senior health facilities are always on the lookout for non-pharmacological methods to deal with common Alzheimer's behavior.
In patient populations particularly vulnerable to side-effects of psychotropic medications such as the elderly, aromatherapy may offer an alternative option.
Therapeutic Aromatherapy is one such alternate and was the subject of a special educational event at Active Day of Norwood (Norwood, MA) on Oct. 19 for directors of Alzheimer's programs and memory care units at assisted living, skilled nursing, and adult day care centers in the area to learn more about how the use of certain therapeutic essential oils can help calm and relax residents with behavioral outbursts, sun downing, and even help with sleep.
The event was organized by Carol Corio, CSA, Community Relations Liaison, Old Colony Hospice & Palliative Care (W. Bridgewater, MA), who has a long-time passion for integrating the benefits of aromatherapy with the seniors she serves and was co-sponsored by Beekley Medical (Bristol, CT).



Melissa Vibberts, Senior Product Manager at Beekley Medical spoke to the group about the science and research that led to the development of Elequil aromatabs®, an aromatherapy product designed originally to help relax and calm anxious patients undergoing MRI exams, and how it came to be used in all areas of healthcare, including memory care.
Several studies have found aromatherapy to be an efficacious non-pharmacological therapy.
Aromatherapy, or the use of plant oils, has been around thousands of years, in fact it is referenced many times in the bible. Although it had been considered for many years as a placebo or "folk medicine," scientists have been studying the effects of aromatherapy on different patient populations.
Lavender, in particular, has been studied for its effect on persons with agitation or issues with sleep. Changes to sleep patterns are a normal part of the aging process, an article published by Sleep.org claims dementia often causes a change in sleep patterns. In fact, as many as 50 percent of those who have mild-to-moderate Alzheimer's experience insomnia or increased napping. It's still unclear exactly how trouble sleeping and Alzheimer's are linked—less sleep may lead to Alzheimer's or maybe Alzheimer's causes the sleep issues. One study, "Effect of aromatherapy on patients with Alzheimer's disease" found that aromatherapy may also have some potential for improving cognitive function in patients with Alzheimer's.
Many memory care professionals feel that aromatherapy can help improve their residents' physical and emotional well-being.
A survey conducted by Beekley Medical to memory care facilities across the country found that 73% very interested in aromatherapy as a non-pharmacological, holistic approach for improving quality of life for the following reasons:
• To use as part of the sensory environment
• Reducing agitation improves patient safety (violent outburst, falls, wandering)
• Help relax, encourage sleep

Why implement an aromatherapy program using Elequil aromatabs® as an alternate therapy for memory care residents?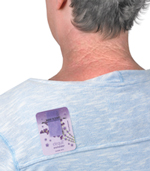 Unlike diffusers that disperse essential oils into the air, Elequil® is a more personal product that can be worn on clothing so that the benefits of the aromatherapy stay with the resident wherever they go, throughout the day. Because it's unique delivery system as a self-contained product, it requires no mixing of oils and contains only 100% pure essential oils, free of pesticides and synthetics. When offered to residents, families are pleased the facility is looking for ways to comfort their loved ones as an alternative to antipsychotics.
Wanjiku DePina C.D.P., Special Care Residence Manager, Wingate Residences at Silver Lake, thought that "Elequil® had real potential as a non-pharmacological treatment for decreasing anxiety in individuals who have dementia – particularly for residents in special care neighborhoods who sundown. User friendly, easy to administer. Benefits may outweigh the costs – especially if you consider the cost of a resident calling 911 because they cannot find their family (which happens more than I would like) and subsequently being transported to the ER and going through unnecessary tests."
"If we can avoid medication changes and the risks that entails, I would absolutely explore the natural therapeutic benefits of Elequil® for any of my residents," added Joanna Copp. "This is an alternative to traditional treatments that could very much alter the way that we approach whole-person care for individuals living with Dementia."
To learn more about Elequil® as an alternate therapy in memory care visit www.elequil.com or call 1-844-ELEQUIL

Mary Lang
Director of Marketing Communications