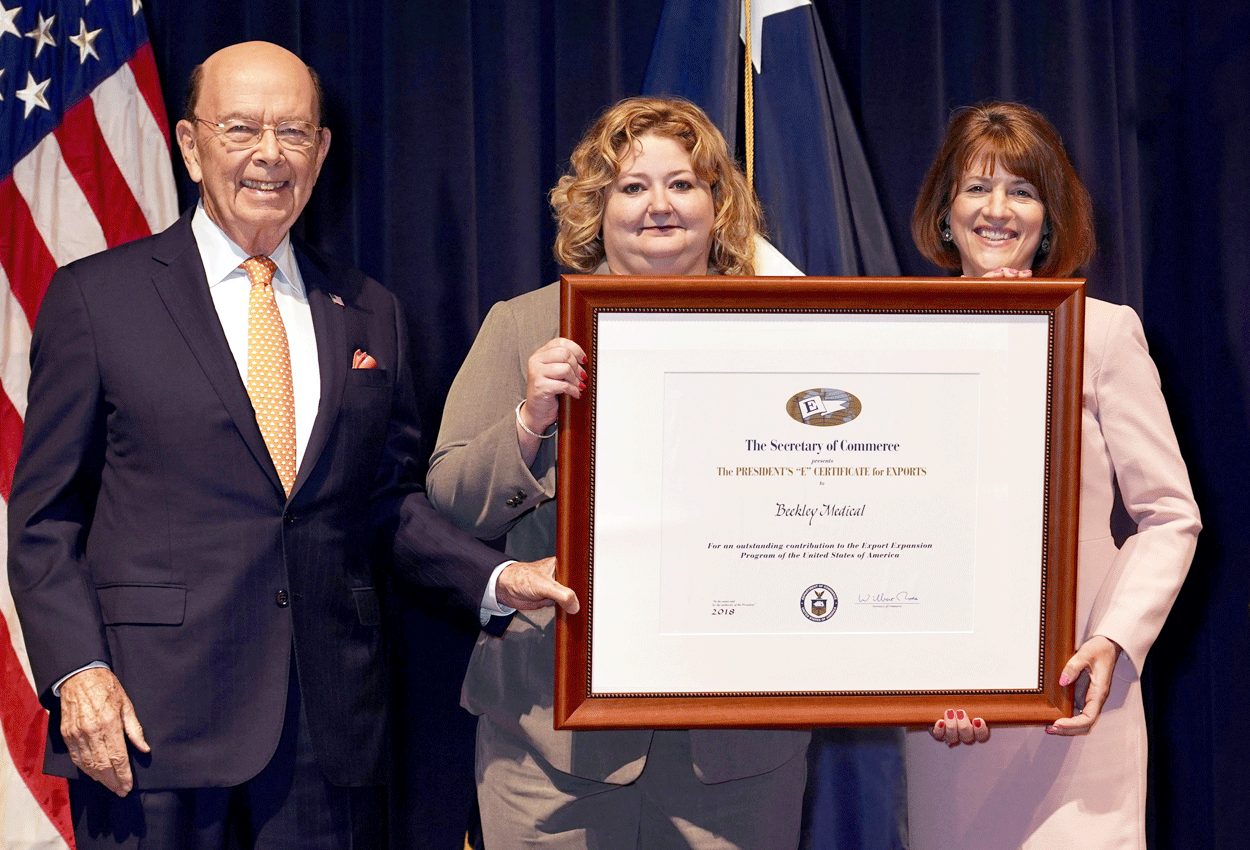 According to the International Trade Administration, U.S. exports totaled $2.33 trillion in 2017, roughly 12 -13% of the nation's gross domestic product.
In 2016, exports helped support an estimated 107 million jobs based on the most recent statistics from the administration. The government encourages exporting as it represents a win-win - a boost to our domestic economy while providing goods and services that may be otherwise unavailable to people around the globe.
Because developing markets in other countries helps strengthen the US economy, President John F. Kennedy revived the the WWII-era "E" symbol of excellence to honor and recognize America's exporters.
Companies are nominated for "E" Awards through the U.S. and Foreign Commercial Service office network, located within the Department of Commerce's International Trade Administration. The criteria for the President's "E" Award is based on 4 years of successive export growth in one or more international markets. Demonstration of an applicant's innovative international marketing plan that led to the increase in exports is a significant factor in selecting winners.
"Impressive" and "Notable"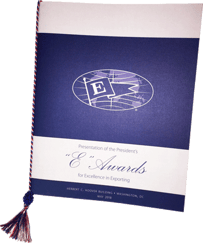 Beekley Medical was honored to be one of 25 companies presented with the President's "E" Award by U.S. Secretary of Commerce, Wilbur Ross at a ceremony in Washington DC on May 21, 2018.
In his congratulatory letter, Secretary Ross stated "Beekley Medical has demonstrated a sustained commitment to export expansion. The "E" Awards Committee was very impressed with Beekley Medical's use of market research to help identify opportunities in new international markets. The company's record of imports to 48 countries was also particularly notable. Beekley Medical's achievements have undoubtedly contributed to national export expansion efforts that support the U.S. economy and create American jobs."
The intrepid Amy Bosco
If we could pinpoint one individual for this recognition, it would be Amy Bosco, who took on the role of Beekley's Global Business Development Senior Manager in 2014, where she literally hit the ground running - airline tickets in hand to personally meet and greet customers, as well as existing and potential distribution partners in countries such as The United Arab Emirates, Dubai, France, Austria, Germany, Brazil and more.
Her personal style is that of coach and mentor, sharing success strategies and in person training to help distribution partners increase their own growth and ROI with Beekley products. In fact, she has been credited with helping create jobs outside the U.S. as one distribution partner saw 80% growth and needed to add a new role to support diagnostic sales.
Internally, two customer support specialists were trained in processing international orders due to the growth in this sector.
Amy makes wise use of internal and external resources to support her partners and she has a knack for uncovering opportunities through federal agencies such the U.S. Commercial Service which helps small businesses with exporting initiatives.
"The U.S. Commercial Service has been instrumental in helping me grow the Global business over the last 4 years," said Amy. "I have a dedicated Trade Specialist here in Connecticut who I meet with regularly to discuss challenges and opportunities. Through this partnership I have been able to take advantage of match making opportunities to find the right business partner in uncharted countries where we need representation. I also attend educational webinars and seminars frequently through the U.S. Commercial Service. They truly have been a valuable resource for me as I expand into new markets."
Helping patients across the globe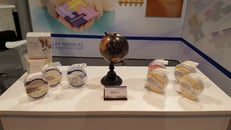 Amy has been a back-to-back recipient of internal recognition for her leadership and results in this arena, so seeing Beekley Medical achieve national recognition for all her hard work in growing the international market for our products is a point of pride for our Associates as our ability to help improve patient experiences and clinical efficacy globally expands as a result of her efforts.
Martha Flannery,VP of Sales and Marketing summed it up best. "At Beekley Medical our focus is to make the lives of everyone we touch a little better and our goal is to help positively impact patients' lives and improve clinical outcomes. To have the opportunity to do this for patients all over the world is exciting and meaningful for us. We were delighted to earn the President's E Award and are excited to continue to serve patients around the world in the future."
To learn more about becoming a Global Partner, or to find where you can purchase Beekley Medical products, visit www.beekley.com/globalsales or email international@beekley.com

Mary Lang
Director of Marketing Communications