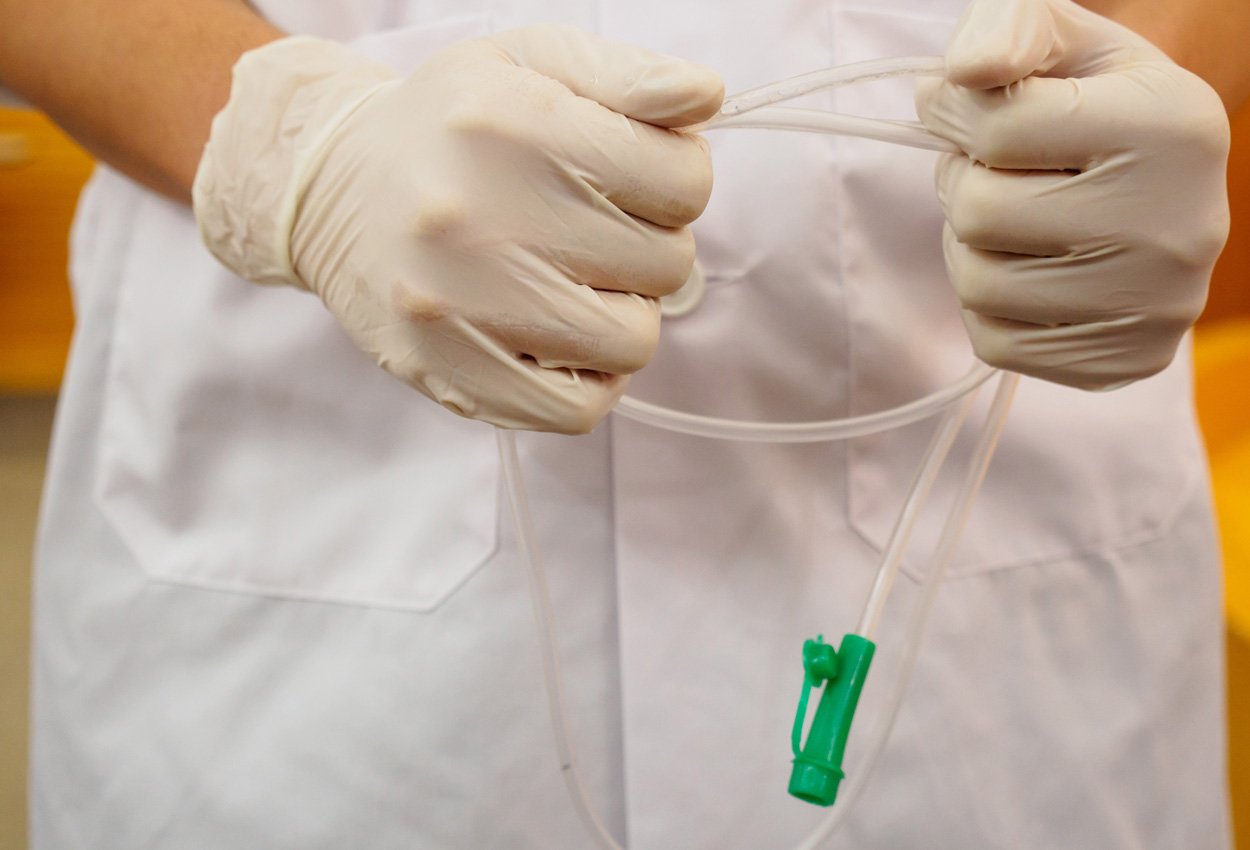 What do you do when pediatric patients can't ingest the required amount of contrast for enterography?
Chances are, your medical staff resorts to nasogastric intubation (NGT) - a thin tube placed through patient's nose into the stomach. This is an "onerous procedure" for just about anyone, and particularly so for pediatric patients.
An onerous procedure
In the retrospective study "Comparison of two small bowel distending agents for enterography in pediatric small bowel imaging," Amy Kolbe, MD of the Mayo Clinic in Rochester, MN, and her co-authors note that "the desire to use an NGT for administration is associated with the oral tolerability. Consuming the entire volume, even by NGT administration, can be problematic for all ages of patients, but perhaps even more so for pediatric patients who often have not developed the maturity to push themselves to do unpleasant tasks for their own health."
Donna Pflug, CT Supervisor at Children's Hospital of Pittsburgh, shared her own experience with placing nasogastric tubes in pediatric patients: "It was horrible. The children's experience was horrible. The taste and texture of the low-concentration barium suspension was just too much for them - they would vomit and a lot of them would have to have the NG tube placed so we could get it down for them. There was always vomit – didn't matter if there was a NG or not."
The added cost of NG's: disrupted workflow, more time to scan, and more personnel
In both Kolbe's study, which examined patient tolerance of two distending agents for small bowel enterography (a flavored beverage and a low-concentration barium suspension) and the need to resort to NG tube insertion when the patient had difficulty drinking the entire amount, and Pflug's experience, it's easy to see that there is an "added cost" to using NG:
According to Kolbe, et. al., NGT's "require explanation and acceptance from both the child and the parents or caregivers. They require a skilled provider to place and, in our institution, confirmation of placement with radiograph prior to use. Administration through NGT requires high level supervision by a nurse to slowly push the contrast into the bowel over one hour. The time to perform these tasks is not accounted for in the child's pre-scan workflow and usually delays the start of the exam causing disruption to the scanner schedule."
A simple switch, a significant decrease in NGT placements

In 2015, the Children's Hospital of Pittsburgh and Mayo clinic changed their enteric distending agent to Breeza flavored beverage for neutral abdominal/pelvic imaging. This simple switch resulted in a significant decrease in NGT placements.
In the Mayo Clinic study, 7% of scans using low-concentration barium suspension required NGT placement. Only 1% of scans using Breeza flavored beverage required use of a nasogastric tube.
Other statistically significant differences included an increased frequency of emesis with the low concentration barium suspension (3%) compared to the flavored beverage (1%). The flavored beverage also had an improved distal extent of luminal distention.
Pflug recalled the first day her department switched to Breeza flavored beverage. They had six enterography exams and when she asked her lead CT Technologist how it went, he told her "It was smooth. They all drank. Just boom, boom, boom – one after the other."
Since implementing Breeza, Pflug says she doesn't need to "nag" pediatric patients to drink, NGs are down, and they're able to scan patients within the allotted 60-minute time frame. Schedules remain undisrupted and child life services doesn't need to be involved.
Mayo Clinic had this to say about their experience: "Since we have integrated the flavored beverage into our practice, requests for NGT administration have been nearly eliminated in children, such that since the conclusion of this study we stopped offering it as a clinical service for enterography. This change has been well received by patients and their families, clinicians, and radiologists and radiology department personnel, while maintaining high quality diagnostic enterography exams in children."
To learn more about Breeza flavored beverage for neutral abdominal/pelvic imaging, contact your Business Development Manager at 1-800-233-5539 or email info@beekley.com and ask about a trial evaluation at your facility.

Jonathan McCullough
Product Manager