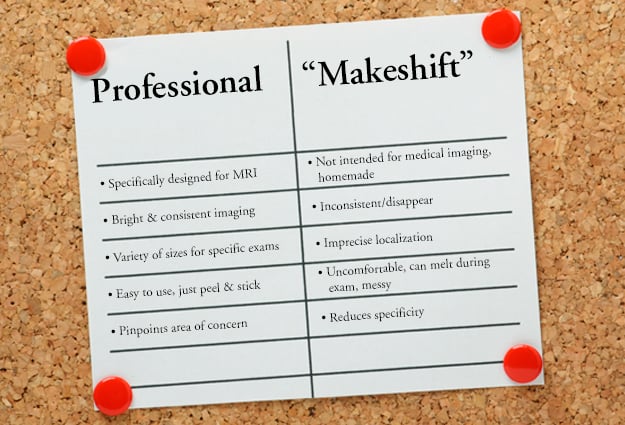 When it comes to communicating the location of a palpable mass, point of pain, or even a thoracic level in MRI, most radiologists and technologists use a skin marker.
"Skin markers serve an important purpose: marking the anatomy so the doctors can see where there is a point of pain, a mass, or an area of interest. Without that marker, it can be hard to tell where something is hurting on an MRI. You really need to pin point it." ~ Andy Hatch, MRI Technologist, St. Francis Hospital and Medical Center, Hartford, CT.
The problem with "makeshift"
Before the advent of professional markers, many imaginative technologists made their own from grocery store or cafeteria items such as vitamin E or fish oil capsules or condiment packets. These "makeshift markers" were not intended with advanced medical imaging, or to be honest, any medical imaging in mind. As a result, there have many shortcomings when used as skin markers in MRI: inconsistent imaging, uncomfortable for patients, distortion of pathology, and even melting and disappearing.
Although professional markers for MRI have been available for decades now, there are still some facilities that use makeshift markers.
We spoke to two Connecticut-based MR technologists regarding their experience with various skin markers in MRI to learn about their challenges and why they made the move from makeshift methods to professional skin markers.
Inconsistent or poor imaging
"I used to tape almonds, mayonnaise packs, or mustard packs to patients," Andy told us. "They wouldn't show up well and when that happens, it's more work for the interpreting physician. But at the time that's all we had in our toolkit."
Jen Duncan, (Lead MRI Technologist, The Hospital of Central Connecticut, New Britain, CT) agreed, adding that "It's frustrating when makeshift markers don't serve their purpose. Doctors have a hard time discerning the area of interest and technologists that apply the markers are disappointed by the results. The makeshift markers not appearing was a big issue for me. The vitamin E and fish oil capsules would not image clearly and you could only see them on a few sequences. They just weren't consistent or reliable."
The image below illustrates what Andy and Jen were referring to. Most makeshift items used as markers in MRI will image on T-1 but will tend to disappear on the more pathology weighted sequences.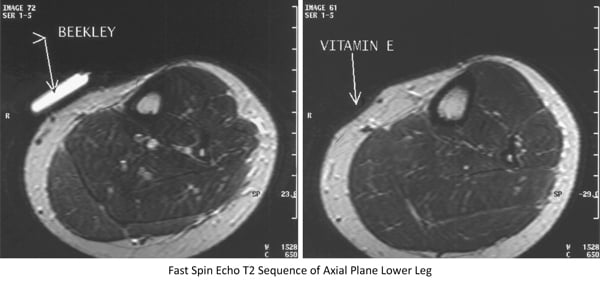 Hard on patients, one size doesn't fit all needs
Many patients have a hard time staying still throughout the long MRI exam. Hard rounded capsules or rough edges of a condiment packet pressing into the skin can add to their discomfort.
"The (vitamin) capsules are pretty hard. They're not soft at all," Jennifer said. "There is a lack of flexibility with them. Depending on what you're scanning and where that mass is that you're trying to localize, it could be very uncomfortable for the patient. Especially if they have to lay there for a while. To make matters more complicated, the capsules are kind of 'one-size fits all.' If I needed a longer marker I would have to make it myself and tape a couple of capsules together."
Conversely, as other MRI technologists have told us, the "one size fits all" makeshift marker can be too large for the area of concern, overshooting the mark and appearing on many slices, reducing the specificity of the marker.
The infamous "Meltdown"
Because vitamin capsules are intended to be ingested, their coating is designed to dissolve slowly after swallowing. Add the patient's body weight and heat to the length of the exam and it's a messy, sometimes stinky disaster waiting to happen.
"I hated using the fish oil and vitamin E capsules," Andy told us. "Imaging a total spine can take up to two hours. Those capsules would just dissolve and disappear. It would be nasty. Those capsules would melt and get all over the table and the patient. I knew there had to be something better."
Professional skin markers for MRI serve their purpose
Designed specifically for use in MRI exams, the family of MR-SPOT® skin markers are that "something better" for busy technologists.
More convenient and more appropriate to apply to the patient's body than a vitamin capsule or mustard pack, these simple peel and stick markers saves technologists time and eliminate worrying about capsules melting during the exam.
Available in two styles (tubes and packets) and a variety of sizes, the technologist can select the marker that best suits each patient's needs - from markers long enough to span the entire vertebral column for T-Spine studies to smaller markers for marking extremities (as illustrated below), and even smaller for pinpointing focal pain in the small field of view.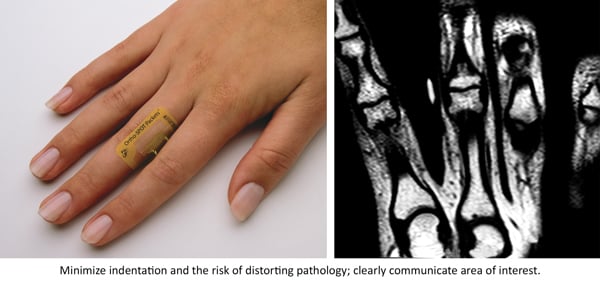 Most importantly they are designed to image brightly and consistently on every slice in every sequence.* As Andy pointed out, "I have been using them for twenty years. They are so easy to use. Just place the MR-SPOT markers and poof! They show up on every slice and the doctors are happy. They serve their purpose - marking the anatomy and pin-pointing so doctors can see the mass or point of pain."
In agreement, Jen added, "They work very well, we apply them to the level of the thoracic spine we are scanning through and we see them in all the images just like we need to."
If you're ready to experience the difference a professional skin marker for MRI makes in communicating areas of pain and concern to your radiologist, contact your Beekley Medical Advanced Imaging Business Development Manager at 1-800-233-5539 or info@beekley.com to learn more about a trial evaluation of MR-SPOT skin markers.
*PinPoint for small field of view imaging is designed to image on 2-3 slices to quickly identify an exact location of pain in the small field of view.
For related product safety information visit www.beekley.com

Jonathan McCullough
Product Manager