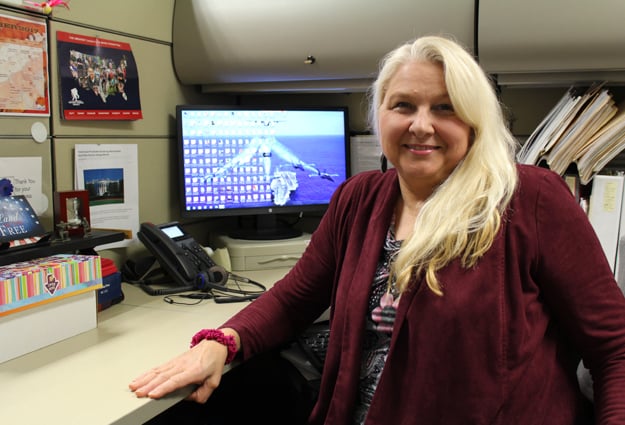 Senior Account Manager Susan Scott Murray is no stranger to military life. Her uncles served in the Air Force and Marines, her dad in the Army National Guard, and her husband served on the US Missouri during the Gulf War. She has traveled to many Air Force and Army bases and lived for 5 years "on the economy" with her former husband who served in the Strategic Air Command at Ramstein Air Force Base, Germany.
Starting her career with Beekley Medical back in 1996, Sue has been involved in some capacity with government accounts going back to 1997 when VA Medical Centers and military hospitals began purchasing the X-SPOT® for marking nipples on chest X-Rays and R&L SPOT® disposable cassette markers.
According to Sue, managing Beekley's government accounts, which include the armed services (Navy, Marine, Air Force, Army), the VA, the State Veterans Homes, and Indian Health Service, is a privilege and honor.
"Sue's passion for serving her customers is second to none and has always been her towering strength as a salesperson. Often a champion of the underdog, she has a genuine compassion that guides her mission. What drives Sue is the desire to assure that each and every one of her customers has what they need to best serve their patients." Martha Flannery, VP Sales and Marketing
Sue's commitment to her customers is to do her best to help them improve efficiency, clinical accuracy, and patient care. She enjoys developing personal relationships with each of her customers, no matter how large or how small, and believes in supporting them in their mission to provide the very best care to their patients by sharing best practices, technical articles, and clinical studies with a friendly and personable approach.
One of Sue's favorite products to introduce to her accounts demonstrates the compassion she has for the specific challenges many of their patients present with - particularly within the VA. Designed to create a calming environment, promote comfort, and help improve quality of life as a complementary health approach, Sue told us that there is a great interest and ready acceptance of Elequil aromatabs® (aromatherapy for the clinical setting) as part of her customers' patient-centered care and Whole Health initiatives.
A pioneer at home and abroad
Throughout her career, Sue has been a Beekley pioneer - willing to take on any new challenge or opportunity. She is well-versed in all of our product lines, having sold to just about every modality in her 20+ year career.
Our international and radiation oncology businesses would not be where they are now without Sue's help in developing them in their infancy. Sue told us that she takes the most pride in the 7 year stretch where she devoted her time and talents in helping to develop both of these markets.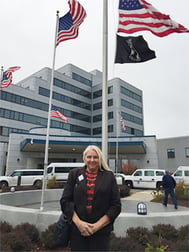 It's hard to believe that at one time, Canada was our only international business - and only a smattering of customers in a few provinces at that.
Sue asked to add the entire country to her sales territory and worked hard to educate technologists & radiologists there about the value of, and best practices with, skin markers in mammography and advanced imaging.
Her success in Canada led to Beekley's testing the market for our products in other countries and we now have a robust network of distribution partners across the globe to supply the demand for our products internationally.
Sue's skill in listening to her customers, hearing about their challenges, and her desire to help them overcome those challenges led to the creation and introduction of PointGuards® temporary mark protectors.
PointGuards was an immediate success with radiation therapists and remains one of Beekley's best-selling and most popular products.
From a team of one and handful of SKU's, we now have a thriving radiation oncology division thanks to Sue's willingness to take on new challenges and learn about new areas where Beekley products can make a difference.
A passion for those she serves
Sue loves the technical aspect of the ever-improving medical imaging and radiation oncology equipment and protocols, but never loses sight of the people affected by the technology whether they are the medical professional or the patient.
Sue's combination of passion for best practices and clinical efficacy and compassion for people makes her the perfect fit for serving the people responsible for the health and well-being of those who sacrifice so much for our country and their families.

Mary Lang
Director of Marketing Communications