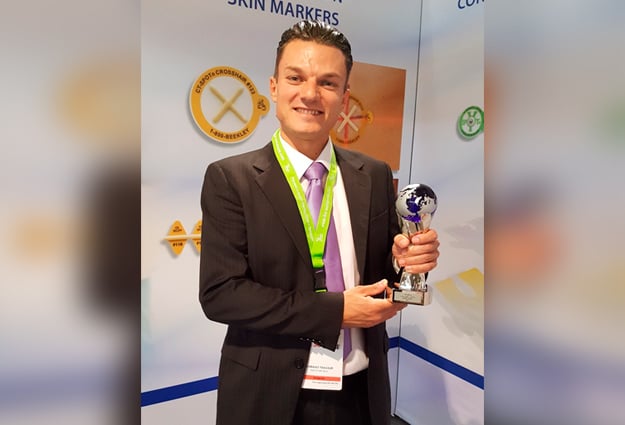 Thibault Tailleur, Sales and Technical Manager of MEDITEST, formally accepted the esteemed Beekley Medical Global Partner of the Year Award at the 2017 European Society of Radiotherapy and Oncology Conference (ESTRO) in Vienna, Austria.
The Global Partner of the Year is awarded to the distribution partner who demonstrates the most growth and commitment to better serving their customers through Beekley Medical's product line for diagnostic imaging and radiation oncology. Under the direction of Bruno Torrès, President, MEDITEST's business for Beekley Medical products more than doubled in 2016.
"With a partnership of more than 10 years, MEDITEST is very proud for this award." said Thibault, "It is the result of a hard work and a dedicated sales strategy for the French market. Of course, we thank Beekley Medical for this award and the strong support from Amy. We will continue with our efforts in 2017."
A Visionary Pioneer with a Focus on Patient Care
A Beekley Medical Global Partner serving France since 2004, MEDITEST has been a pioneer in the field, dedicated to quality control of radiology, nuclear medicine, radiation therapy, and research technology platforms for the past 30 years. A visionary company, MEDITEST created the first French secondary metrology laboratory, MEDIX LAB, under the guidance of the CEA-LNE-LNHB, and dedicated to low-energy X-ray calibration.
MEDITEST's mission and corporate culture closely aligns with Beekley Medical's when it comes to making a positive impact on peoples lives. MEDITEST places its entire range of expertise into the service of safeguarding patients' lives and optimizing the radiation protection of health professionals. MEDITEST President, Bruno Torres, hopes that "every day is a 'remarkable' one that allows each person on his team to be able to say: 'I've been a partner to X-ray experts, and I've made it possible for each patient to get the very best.' and leave his or her mark on the industry."
We congratulate Bruno and his team at MEDITEST on their high performance year and look forward to naming our 2017 Global Partner of the Year.
Truly A Global Partner Partnership
Recent recipients of this prestigious award include UltraRay, Beekley's Global Partner serving Canada, MBP Scherer, our Global Partner serving Austria, and Amit Medical Ltd, our Global Partner serving Israel.
We use the word partner for a reason, because when we take on a global partner, they become an extension of our Beekley family and in return, we become part of theirs. It is truly a collaborative effort working towards each other's mutual success.
To use a recent example, ESTRO had 5,860 attendees from all over the world, speaking many different languages. Several of our Global Partners attending the conference helped with demonstrating and explaining our products to others at the Beekley Medical booth, demonstrating the true level of partnership and commitment they have for Beekley Medical.
Beekley Medical Global Partners, ESTRO 2017
To learn more about becoming a Global Partner, visit www.beekley.com/globalsales or email international@beekley.com

Amy Bosco, M.S.
Director of Global Business Development