Genius.
The word genius is typically described as a person who is exceptionally intelligent or creative. It's hard to describe Beekley Medical's R&D Manager Mark Broyles without using that word. Just ask his colleagues:
"There are so many levels of genius when speaking about Mark ..." ~ Alison Ostrout-Hadvab, Manager of Product testing & Development
"To call him our genius in residence would be a very accurate statement..." ~ Christine LeBlanc. Senior Graphic Designer and Web Manager
"Mark is an R&D engineering genius..." ~Martha Flannery, Vice President, Sales & Marketing
"Mark is a genius..." ~ Melissa Vibberts, Senior Product Manager
25 Years of Helping Improve Clinical Efficiency and Patient Care
Mark began his career with Beekley in October, 1992, so if you're a Beekley Customer, or even familiar with Beekley's products - you've met Mark in some way shape or form. He is our resident wizard who turns ideas into prototypes into tested-and-proven final products - products that positively impact our customers and their patients in medical imaging and radiation oncology.
But Mark is more than just a product designer. Other words his colleagues have used to describe him are visionary, creative, resourceful, inspiring, quirky, entertaining, and fun.
An Aura of Positive Energy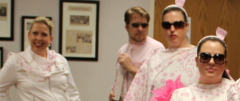 Senior Product Manager Melissa Vibberts has partnered with Mark on several product launches, most notably TomoSPOT® skin markers for 3D mammography, Elequil aromatabs®, and Bella Blankets protective coverlets for mammography, and had this to say about working with Mark:
"Sometimes when people are around genius, they feel intimidated. But not with Mark- he is your every day kind of guy. Well not really, he is very special. He lives the Beekley culture and works hard, plays hard. Mark is a breath of fresh air and has an aura that is a burst of positive energy.
He is witty, fun, and always thinking outside the box. Mark is known for giving the best toasts, coming up with the best themes for Halloween, and even started bringing board games to lunch to break up the day and get to know his colleagues in a different way - he is a kid at heart. He also volunteers his time for our designer handbag bingo event and helps bring in a lot of cash for our cause."
Allison Ostrout-Hadvab, who works most closely with Mark in the testing and refinement stage of new product development agrees, saying she counts her self as lucky to work with Mark. "Aside from his ability to come up with creative and samples for any R&D problem ever presented, he is an entertaining, smart colleague that is a joy to work with." Senior Designer, Christine Leblanc agrees, adding that "Mark is exceptionally creative and entertaining - a super combination of sorts. He approaches every challenge with enthusiasm and a can-do attitude. All these of these are reasons everyone at Beekley loves working. He just makes it fun."
Renaissance Man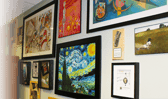 When you enter the R&D area, you are greeted with colorful reprints of fine works by Van Gogh, Wyeth, Kandinsky, and others in addition to original works Mark has purchased from friends and colleagues over the years. It gives the lab a personality.

As you make your way down to Mark's personal office space, you are treated to Mark's own artwork. Pieces created from old computer parts. desktop printer pieces, and circuit boards adorn the walls. Mini figurines, game boards and pieces he either hand carved or designed on a 3D printer are proudly displayed. It gives the lab a personality and proves to be an inspiring, creative environment for the R&D and all who enter.
But to know Mark, you truly have to meet him - so without further ado here he is ...
In His Own Words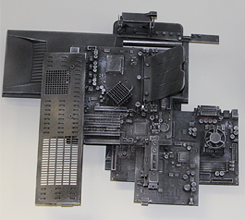 Hello there. I've been asked for thoughts and reflections on where I've been working for the past 25 years. All righty then. The thing I want to grandstand on is what makes this place great. And that, hands down, is the people. But before I go down than rabbit hole, I'd better first fill in the typical details.
The company is amazing. It's been around for 80+ years which is no easy feat, especially for a small company that has never seen over 100 employees at one time. [This is where I avoid droll facts on longevity probability and average company lifespans.] Short story is, we're doing great!
The company makes medical devices. I happen to be an ardent fan of medicine. When things hurt and doctors make the pain go away my appreciation of the system is immeasurable. Our company contributing to that medical system, both through our products and charitable returns to the community, is much more than business. It means that someone has had some pain taken away, or better yet has avoided future pain altogether. And that makes the world a better place.
So, with the world in a better place, back to what makes our little corner of it great: the people.
25 years means I've have the privilege of working with and even growing up [old?] next to so many great people.

A full time job means that during a typical week day, half one's waking hours are spent with one's coworkers. And that should be reason enough to build and cherish the relationships with them. I do. I enjoy each and every one, and with good reason.
Reason one is what each person contributes to the operation of the company. Seriously, I often think about this when walking into the building in the morning and when leaving at night. This is a small company, and everything counts. Pull any department out of the picture and the system stops. And I have a very selfish reason not to want that to happen. I really love coming here to work. And for me to do so, the system has to keep going. And it keeps going only because those around me keep it going. And that's where my undying gratitude for everyone else here comes from. Every role [and yes I thought about every single one] has its share of repetition, rejection, paperwork, malfunctions and what not. And yet everyone keeps up the good fight every day to keep this place running. And to them I shout thank you! I owe my continued employment to each of you.
Reason two is what each person contributes to who I am. Here's the thing. The world is full of wonders and joys. And it's not always the big things. Personal memories. Mistakes made and lessons learned. Unusual food. Time spent with friends. Board games at lunch. Laughter over silly things. The more frequently these types of things are experienced, and the emotions they bring are felt, the more worthwhile life becomes. The upside of so much variety in the world is that there is an endless supply of discovery. The downside is that a single lifetime is not enough to take it all in. And so the precious resource that is those people around us, becomes apparent. One cannot experience everything personally, so some living through tales of others becomes an answer to growing faster than one can alone. I relish each conversation about raising children, personal hobbies, and artistic endeavors. The upbringing of chickens, the favorite vegetables in the garden. Concerts I could not make, meals not experienced. The boat I don't have. Working in a restaurant. Growing up on the other side of the planet. Vacations to places I may never get to. But that's okay. Again, thank you! I'll never get to it all, but I'll know how it would have felt.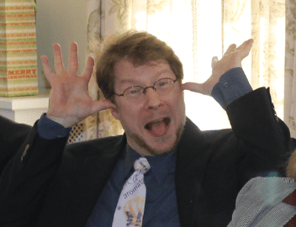 And that's all I have to say about that.
Mark Broyles, R&D Manager

Mary Lang
Director of Marketing Communications