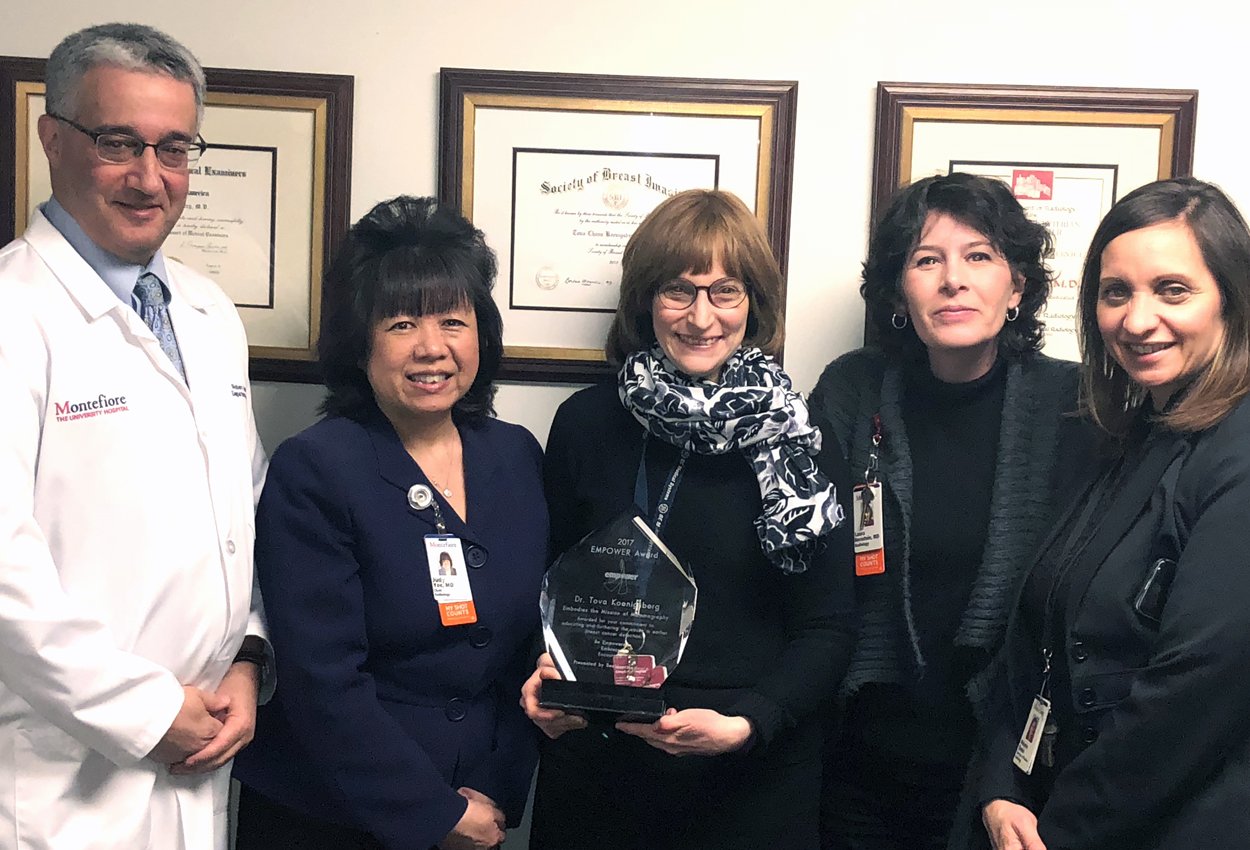 Pictured (L-R) Robert G. Berkenblit, M.D., Associate Professor, Department of Radiology, Albert Einstein College of Medicine; Judy Yee, MD, Professor and University Chair Department of Radiology, Montefiore Health System & Albert Einstein College of Medicine; EMPOWER Award recipient Tova C. Koenigsberg, M.D., Assistant Professor of Radiology, Division Chief, Section of Breast Imaging and Medical Director for Montefiore Advanced Imaging and the Medical Arts Pavilion; Laura Bernstein, MD., Assistant Professor of Radiology and Attending Radiologist, Montefiore Medical Center; and Melanie Danisi, Unified Administrator, Department of Radiology at Montefiore Medical Center.
It is often said, "If you do what you love, you'll never work a day in your life." This is true for many of the men and women that live the commitment to their role as breast radiologists. They're passionate and motivated by the mission of making a difference in the world of mammography.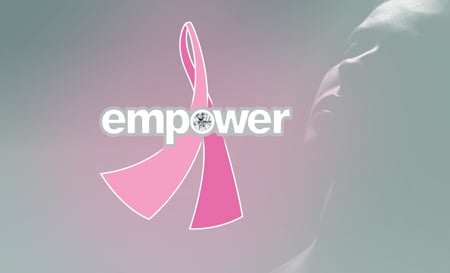 When conceptualizing this first EMPOWER Award I was truly inspired by the theme of empowerment. What started with the design of Beekley Medical's annual Breast Cancer Awareness Month initiative in October, 2017, quickly became a pursuit to recognize these doctors for all that they do.
We asked. We received. We listened.
In order to do so, we wanted to get the perspective of the people who work with them day in and day out and asked them to nominate the radiologist they felt "best embodies the mission of mammography".
With over 30 nominations from facilities across the country, we were thrilled to receive such wonderful accolades in recognition of these radiologists who dedicate themselves to breast imaging.
It is apparent that there is a special relationship, a kinship of sorts, between many radiologists and their team in the world of mammography.
Passion and dedication are just a fraction of what makes these teams of physicians and technologists so remarkable.
The demands on physicians in breast imaging today are ever increasing and all encompassing, so it's empowering to see those that have a relentless commitment and who find the time to go above and beyond. Their level of dedication to the cause of early detection and treatment of breast cancer is truly inspiring.
The winner is selected
With so many spectacular nominations of passionate and dedicated individuals, it was incredibly difficult to pick just one winner.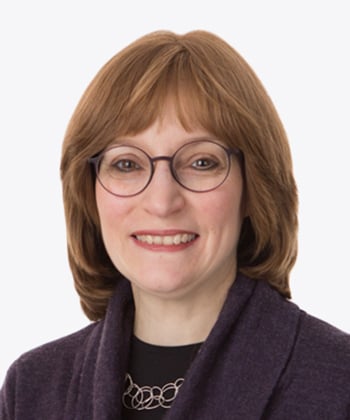 However, based on the number of nominations received from within her facility the first recipient of Beekley Medical's Empower Award recipient is Dr. Tova Koenigsberg, Assistant Professor of Radiology and Division Chief, Section of Breast Imaging / Medical Director at Montefiore Advanced Imaging as well as the Montefiore Imaging Center at the Greene Medical Arts Pavillion, both located in the Bronx, New York.
Dr. Koenigsberg has been practicing 14 years at Montefiore Imaging Center. She has served on national committees including the American College of Radiology, the Society of Breast Imaging, and the American Board of Radiology.
Among her many accomplishments in the field:
Principal Investigator ACRIN TMIST EA1151 (Tomosynthesis Mammographic Imaging Screening Trial) a national trial comparing digital mammography and 3D tomosynthesis.
Co-Grant Recipient from Susan G. Komen® and Walgreen's "Integrating Lay and Professional Navigation to Enhance Breast Cancer Patients' Access to Support" which supports a program of volunteers who help reach out to patients who may not follow up with mammogram recommendations.
Co-Recipient of Governor Cuomo NAPBC Patient Navigation Breast Cancer Initiative which reaches out to recruit additional patients to screening.
Dr. Koenigsberg also works with the department of oncology to support free screening on the first Saturday of October each year. She also is involved with the Rofeh Cholim Cancer Society – a national cancer referral and support organization and the recipient of the Medical Devotion Ward from Refuah Helpline in Monroe, NY, a medical referral service.
Here's what Dr. Koenigsberg's peers had to say in their nominations:
Robert Berkenblit, MD – Associate Medical Director, Associate Professor of Radiology shared that "Dr. Tova Koenigsberg demonstrates compassionate care for her patients and is dedicated to caring for her patients and teaching her residents and fellows."
Imaging Managers Melissa Nissen and Lamar Duncan wrote:
"I have known and worked with Dr. Koenigsberg for quite some time and have always found her dependable, efficient and unfailingly punctual. In fact, I have never worked with a person who gives as much attention to breast cancer awareness. Also, her willingness to take on difficult projects like the free screening proposals and see them to successful completion has repeatedly impressed me over the years."
"Her skills do not end with teaching residents and fellows the importance of mammography. She also projects a warm, cheerful attitude to our clients. I have seen her resolve conflicts and handle other difficult situations with remarkable patience and admirable tact. In the community she goes out of her way to try to help people in need by organizing charity drives each October. She loves people, works hard and always tries to lift the spirits of those around her."
We congratulate Dr. Tova Koenigsberg for her outstanding contributions, leadership, educational efforts, uncompromising commitment and for being Beekley Medical's first ever EMPOWER Award recipient!

Kathy Kaschuluk
Product Manager