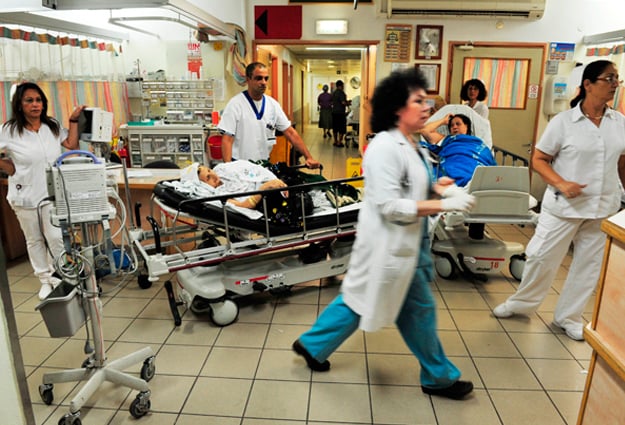 Anyone remotely aware of the healthcare industry is privy to the numerous trends evolving as healthcare reform takes shape. We've all heard that hospital budgets are shrinking, along with their reimbursements. Length of stay in the Emergency Department is a hot topic and so are cost-cutting initiatives that each supply chain department is strapped with. In an effort to reduce both time and spend, one highly questionable trend that is occurring in hospitals around the country is the elimination of oral contrast in the ED.
Physicians in the ED are expected to not only speed up patient throughput, but also need to make sure that every patient entering their facility is diagnosed with near 100% accuracy. Google "oral contrast" and "emergency department" while reading this post and you will find numerous studies claiming to prove that there is a decrease in time when eliminating oral contrast in the ED for CT-Scans of the abdomen and pelvis, but really - is there?
According to a study done by Michigan State University and McLaren Healthcare that included 750 patients, the conclusion stated that "the application of different CT protocols using both oral and IV contrast or IV contrast alone....has no effect upon their total time in the ER."
Even if you are still of the opinion that eliminating Oral Contrast does decrease time, what about the study from the American Journal of Roentgenology, discussing the importance of reducing radiation to a patient whenever possible and reaching the accurate diagnosis as soon as possible.
Part of the text from that article reads, "As an anecdotal example, we recently performed CT without oral contrast material on one of our emergency department nurses. Both prospectively and retrospectively, there was no evidence of appendicitis, and the study was unremarkable. Because of continued unexplained abdominal pain, we repeated CT 12 hours later with positive oral contrast material, and surgically proven Meckel diverticulitis was diagnosed."
With cases like the above in mind, we need to remember that length of stay is not the only measurement hospitals need to be concerned with when it comes to their pocketbooks. The accuracy of clinical outcomes weighs heavily on the bottom line as well, with the expectation that reimbursements will be based 70% off of clinical outcomes.
As the article from the AJR closed, "Are too many patients now receiving limited examinations (without oral contrast administration) in the incorrect clinical setting, leading to delayed diagnoses and excess radiation? Is an hour's delay to ingest oral contrast material unreasonable to get a high-quality study the first time around? Has the pendulum swung too far toward performing CT without oral contrast material, particularly in our overstressed emergency wards where it is becoming more and more difficult for our emergency department colleagues to spend adequate time with the patient?
For those in healthcare and affected by healthcare, how would you answer those questions?


Sarah Gomes
Account Manager