Patients are becoming increasingly significant drivers in the evolution of healthcare delivery thanks to easy access to a wealth of online information about the quality and performance of healthcare providers.
As healthcare consumers, patients have choices. They look to their peers and online communities such as Smart Patients to gather facts and decide which healthcare facility is right for them based on their needs.
Convenience, cost of procedure/exam and reputation of the staff and facility all play a factor in their decision making.
One area that is highly competitive for patient choice is mammography. Although not considered a "money maker" due to low reimbursement, it is a valuable department within healthcare.
Many mammography centers are affiliates with a hospital, and if a patient has a great experience and feels cared for during her annual mammogram, as the family's "Chief Health Officer," she will most likely choose that healthcare system for her loved one's care.
And, in the unfortunate event of a diagnosis of breast cancer, she will likely choose to have the remainder of her treatments toward recovery within the same system where she feels cared for.
As a result, many mammography centers look to positively impact the patient's experience. From spa-like environments to offering non-breast imaging services such as bone densitometry, to special ladies nights with massage therapists on hand to offering warm robes or a cover for the receptor plate.
But what do patients really think? Ten Voices from the Mammography Suite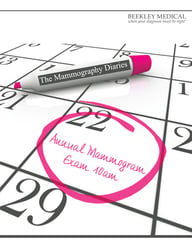 In a research project initiated by Beekley Medical®, 179 women shared thoughts in the mammo diaries.
Below are 10 candid recollections from those women of their mammography experiences followed by some helpful hints on how to easily improve that patient's perception of care:
1) I can be very tense when I arrive for my mammogram. A pleasant greeting from a competent receptionist will help me begin to relax.
The first few minutes of a woman's mammography appointment can be critical. The mammography experience begins when the patient walks in the door. It's the kind of greeting they get from the receptionist. It's about how long they wait until called in for their exam.
A study gauging wait times and satisfaction determined that longer wait times not only negatively impact the patient's experience, but it also affects their perception of the overall treatment provided.
2) Given my personal history, I'm expecting that the technologist is well acquainted with my file, my past exam results. But this is not always the case.
The only case history that is important to the patient is their own. Every patient comes to the mammogram with a unique personal history.
For some, every detail of that history is vivid and its significance is overstated. They may have experienced a false-positive (12.3% of mammograms result in false-positives), discovered a lump (8 in 10 women who find a lump don't have breast cancer), have family history or genetic testing, or have had / been diagnosed with breast cancer.
3) Some technologists are totally focused on conducting the exam and don't say a word. It reminds me of the seriousness of the exam and the bad outcomes that might result. The silence gets me wondering… what does she see that she doesn't want to talk about.
Pleasant conversation is one of the best tools to relax patients. They are reassured by any interest the technologist shows in them personally, whether it be talking through the steps of the exam or chatting about some topic currently in the news.
A technologist's tone of speech, facial expressions, and body language all contribute to the rapport with the patient.
4) Sometimes I feel the technologist just going through the motions, so much so that she hardly notices I'm there. I guess she's on some kind of schedule…and I'm just another patient to get in and get out. I don't like the way that feels.
Patients feel they should get the undivided attention of the technologist. Although imaging centers are under pressure to maximize throughput, this requirement should never become apparent to the patient. They often assume their technologists share this perspective.
Offering patient-centered care with a focus on individual needs in their health care journey can make the patient feel a "one team" approach.
5) The last mammogram I had was right after I left work, at about 4:30. There was a bit of traffic on the way, so I felt rushed and I was tired after a hard day. When I arrived at the radiology center the receptionist and the technologist looked as burned out as I felt. Not very reassuring!
Extended hours are only a plus if people on duty at the end of their shift still look energized. The technologist's day can be long and exhausting, but the last patient of the day will require as much care and attention as the one whose mammogram was at 8:00 AM.
Ways to help staff stay energized after a long day include making breaks count and being wise with caffeine and energy drinks.
6) I usually show up for my mammograms tight and tense. One technologist that did my mammogram about two years ago had such a cheerful and infectious personality that I found myself chatting with her in no time at all. It really made a huge difference in my outlook.
An upbeat attitude is contagious and can instill hope and calm. A very large percent of women arrive for their mammogram in a very tense state of mind. Anything that helps them to relax is very much appreciated.
7) I had a great experience the last time I went to the hospital for my mammogram. The staff was so considerate and the room I waited in for my exam was so pleasant I was actually beginning to feel good about it! I'm thinking I should schedule my family's exams at this hospital when possible.
A satisfied customer can produce new business almost immediately. 80% of healthcare decisions are women making them for their family's care. This has very important implications for facilities offering multiple services.
8) My last mammogram was my best ever. I picked the center knowing it had tomosynthesis, but when I got there (wow!) the waiting room had a fireplace and flavored tea similar to a spa so I felt relaxed! I just had to share it with my friends. I knew they would want the same experience.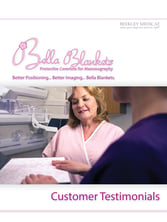 Friends tell friends about experiences with doctors and other professionals. When it's positive, it is a powerful referral; when negative, it could mean lost business.
In a research letter published in the Feb, 2014 issue of the Journal of the American Medical Association, the authors surveyed a nationally representative sample of the US population and found when selecting a physician, 85% rank it somewhat or very important to get input from friends and family.
Social media also plays a significant role, with websites such as Word of Mouth Mammogram E-Network. Since imaging centers typically see their patients once a year, it is essential to make a positive impression when a woman comes in for her mammogram.
9) The imaging center I go to for my mammogram is run very professionally, but I can't help notice the worn furniture and the old magazines.
Imagine you're a first time patient coming into your facility. Would you be impressed? Indifferent? Turned off? Cutting costs may appear to be a good way to increase profitability, but not if they result in lost customers. Some small things can make a big impression, positive or negative…a cloth robe that offers comfort or a worn carpet that suggests neglect.
Patients comment on wait times and room ambience on physician rating websites more frequently than they rate the doctors' clinical skills.
10) The breast care facility I now go to for my mammogram is very good at telling me the results of my exam, the same day usually. This is a comfort; not to be left hanging, wondering.
In the world of mammography fast reporting of results is very important and very much appreciated. All patients have grown accustomed to very fast turnarounds in all aspects of their daily lives. They expect no less when it comes to something as important as their annual mammogram.
In fact, one facility shared that same-day work up has helped the breast imaging program obtain the highest patient satisfaction rankings within all the clinics in their healthcare system.
Protective Coverlets Can Also Increase Patient Satisfaction:
In a recent market survey, 32% of imaging centers said they used a cover on the receptor plate to increase patient satisfaction and/or to reduce patient anxiety. Here are some of the reasons why:
Removes the Chill: Based on interviews with Bella Blankets® customers, it helps with patient comfort by removing the chill when their breast is placed on the receptor plate. This is the second most common complaint from patients -- that the equipment is cold. The first complaint is compression of course!
Helps Reduce Skin Tears: In my last blog that focused on skin tears, it was evident by reading patient message boards that a patient experiencing a tear can negatively affect not only her experience, but may influence her decision to go back.
Quality of Care with More Breast Tissue: Patients are demanding smarter care. Smarter care is about the use of actionable health information to drive meaningful outcomes and improve a person's health status. Many patients come prepared to their mammogram - asking if they will be offered a 3D mammogram or if they have dense breasts. Websites, such as RadiologyInfo.org have pages dedicated to breast imaging that explain breast cancer screening. Imagine how pleased your patient will be to know that you are offering her the best clinical exam.
Offers the Patient an Added Level of Protection: Although equipment is cleaned between patients, protective coverlets help reduce exposure to the previous patient's skin, which is appreciated by the patient.
Patients may not necessarily remember what product was used on the receptor plate during their mammogram; they just know something was used and they remember how they felt cared for and nurtured by the experience.
It is only a matter of time before Medicare starts to incentivizing on patient satisfaction scores in radiology. I hope you can set some of these helpful hints in place now for potential reimbursements tomorrow.

Melissa Vibberts
Director of Brand Management