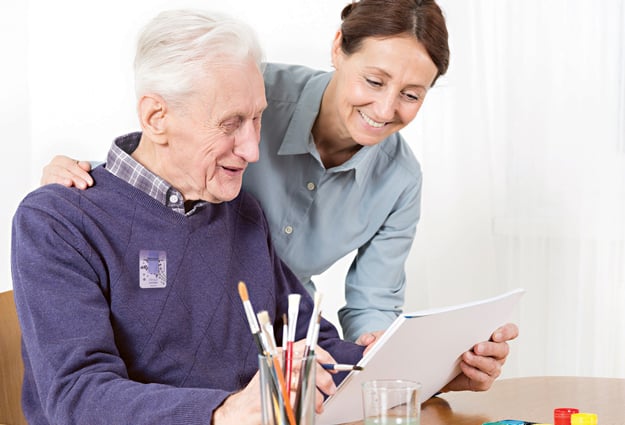 With 70% of hospitals ranking patient satisfaction and experience as one of their top 3 priorities for the next three years1, many healthcare providers are turning to complementary health approaches to assist in their efforts to provide a more pleasant experience for patients, family members, and staff.
Proven in the hospital and long term care market for over five years, Elequil™ (formerly AromaTabs) is used in multiple departments (imaging, oncology, pre and post-op, and quiet at night programs, etc.) to help comfort patients or residents during their medical visit or length of stay - Lavender and Lavender-Sandalwood to help relax and promote sleep, or Orange-Peppermint to uplift, energize, and help soothe queasiness.
Helping to Improve Quality of Life
One of the most gratifying aspects of our work is hearing how much this product has helped people throughout their healthcare journey. Here are just two examples of the types of correspondence we have received about Elequil:
"Elequil is the best product for calming. I get so nervous going for a checkup to get my blood drawn and then having to wait a couple of hours for the results to see where my numbers are for my cancer – they will either be good or bad. Elequil gets me through it." Johnny W., Patient, Waukegan, IL
"My mother has suffered from Alzheimer's/Dementia for 10 years and has extreme anxiety and anger because of the disease and her fear. After two days of Elequil I felt like I had a piece of my mom back. She was calmer and we had a conversation that was personal and made sense. I can't tell you how grateful I am to have found that this has helped us." M. Merriman. Eugene, Oregon
Aromatherapy Designed for the Clinical Setting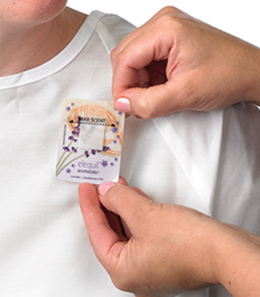 What makes Elequil so popular in hospitals and long-term care facilities is its unique, controlled delivery system for its 100% pure essential oils. A scented tab on a self-adhesive label with options for minimum or maximum scent provides a personalized aromatherapy experience that lasts a minimum of 8 hours.
The tab can be placed on the front or back of clothing and is disposable after use. No oils to mix or cotton balls to soak. And, unlike diffusers, the therapeutic effects of the 100% pure essential oils stay with the patient or resident wherever they may go as long as they have Elequil on.
A perfect fit for complimentary health
Elequil as a complimentary health approach fits in perfectly with the move towards person-centered care and efforts to reduce pharmacologics wherever possible, especially with the elderly.
If you have had an experience with Elequil we'd love to hear your story. Please post a review on our website or email me at info@elequil.com.
To learn more, please visit www.elequil.com or or contact us at 1-844-ELEQUIL
1 Beryl Institute, "The State of Patient Experience:Five Strategic Considerations fora Patient-Centred Healthcare System," March 26, 2014

Melissa Vibberts
Director of Brand Management