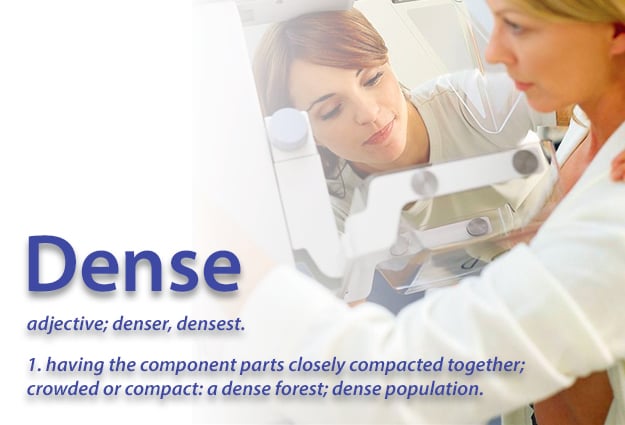 According to Dictionary.com the word "dense" doesn't sound all that appealing. However, with the game-changing technology of 3D Digital Breast Tomosynthesis, being "dense" should be seen as something special, so much so, that states are enacting laws focused on women with dense breasts, which is about half of the female population.
To date, nineteen states have passed laws requiring women to be directly informed if they have dense breasts and would benefit from supplemental screening. Because mammography accuracy is lessened for women with dense breasts, these laws encourage women to consider an additional method of screening beyond the standard mammogram.
Enter 3D Digital Breast Tomosynthesis:
In a recent study, scientists at the University of Washington and Seattle Cancer Care Alliance investigated this potential impact of supplemental screening for women with dense breast tissue. Their findings concluded that adding 3D Digital Breast Tomosynthesis to routine biennial digital mammography screening could improve health outcomes at a reasonable cost.
"While screening ultrasound is currently being touted as the additional test of choice for women with dense breasts, it requires significant increase in manpower and leads to a larger number of false positives," said Christoph I. Lee, M.D., M.S.H.S., lead author of the study, assistant professor in the Department of Radiology and health Services at the University of Washington and staff radiologist at SCCA. "Digital breast tomosynthesis, in contrast to ultrasound, offers operational and ease-of-use advantages since it is an integrated part of newer-generation mammography units."
The results concluded that per every 2,000 women screened over 12 rounds of screening, one breast cancer death would be prevented and 810 false-positive exams could be avoided with the addition of DBT.
To give you an idea, the smallest state in the United States, as far as surface area, is Rhode Island, which consists of a little over one million people.* Out of these one million people, let's say half are women and an eighth of those are women who fall between the ages of 50-74 years old. This leaves you with 62,500 women. Now cut that number in half and you have your dense breast population of 31,250. Based on these numbers, this would mean that about 15 breast cancer deaths could be prevented and about 12,600 false-positive exams would be avoided. Imagine what those results would be for a population like California's of a little over 37,000,000 people.*
In a nutshell, having dense breasts is just like being the prettiest girl at the school dance. You are being taken care of and monitored closely than you ever have before. This surveillance should only continue as we progress in healthcare, which is such a positive for the female population.
Learn more about Breast Density at Are You Dense.Org
*According to World Population Review

Sarah Gomes
Account Manager