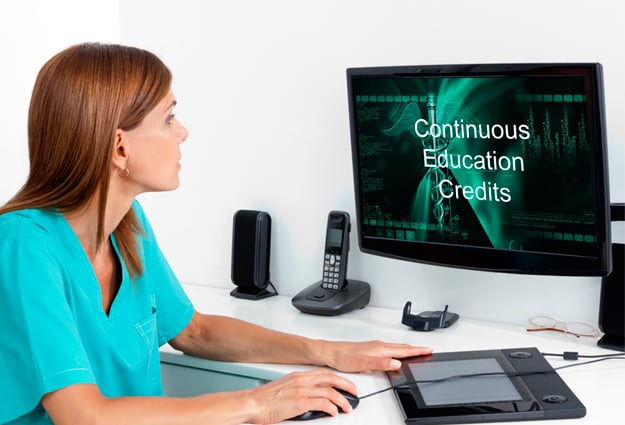 As a radiation oncology professional, you are expected to earn a certain number of Continuous Education (CE) credits. However, finding ways to earn CE's is not always at the top of mind when you're trying to provide excellent patient care. So here are some easy ways for you to find them!
Sponsored Credits
There are sites that do provide complimentary CEUs for medical professionals. Some of these are sponsored by companies who offer these when you learn about their products or related technology.
Varian hosts live webinars on their site. They also provide quizzes and the necessary certifications for ASRT, MDCB, and CAMPEP credits. The courses are largely equipment and science focused, so if you are looking for some more technical training, then this is a good place to look. But if you miss the live webinars don't panic! Varian typically archives the session and provides it on the same website at a later date (usually within 30 days).
The Online Learning Center (sponsored by Philips) provides a greater variety of CE credits. You are given the option of purchasing between 1 credit and an entire course series (16 credit hours). The courses also vary widely on subject content covering everything from basic training and patient care to leadership essentials. They provide the necessary quizzes and certifications as well. Discounted prices are offered to members and if you're willing to search for them, you can find some credits for free.
Professional Organizations
The Institute for Medical Education (IME) is another great resource for CEU credits. These credits are generally physician specific (AMA PRA – American Medical Association Physicians Recognition Award). These courses generally focus on pharmacy, physics, and treatment technology workshops. Most of these courses and credits can be obtained for free.
Members of the American Society of Radiologic Technologists (ASRT) can visit their website to earn their CE's. Participating in the Directed Reading Quiz can earn you up to 15 CE credits per year. If you don't participate in the quiz there are plenty of course offerings on the site. You don't have to be a member to purchase those!
The American Association of Medical Dosimetrists (AAMD) offers online webinars and directed journal readings on their website. Certain webinars do require membership. Be sure that you are watching a recent webinar as the MDCB credits will expire after 3 months.
These are just a few options available for you to earn your continuous education credits. Did you find this helpful? What other resources are you using for CE credits in Radiation Oncology?

Jonathan McCullough
Product Manager