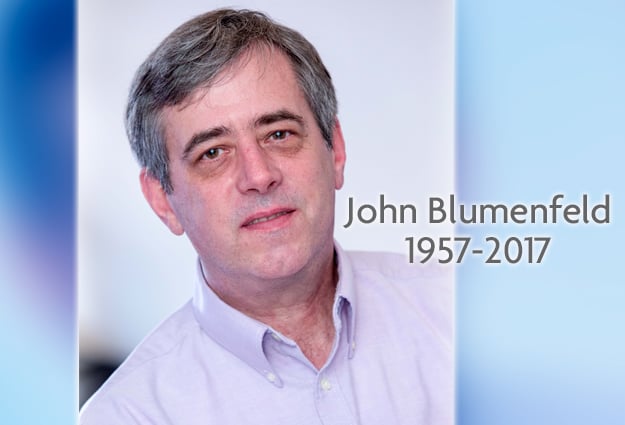 On Tuesday, August 8, 2017 the world lost one of those people who quietly makes a big impact on your life without you even realizing how big an impact until that person is gone.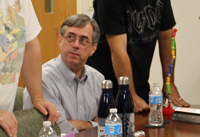 Although quiet and reserved, John Blumenfeld, affectionately called John Blu here at Beekley, was a constant and dependable presence in our manufacturing department as our industrial programmer and electrician for 15 years.
He is known for being resourceful, intelligent, creative, a lean & profit champion, a diligent, hard worker with a passion for finding ways to improve the quality of our products while also reducing costs. He always wanted Beekley to be known as the best.
But he was so much more than that. As we mourned together and shared memories of John in the surreal days after his sudden passing, we learned how wide and how personal John's impact on each of us really was.
A genuine interest in others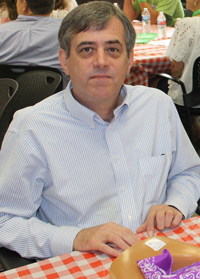 John always had a very sincere hello, took a genuine interest in others, and he was authentically kind - so many of us describing him as a gentle soul with a big heart.
The type of person who surprises you by following up on small talk made in the hallways, at the coffee machine, or even outside of work, in a thoughtful manner.
One Associate recalled how she and John were talking about eyeglasses and he let her know about a website that sells quality at low prices. The very next day, John was at her desk with the information he promised and sample pairs of glasses.
Another related how just last month her cell phone charger cord split open, exposing the wiring. "I went to the guys in engineering to see if there was something that could be done to fix it. John immediately popped up and offered to help.. We went to the workshop room where he tried several different size covers until he found one that would fit over the exposed wire. He whipped out some pliers and then got a mini blow torch and melted it down. Amazing!"
Others shared how John, a chronic back pain sufferer himself, would selflessly try to help them with their own back issues, by sharing helpful links and printouts on various methods and remedies to get relief. He would even go out of his way to research products and resources to pass along to others on car or home repairs.
Music, shepherds, and hot peppers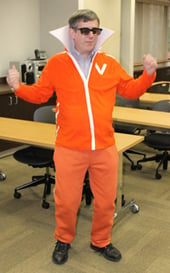 Through shared memories with each other we learned that John was a drummer, a jazz aficionado, who once played with Phil Guy, and how his eyes would light up when you talked music with him. That he loved German Shepherds and once raised a Fidelco guide dog. That he liked to garden and do home remodeling. That he had a taste for hot peppers and another Associate's Christmas fudge.
We all learned how much richer this quiet, unassuming, man made our lives and were reminded how fleeting and precious life is and not to take anything for granted.
A challenge to get know each other better
Saddened that she didn't know John on a deeper level after getting to know John through those that did, one of our associates proposed the "Blu" Diamond Challenge to all Beekley Associates to get to expand their level of familiarity with each other - to uncover the "diamonds" of our fellow associates.
"You may learn something new and useful, commonalities that you didn't know you had, or some other profound impact to your personal or professional life - or theirs. And, if nothing more, you walk away with more 'knowing' than before. Thank you, John, for the 'aha' moment."
A kind hello, a gentle smile, curious, considerate, and thoughtful of others - that is the legacy John Blu leaves behind - he will be missed, but never forgotten.
Rest in peace, John
John Blumenfeld 1957 - 2017

Mary Lang
Director of Marketing Communications