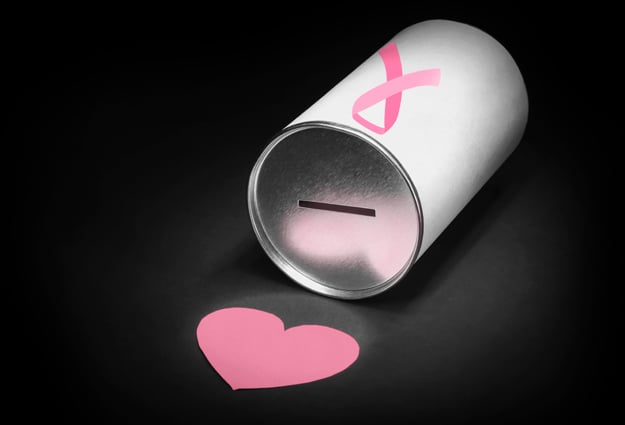 Each October, there is no shortage of exposure about the importance of Breast Cancer Awareness. The initiative builds each year gaining more and more exposure.
When it comes to breast cancer, PINK is no longer just a color but a statement that signifies strength, hope and courage. It is symbolic for so much more than the mission of mammography. The media continues to highlight breast cancer survivors, sharing uplifting stories that provide inspiration while reinforcing the essentials of breast health. PINK products become much more visible and passion for the cause of fighting breast cancer builds.
At Beekley Medical®, this passion is a way of life - one we take pride in and one that we want to share with those around us: our families, friends, business colleagues and most especially our customers.
Early on in our history, we made the commitment to support the fight against breast cancer beyond our immediate geographical region by giving back a portion of the proceeds from our mammography SPOT® skin marker sales.
Because these donations are made possible by our customers, the people on the front lines in the war against breast cancer, we often look to them to tell us where they would like to see the portion of the proceeds directed.
National Breast Cancer Foundation
"We are so thankful for Beekley Medical and their continued support for over 10 years. Their passion for our cause and their continued generosity in supporting our programs make them a valued partner in our mission of Helping Women Now®." Kara Causey, Corporate Partner Manager, NBCF
2017 marks the 10th year that Beekley Medial has been a proud supporter of the National Breast Cancer Foundation, Inc. (NCBF).
The NBCF was established in 1991 and as of 2016, has performed over 280,000 screening and diagnostic services.
Recognized as one of the leading breast cancer organizations in the world, the National Breast Cancer Foundation is Helping Women Now® by providing early detection, education and support services to those affected by breast cancer.
A recipient of Charity Navigator's highest 4-star rating for twelve years, NBCF provides support through their National Mammography Program, Patient Navigator Program, Beyond The Shock®, and breast health education and research programs.
As of May 2017, nearly 100 facilities throughout the U.S. have partnered with the National Breast Cancer Foundation to develop programs that support women beyond the early detection of breast cancer.
These facilities have created hospital programs funding breast biopsies for women in need as many women do not have the financial resources to return for recommended biopsy procedures after suspicious findings on their mammograms.
Programs like this are essential in economic climates that have dire needs. The sad fact is that many women never return for necessary testing that could potentially diagnose breast cancer in its earliest stage before it progresses.
National Mammography Programs (NMP) Services provided by NBCF in 2016:
56 Medical Facilities with NBCF Funded Mammography Screening Programs
Clinical Breast Exams – 1,458
Screening Mammograms – 9,540
Diagnostic Mammograms – 2,385
Ultrasounds - 2,100
Computer-Aided Diagnostics – 2,647
Total Services Provided – 18,130
The Noreen Fraser Fund

Television producer Noreen Fraser was diagnosed with breast cancer in 2001 and within two years it had metastasized into her bones and liver. She turned her personal experience into a crusade to help others by creating the Noreen Fraser Foundation and co-creating Stand Up To Cancer and co-producing its first televised fundraising special. Noreen survived her stage 4 cancer for more than 16 years and sadly lost her fight on March 27, 2017.
The Noreen Fraser Foundation promoted educational and awareness campaigns to raise funds for cancer research aimed at developing new prevention methods, diagnostic tools, and non-toxic therapies with the goal of making breast cancer a manageable disease with treatments that protect women's quality of life. In 2016 the Noreen Fraser Foundation transferred operations to the Noreen Fraser Fund at UCLA's Jonsson Comprehensive Cancer Center under the direction of Dr. Dennis Slamon and Dr. John Glaspy.
Are You Dense, Inc.

Are You Dense Inc. was founded by another breast cancer survivor - Connecticut resident Nancy M. Cappello, Ph.D.
Nancy was diagnosed with stage 3 cancer after years of "normal mammograms." She soon learned what she terms the best kept secret about mammograms and breast cancer awareness for women with dense breasts.
After learning that it was common knowledge among imaging professionals that screening mammography alone is not sufficient for the early detection of breast cancer in dense breast tissue, Nancy embarked on a crusade to expose that secret to help save the lives of others like her.
In addition to educating the public about the risks of how dense breast tissue can mask early stage cancers, she embarked on a quest to require tissue density notification laws for patients at risk of having early stage cancers missed due to their dense breasts.
Beginning with breast density reporting legislation enacted in in Connecticut in 2009, Are You Dense Advocacy (the government relations affiliate of Are You Dense, Inc.) has helped introduce legislation throughout the United Sates. As of this writing, 31 states now have a density reporting law.
Together, we make a difference
October may be one month out of the year where the focus is on breast cancer awareness – however, in this industry, this mission is a daily principle that we live by.
It is the passion to make a difference and save lives.
Together with our customers, we are grateful that every skin marker sold helps make a difference in people's lives.

Kathy Kaschuluk
Product Manager