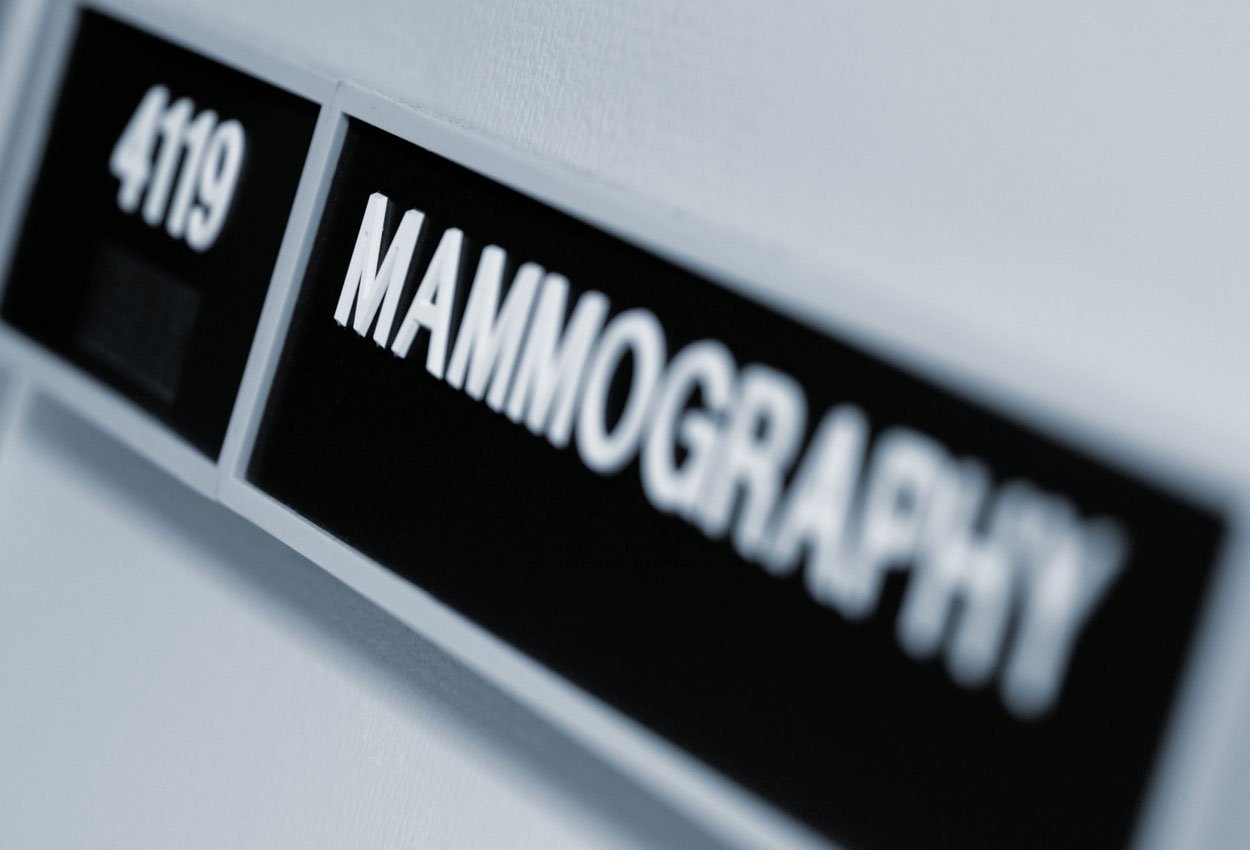 In the early months of the COVID-19 pandemic, health officials and professional societies provided guidance advising patients to postpone non-essential healthcare. This included routine screening exams such as mammograms. As a result, many patients stayed away and there was a significant drop in the number of women being screened for breast cancer.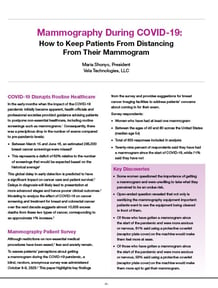 In her paper, "Mammography During COVID-19:How to Keep Patients From Distancing From Their Mammogram," Maria Shonyo notes that between March 15 and June 16, 2020, an estimated 285,000 breast cancer screenings were missed, a deficit of 63% relative to the number of screenings that would be expected based on the historical average.
Delays in diagnosis likely to lead to diagnoses at more advanced stages and poorer clinical outcomes
Even as cancer screenings have begun to rebound when stay at home restrictions eased, the damage is done with many exams delayed as breast imaging facilities try to play catch-up. As a result, this global delay in early detection is predicted to have a significant impact on cancer care and patient survival.
The National Cancer Institute (NCI) modeled the effect of COVID-19 on cancer screening and treatment for breast and colorectal cancer over the next decade and suggests almost 10,000 excess deaths from these two types of cancer, corresponding to an approximate 1% increase.
Also contributing to this delay in diagnosis is that many women are choosing to forego screening mammography during the pandemic.
Women's perception of getting their mammogram during COVID-19
In her paper, Ms. Shonyo cites a blind, random, anonymous survey that was administered October 8-9, 2020 via Survey Monkey to assess patients' perceptions about getting a mammogram during the pandemic.
Survey respondents, 603 in all, where women between the ages of 40-80 (with a median age of 54), who have had at least one mammogram in the past. 29% of the respondents answered that they did have mammogram since the start of COVID-19; 71% did not.
So why aren't women getting mammograms?
According to the survey results, many women understand the importance of screening for breast cancer and felt their breast imaging facility was safe and had appropriate precautions in place, but there were many others who felt that getting their mammogram wasn't worth the risk.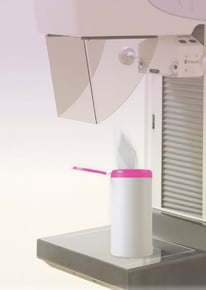 Respondents gave several reasons why they were hesitant to get their mammograms and provided feedback as to what would make them feel safer to do so.
Aside from infections rates in their community going down, many of the women of the suggestions women offered seem to be recommended protocols already in place - PPE for both patients and staff, and enforcement of appropriate distancing from others. A large number of respondents also wanted assurance that the equipment was thoroughly cleaned and disinfected. Some went as far to say they wanted to see the equipment cleaned in front of them.
How breast centers can help set patient minds at ease during COVID-19
Based on patient comments in the survey responses, Ms.Shanyo provides the following suggestions for breast centers to encourage patients to feel more comfortable getting their mammogram.
To encourage patients to schedule their mammogram, market the safety of your facility and broadcast the procedures you have implemented that reduce the risk of infection. Also, don't neglect education programs about the importance of early detection
To help set patient minds at ease at your facility, remember that optics matter. Go ahead and sanitize the equipment in front of your patient. It has to be cleaned between patients anyway, and this way the patient has no doubts that it was done.
Another finding from the survey was that 61% of patients who reported feeling anxious or nervous about getting their mammogram during the pandemic said that a protective coverlet for the receptor plate, such as Bella Blankets®, would make them feel more at ease. Half of those respondents stated that knowing a protective cover would be used on the equipment for their mammogram would make them more apt to schedule their mammogram.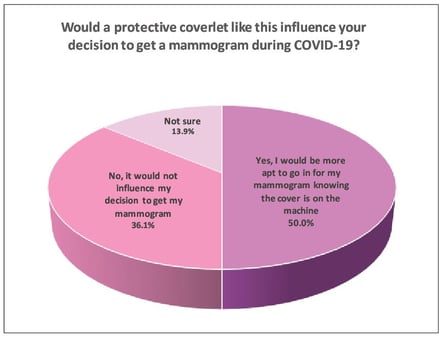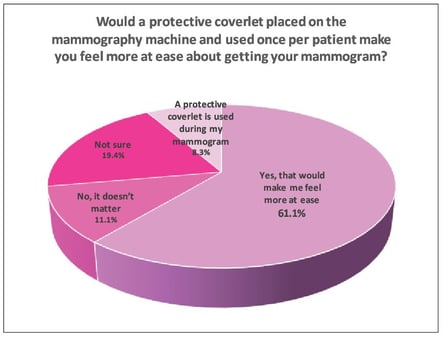 Bella Blankets® is a single-use, disposable coverlet for the receptor plate that acts as a sanitary barrier between a patient's breast and the equipment. In addition to help setting patient minds at ease, the textured material helps prevent the breast from sticking to the receptor plate, which helps with positioning and decreasing the likelihood of skin tears.
If you would like to learn more about how Bella Blankets can help you offer an added level of protection for your patients, contact your Beekley Medical Account Specialist at 1-800-233-5539 or email info@beekley.com.and ask about our trial evaluation programs.

Mary Lang
Director of Marketing Communications